How to book Maldives on a Budget?
In this guide to budget Maldives, we will cover different topics, including rates, places to stay, places to eat, activities and where to book your holidays.
Local islands are reopened on 15 October 2020 onwards. Maldives Reopening Guideline.
Lots of people associate Maldives with a very expensive holiday destination, with island hotels (resorts) and bungalows for 600$ per day. But a bit more than 5 years ago cheap, but modern and fully equipped guest houses began to be built in the Maldives.
Check: Budget packages to local islands
The cost of staying in those guest houses starts from $30 per day + taxes (about the taxes later) and breakfast. The rooms there are equipped with everything necessary for living:
– air conditioning;
– a private bathroom with a toilet and sometimes with a bath;
– towels;
– a mini-bar;
– a wardrobe, bedside tables, a table, chairs;
– a TV-set.
The Maldives has become more affordable for those who prefer admiring nature to luxurious surroundings. But according to some rumors, in 50 or 60 years Maldives can be fully covered by the ocean waters (it's not true). It is because the maximum height above sea level is just 2 meters. So don't put away spending your holidays in the Maldives for later!
In this guide, we'll try to answer the most frequently asked questions that are asked by tourists.
What to choose: a travel agency, online booking agent, or booking directly?
Option 1—travel agencies
There are few agencies that offer budget accommodation or guest houses in Maldives, and the reason for it is quite simple – low profits for the agencies. The majority of low budget tourists prefer doing everything themselves. However, the agencies that offer staying in guesthouses do it by means of "packages".
These packages usually include accommodation, meals, excursions, transfer, and, what is the most important thing, taxes. If you divide such a package into separate parts, you'll have to pay accommodation and meals tax, a transfer tax, a tax on excursions. All in all, you'll have to pay much more than the package originally cost.
By the way, speaking about resorts, travel agents usually offer tours at more reasonable prices, what we can't say about online booking systems or about direct booking.
Option 2 — online booking agent
First of all such systems as booking.com, agoda.com, expedia.com should be mentioned. Let us consider the main advantages and disadvantages of those systems.
Advantages:
+ you can book or cancel your booking with a single click (but not in every booking system);
+ discounts are often offered;
+ you can easily compare prices at various guest houses;
+ reviews are available in different languages;
+ you can learn what types of rooms are available in guest houses.
Disadvantages:
– taxes are not included in the price (about 23,5%);
– free benefits are not offered by guest houses;
– you can't ask for an additional discount;
– to book a transfer (or to learn the exact transfer schedule), you'll still have to write to your guest house It tends to change often;
– prices on such websites are usually higher (even without taxes) as compared to booking directly or with the help of travel agents.
Option 3 — direct booking
That is through a guest house website. As compared to booking through travel agencies, I can say that the travel agencies might have lower prices because of the contract responsibilities connecting travel agencies and guest houses.
Tips on how to choose a guest house and what your attention should be paid to will be described below.
How much money do you need?
The industrial and agricultural sectors in the Maldives are very poorly developed. The reason for it is quite simple — the land area is very small. So the majority of goods are imported there from the neighboring countries – Sri Lanka, India, Thailand, etc., that's why prices on goods and services are high even on the islands with locals.
A simple example of an average budget for a trip to the Maldives. This option is for two adults, airline tickets are not included.
Meals
$20-30, lunch + dinner (per one person) per day in a guesthouse
$18-30, lunch + dinner (per one person) a day at a local cafe/restaurant
Activities
$0-10000 per two persons.
– Diving: $40-110 per person per one dive (fun dive for an uncertified diver)
– Sunset Fishing: $35-55 per person
– Line Fishing: $100-150 per person
– Snorkelling trip (2hrs): $35-85 per person
– Romantic Dinner: $90-120 for a couple
– Manta Watching (Snorkelling): $25-55 per person
– Whale Shark watching (Snorkeling): $70-100 per person
– Traditional meal: $20 per person
– Dolphin Safari: $40-60 per person
– Picnic island trip: $20-40 per person
– Resort trip: $80-250 per person
$0-1000 – other expenses (depending on your preferences).
Total: $600-700 for two persons a week during low season, 1200-1800$ per week during high season with some activities. You can make a package by yourself here.
We'd recommend taking US dollars with you. If you pay by card, they charge 4% for processing. ATMs can be found not anywhere, only on several islands. If you want to withdraw money from ATMs, they charge 150 MVR (about $10), and it does not depend on the amount of money you withdraw.
You'd better take a credit card with you. But before going to Maldives consult your bank for the details of using your card abroad, just to make sure that it won't be blocked while you're using it.
The currency of Maldives is the rufiyaa (MVR). The exchange rate of rufiyaas to US dollars is 1 USD=15,42 MVR. But it is an official exchange rate. If you pay in cash in small bills ($1, 5, 10, 20) in shops, cafes, there the exchange rate is 1 USD=15 MVR. That's why when paying for your guest house, transfer (a speedboat), and excursions, you'd better pay in USD.
USD are accepted literally everywhere, the change is usually given in MVRs. So while buying some small things, it's better to recommend to pay in rufiyaas.
Note: Of course you can travel to Maldives on a very low budget, not spending much money on activities/transfers/meals. But will you have much to remember when you get home, apart from the beach and ocean? It's unlikely you'll get back to the Maldives another time after visiting this place once, so try and get the most out of your holidays there. Don't deprive yourself of pleasure and positive emotions trying to save some dollars.
Best time to go to the Maldives
It is believed that the tourist season in the Maldives lasts from November till April. At that time there are more sunny days and less cloudy ones. But because of the El Nino influence and global warming, the season has shifted, and today it is sunny in May-June. July was rainy, and in August the sun shines again.
The best time to go to Maldives is in January-March. But at that time the prices there are the highest and there are almost no discounts. But you won't be upset by the rain.
The so-called "low season" lasts from May till the end of October. During these months it's likely that it'll rain, but everything is relative because the weather is different in various atolls. Apart from that, in the low season ocean becomes more restless, and they may cancel a ferry or a speedboat because of that.
The best weather forecasting website.
If you want to save even more money, you should go there in the low season.
When buying airline tickets, remember that ferries and speedboats are not available on Friday. But you can use domestic flights, they are available on Friday. Friday is a day off in Maldives, ferries run only between Male and Hulhumale and Male and Villingili. So the only way to get to your island is a private speedboat, the cost of which is $200-1000 per trip.
So the plan is:
1) choose an island;
2) choose a type of transfer;
3) buy your airline tickets;
4) book a guest house.
In fact, it is one of the main questions that arise while planning a trip to Maldives.
Actually, it is like the situation when a girl is choosing a boyfriend. One has an ugly nose, another is round-shouldered, the other one is just stupid. But if you don't like some features, it doesn't mean that everybody doesn't like them. Nobody is perfect.
The situation is the same as the islands: there is no perfect island that can satisfy all your needs. One can have a beautiful long beach, but it is located far from Male. Another one is much closer but has a mediocre beach. The other one has a great snorkeling point, but the beach there is very small, etc.
After getting back from the Maldives, nobody says (especially to friends) that their island was not perfect Maldives.
Summary on islands
Mathiveri . Advantages: long beach; a picnic island is located nearby; few tourists; a good house reef; the transfer is available every day; Disadvantages: a speedboat transfer is rather expensive; the ferry traveling time is 6 hours; few cafes for tourists.
Thoddoo. Advantages: long beach; a large island; cafes for tourists; fruit farms; an affordable transfer. Disadvantages: you'll need to swim 500 meters to the house reef; more and more tourists visit the island; a 15-minute walk to the bikini beach.
Rasdhoo. Advantages: a very developed island; lots of cafes for tourists; a good house reef; great diving; 2 picnic islands and 3 sandbanks are located nearby; an affordable transfer. Disadvantages: a small beach; lots of guesthouses.
Ukulhas. Advantages: long beach, good house reef, nice sandbanks nearby, manta point, an affordable transfer. Disadvantages: high prices in guest houses, in the low season the beach is rarely cleaned;
Omadhoo. Advantages: great bikini beach area, nice house reef, few tourists, picnic island with the possibility to stay overnight, Disadvantages: speedboat runs only one time per day (it will change soon), a few cafes for tourists.
Dharavandhoo. Advantages: a large island, long beach, a good home reef, Hanifaru Bay (UNESCO Biosphere Reserve) with lots of manta rays is located nearby, several picnic islands, cafes for tourists, open for day visit resorts. Disadvantages: expensive but quick transfer.
Thinadhoo . Advantages: there are only 40-50 locals on the island; 3 guest houses; a good beach; a picnic island is nearby; good house reef. Disadvantages: only one cafe for tourists, transfer (speedboat) is rather expensive.
Dhigurah . Advantages: a very long beach; 50 meters to the beach; a long island; few tourists; points with whale sharks and manta rays are nearby; a sandbank is nearby. Disadvantages: an inconvenient and expensive transfer; the island is not very clean; no cafes for tourists; no good house reefs, guest houses are rather expensive.
Fulhadhoo. Advantages: the best bikini beach among local islands, nearby sandbanks, nice house reef, very few guest houses, very few locals. Disadvantages: speedboat only 3 times per week, no cafes, no water sport or diving centers.
Guraidhoo . Advantages: a picnic island is at a stone's throw away from the bikini beach, you need just to cross the bridge; not far from Male; resorts are nearby; cafes for tourists; surfing points. Disadvantages: a lot of guesthouses; no god bikini beach.
Maafushi. Advantages: transfer several times a day from/to the island; open for day visit resorts are nearby; a lot of cafes for tourists; rather developed infrastructure; a floating bar. Disadvantages: a lot of guest houses and hotels; a small beach; no house reefs. too many tourists
Huraa . Advantages: the island is one of the perfect places for surfers; resorts are nearby; not far from Male. Disadvantages: a small beach; no house reefs; no speedboats; few cafes for tourists.
Dhiffushi. Advantages: a few guesthouses; a resort is nearby. Disadvantages: the beach is not large; no cafes for tourists, no good house reef
Hanimaadhoo . Advantages: few guesthouses; an airport; a very big and long beach; a good home reef; picnic islands. Disadvantages: too far from Male.
Felidhoo. Advantages: few guesthouses; a nice beach; a good home reef; a picnic island. Disadvantages: an inconvenient and expensive transfer; a small beach; no cafes for tourists.
Of course, this list is not complete, only the most popular islands are included.
My personal TOP-5 budget islands
Rasdhoo
Omadhoo
Thoddoo and Ukulhas
Fulhadhoo
Thinadhoo
But what should you do if you chose to go to a not popular island? In this case, contact your guesthouse for information about all the possible transfers from/to the island. Just book a room in your guest house and write to them.
Ask them to take and send you some photos of the island, the beach, just to know where you are going.
Monitor reviews on Tripadvisor.
Not popular islands have more advantages because of a small number of tourists, but this is also their main weakness because transfer and infrastructure are not developed there. But still, you'll have privacy.
One local island or several?
The answer directly depends on the fact, how many days you're going to spend in Maldives. I'd recommend staying on one island for 3-5 days; it makes no sense staying there for a longer period because you'll have already seen and explored everything by that time, it won't be interesting. Below you can find groups of islands between that the public ferry runs.
The traveling time between two neighboring islands is less than one hour, a ticket costs about $2 per person.
Thoddoo – Rasdhoo – Ukulhas – Mathiveri
Maafushi – Guraidhoo
Thinadhoo – Guraidhoo
Himmafushi – Huraa – Thulusdhoo – Dhiffushi
Dharavandhoo – Dhomfulhafi
Hanimaadhoo – Kulhudhhuffushi- Vashafaru
Dhangethi – Dhigurah – Maamigili
Mahibadhoo – Omadhoo – Hungnameedhoo
That's why if your trip is going to last 8-10 days, I'd recommend visiting at least 2 islands. You'll get more memories and positive emotions.
How to choose a guest house in Maldives?
From year to year, new guest houses are opened. But there is not so big difference between them, that's why it's getting more and more difficult to choose a guest house. So you can take into consideration the following principles:
– read reviews on a guest house not only on Booking.com, but also on Agoda, Tripadvisor, Expedia.
– new guest houses have almost no reviews, however, they usually have low prices. But at the same time, the quality of serviсes leaves much to be desired. In this case, you'll choose a guest house at your own risk;
– to see how good the management is, write to them directly and get answers to all your questions. A good manager responds quickly within 24 hours;
– don't worry that you don't speak English, Google Translate will help you. Remember that you can get all the information about your guest house only after speaking to the house's representatives;
– when booking 5 and more nights you're usually provided with excursions at a discount. At different guest houses prices on the same activities can notably vary;
– if you're interested in diving, you'd better choose a guest house that has its own diving center. There the prices for its guests are lower.
What to do on local islands?
Remember that Maldives s a Muslim country, although the rules there are not very strict. You are not allowed to wear bikinis on the beaches for the locals. But it does not relate to the beaches for tourists. The bikinis are allowed. A manager in your guesthouse will tell you, where it is allowed.
Don't stay in Male (the capital) and Hulhumale for long, because there are no beaches for tourists, no sights.
On any more or less tourist island guesthouses offer the following activities:
Snorkeling. Or swimming with a mask, snorkel, and fins. This excursion usually lasts 2-3 hours and includes visiting 3-4 different points. The cost is $25-45 per person. It is available on every island.
Picnic island trip. It includes visiting the neighboring uninhabited island with/without lunch (barbecue). They usually take rice, salads, and drinks when going on such a trip. Fish is cooked right there. The trip can last half a day or the whole day. And there can also be other tourists on the island. The cost depends on how far the island is located, on average it is $20-40 per person. When on uninhabited islands, you are free to wear bikinis.
Manta trip. Or snorkeling with manta rays. A unique opportunity to swim with these devils. To get the most out of the trip, follow these simple rules:
Don't try to touch a manta ray. Otherwise, it will just leave you and will never get back. A manta ray will touch you itself if it knows that there is no danger to it.
Don't make sharp moves and keep calm.
The excursion usually lasts 40 minutes. The cost is $40-50 per person.
Snorkeling with whale sharks. A truly unique opportunity to swim with the largest fish in the world – whale sharks. The size of these giants can reach 12 meters length! At the same time, they are absolutely harmless for humans because they eat plankton. The most popular places where they can be found in the Maldives are Dhigurah, Dhangethi, Omadhoo.
But it is not 100% guaranteed that you can see sharks during your trip.
Night fishing, day fishing, big game fishing. In the first and second cases, you are taken to a reef and are given a basic fishing tackle box: a line and hooks. Everything is very simple. The cost is $30-50 per person. The fish you caught can be cooked in your guesthouse (usually for free).
When going to big game fishing you're given a bigger fishing tackle box, and that means that you'll be hunting big fish at sea! But in this case, you usually take a photo with the fish you caught and then let them free. The cost starts at $150 per person.
Safari with dolphins. It usually takes place in the morning or in the evening because at that time dolphins are getting close to the atolls. During the excursion, you are offered soft drinks. Their cost is usually included in the cost of the excursion. This trip costs $55-85 per person.
Romantic dinner on the beach/a picnic island/a sandbank. In the case of the sandbank, it depends on the rise of the tide. If the tides are high on the day of the excursion, the sandbank is flooded. The cost is $80-140 per two persons. The setting, the dinner itself, and transfer (to the picnic island or the sandbank) are included.
Day resort visit. Not many resorts allow tourists from other local islands to visit their resorts. You can get the information on what resorts allow tourists to visit them in your guest house. They have agreements with resorts. The cost of such a trip includes transfer, the entry fee, and the opportunity to use the hotel's services. It can also include lunch and drinks (alcohol too). It depends on the resort. The cost is $70-180 per person.
Visiting a floating bar. Alcohol is forbidden on the islands, but not afloat, so some enterprising Maldivians decided to reconstruct their boats into floating bars. They can be seen not by every local island. Today they can be spotted only near Maafushi. It is forbidden to take alcohol to the island. You can drink only there.
Diving. In fact, it is the only way to see the magnificent underwater world of Maldives. To dive there, it is not necessary to have a PADI certificate. Not having the certificate, you can dive up to 12 meters.
Before diving you are given a brief instruction, you sign necessary documents, and then perform a test 1,5-2 meters depth dive, where you're shown the basic things that you are to know. Then you are taken to the reef, and you perform a dive together with your instructor. You stay underwater for 30-40 minutes. Visibility underwater is 15-40 meters, it depends on the season and the place of diving. The cost is $70-120.
Water sports. Not every island has its own water sports center. There you can usually hire a kayak, a wakeboard, a jetski; try parasailing, fun tube, banana ride, windsurfing.
What transfer to choose?
There are several types of transfers in the Maldives: a ferry, a speedboat, a private speedboat, a seaplane, and domestic airlines. Let's consider their main advantages and disadvantages.
Public ferry
It is a big boat with a roof (you can also go to the roof). The average speed is 15-20 kmh.
Advantages:
+ cheap tickets ($1-15 one way per person);
+ if islands are located in one atoll, you can go to the neighboring island in the morning and get back in the evening.
Disadvantages:
– a ferry from Male to local islands and back usually runs 3 times a week. To some islands – every day;
– the traveling time is 1-10 hours;
– there is usually a situation that all tickets are sold. It is better to buy tickets in advance;
– a ferry can be canceled because of bad weather conditions (it also relates to speedboats).
So a ferry is a perfect option for those who want to save as much money as they can on transfers and to enjoy a voyage.
Sceduled Speedboats
It runs according to the schedule.
They are modern boats with roofs and 22, 30, 50 seats. The average speed is 60-70 kmh.
Advantages:
+ quick and comfortable;
+ run every day, to some islands – 3 times a week or several times a day;
+ comfortable seats.
Disadvantages:
– the cost ($30-110 one way per person);
– can be canceled and postponed to the following day;
– you can get seasick.
Private speedboats (on request)
The same speedboats, but run on request.
Advantages:
+ run at any time of the day;
+ perfect for a large group of tourists.
Disadvantages:
– rather expensive;
– can be canceled because of bad weather conditions.
Seaplanes
A small plane where 10-15 people can sit. They make a touchdown only by resorts, that's why you'll also have to hire a boat to your island. Your guest house can help you.
Advantages:
+ quick;
+ at a height you can enjoy stunning views over atolls.
Disadvantages:
– expensive;
– you have to hire a boat to get to your island;
– fly only in daylight hours;
– can be canceled if the weather is windy.
Domestic airlines
Nowadays 11 international and local airports operate in Maldives, some more are being constructed. Turboprops always perform flights between them. They have seats for 60-80 persons. 3 airlines are operating: Maldivian.Aero, FlyMe, Manta Air
Advantages:
+ quick;
+ don't depend on the weather conditions;
+ fly often (3-5 times a day), also in the evening;
+ if the weather is fine, you can enjoy the stunning Maldivian views.
Disadvantages:
– expensive tickets.
What taxes are collected in Maldives?
Nowadays there are two types of taxes in the Maldives: TGST (12%) and Service Сharge (usually 11,3% in guest houses and 8% in restaurants and cafes), Green Tax ($3 per person per day).
Note that all online booking systems (Booking, Agoda) do not include taxes in the total amount that is provided on their web sites.
They usually add only TGST to the cost of excursions.
If you pay by your credit card, 4% is charged. Before going to the Maldives, contact your bank and ask whether there can arise any problems while paying by card. ATMs can be found not on every island. A service fee when withdrawing money from ATM is 150 rufiyaas, and it does not depend on the sum of money withdrawn.
What to do in Male?
I'd like to say that you don't need to stay there for a day/a night, it is not worth it. But if you have some time till your transfer, you can visit fruit and fish markets, pop in gift shops and sit by the fountain on the main square.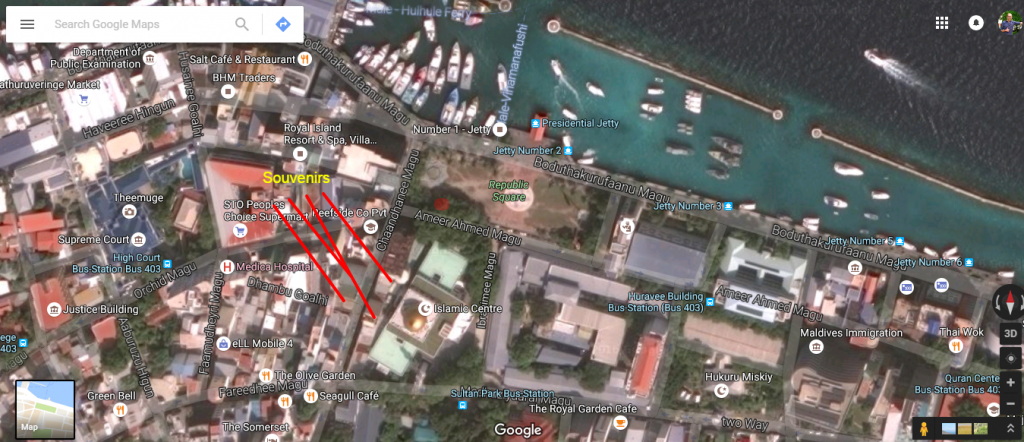 All these places are marked on the map.
In general, the prices and the assortment in gift shops don't differ much. However, it is rather difficult to find original things that were made in the Maldives. But it is still possible.
The majority of such shops are located along Chaandhanee magu street. A cafe where the USD exchange rate is 1:16,7 can also be found there. The exchange rate in gift shops is a bit lower.
Is it allowed to drink alcohol in Maldives?
The Maldives is a Muslim country, so you're not allowed to bring alcohol to the local islands and drink it there. If you bring alcohol in, it is confiscated, and you can have it back only when flying back home.
But at the same time, you can drink alcohol on resorts, safari boats, and in so-called 'floating bars'. Apart from that on Hulhumale in the airport region, there is a bar in Hulule Island Hotel where alcohol is also allowed. But it is strictly forbidden for the locals.
Do you need a local SIM card?
In fact, the most important thing in Maldives is to keep in touch. So if you have time till your transfer, make sure you buy a SIM card from a local mobile operator (Dhiragu or Ooredoo). If you haven't got time, at least activate SMS roaming. Give your telephone number to your guesthouse manager because they don't always meet you at the airport or you maybe didn't find him.
Why? Here are the most typical situations that can arise:
– your speedboat/ferry is canceled because of bad weather. It's likely to set off the next day in the morning. All the details can be provided by your manager; he/she can also say where a guest house in Male is for you to stay;
– your speedboat breaks down, and your manager will offer you another one (if the one is available);
– Male departure point is changed. But it is quite rare;
– you miss your ferry. But still, there may be a speedboat;
– all ferry tickets are sold. It is a common thing. Sometimes the locals help to buy some tickets, but at a very high price. Otherwise only a speedboat is left. They usually run after ferries, so don't be afraid to be late;
– you have a problem; probably the locals can help you;
– a domestic flight is earlier/later. You're informed 24 hours before the flight. You'd better be aware.
And some other situations.
All guest houses have Wi-Fi. All in all, the internet is good if you just use social networks, Skype, etc. But it is slow for watching serials online.
You can buy a SIM card from one of the two mobile operators at the airport. When you leave the Arrivals zone, turn right.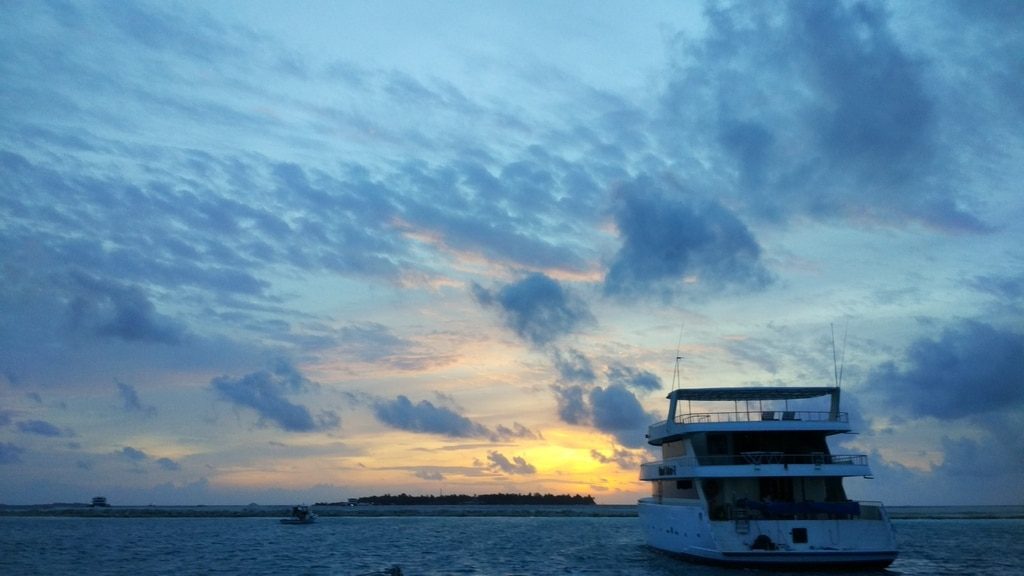 What souvenirs to buy?
Gift shops can be found on practically every island. The prices there are a bit higher than in Male because they buy souvenirs in Male. Sometimes some local masters open their own shops on the islands. In this case, the prices of some goods are lower.
A lot of souvenirs are made in China, so if you want to buy something made exclusively in the Maldives, consult a shop assistant.
In the market you can buy coconut butter, sweet 'bondi' (made of coconut flakes) or 'coconut jam' (made of coconut juice).
Contact us to get a personal tour to the Maldives!
Read also: