Guide to Ukulhas
Ukulhas is an island located in North Ari Atoll. The island is 72 km away from Male. The length of the island is 1025 m, the width is 225 m with population about 900 people. Ukulhas has one of the best bikini beach in Maldives among local islands.
Bikini Beach
The beach is the main attraction of Ukulhas. Some guest houses have direct access to a bikini beach, which occupies almost half of the Ukulhas coastline. There are a lot of sun beds and umbrellas on the beach. You can enjoy the nature with a comfort under the shade of trees. The beach is regularly cleaned, like the rest of the island. This island is a perfect place for families with young children.
At different times of the year the size of the beach can vary, for example, in April, the southern part almost completely disappears.
However, during the rainy season (from May to November), the situation may change and a lot of garbage is coming from the ocean to the beach. Also at this time there are high waves and water can be muddy. The reason is the change of wind direction and in the absence of an outer reef, which serves as a barrier to break waves and for an upcoming litter.
Ukulhas is considered to be one of the most eco-friendly islands in Maldives, and in 2014 the island even 'won' the award from the government for its environmental friendliness.
House reef
The water near the coast is rather muddy, it's much cleaner on the edge of the reef. Here you can see schools of fishes, sharks, rays, turtles, soft and hard alive corals. Sometimes you can see even manta rays! There is a manta point as well near Ukulhas.
The current is not very strong, so you can just "fly" over the reef.
You can find amazing reef with lagoon in the north edge of Ukulhas. It can be reached by speedboat only. There are a lot of fishes, corals, octopus, shark, rays, etc.
There is picnic island near Ukulhas as well. But guest houses don't use it for visiting of tourists.
Sand bank
There are 3 sandbanks near Ukulhas, which are available at different times of the year and even day. For exaple, near Constance Halaveli. Its length is about 100-150 m and it's available all year around. You can explore house reef with a lot of corals and school of fish.
Tourists are taken from the nearest resorts to this sandbank, so there may be crowded or no people at all.
There is no plants and trees, so you have to take umbrellas and a portable refrigerator with you.
Resorts
It's possible to go to nearby resorts for a day visit: Ellaydhoo by Cinammon, Nika Island, Gangehi Island Resort and others.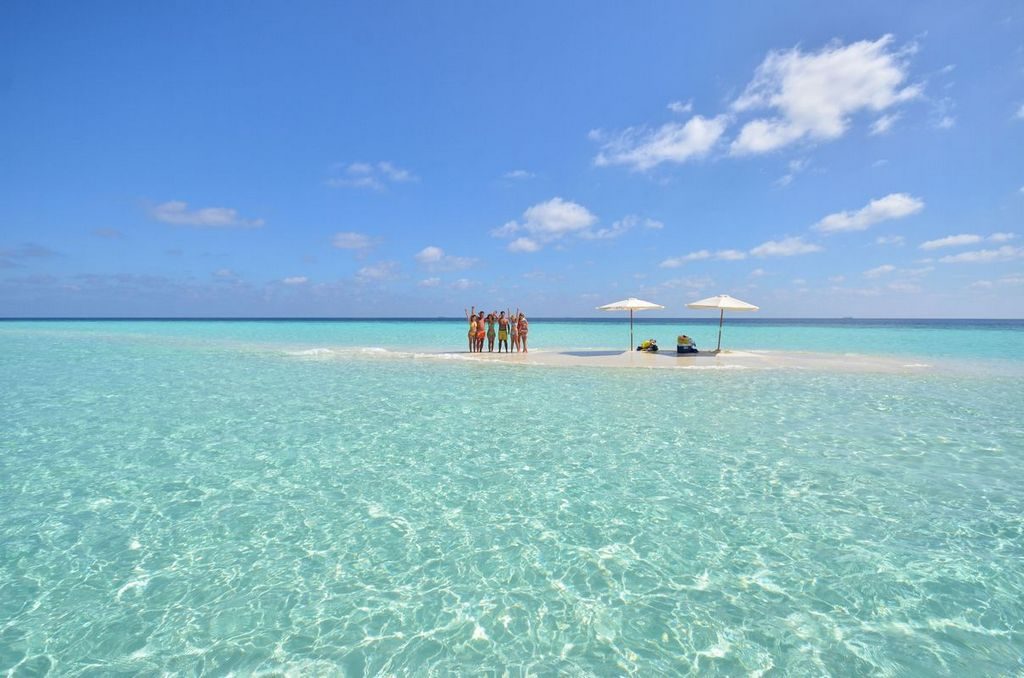 Infrastructure
The island is quite developed: hospital, school, fitness center, football ground, several shops and cafes (5 including Thai place).
Please, don't expect a wide choice of food options. There are mostly Indian, Thai, Western dishes, cooking of which is based on local traditions. The dishes are quite tasty, and portions are really huge! The prices are OK. Almost each guest house order food in one of restaurants They don't cook by themselves.
Among other things, you can be offered hedhica as a snack – it's grilled fish with grated coconut, lime juice, onions and chili. Besides, you can try bajiya (fish buns), Kulhi boakibaa (fish cakes), Keemia (fish roll), gulha (fish balls), and masroshi (small fish pancakes).
There is a small mosque near the jetty. Another mosque (Kudamiski'y) was built in 1656; it is the oldest building on the island. It's interesting that Ukulhas is the second island (after Male), which was electrified in mode 24 hours per day.
Nowadays, there are 19 guest houses on the island. Every year more guest are opened. In general, the prices are higher than in other local islands.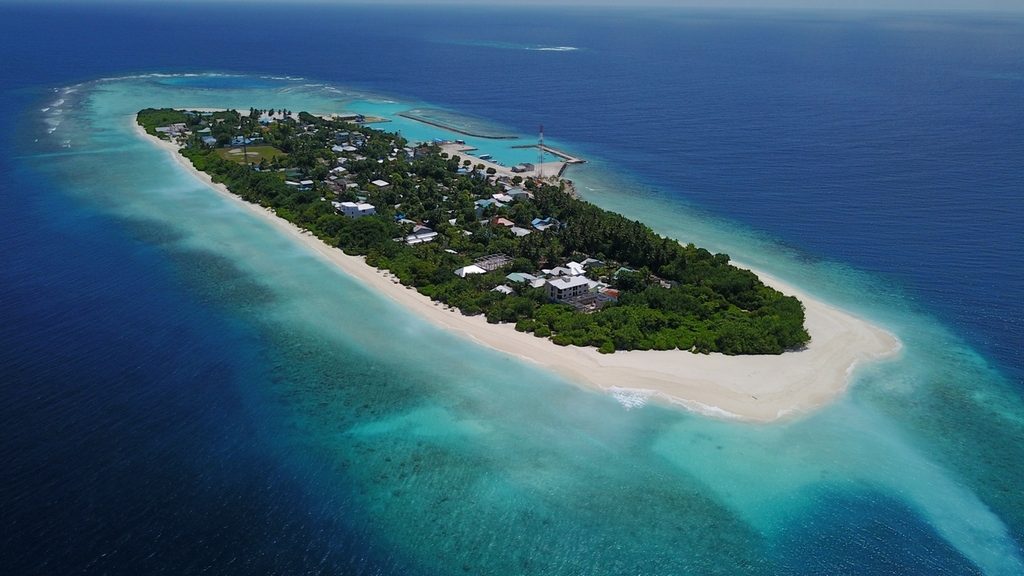 Transfer to Ukulhas
Cost: $4 one way, per person (it takes about 4 hours).
Departure from Male: Sunday, Tuesday, at 9:00.
Departure from Ukulhas: Monday, Wednesday at 10:00.
Sharing Speedboat
Cost: $40 one way, per person (duration is 1,5 hours).
Every day
Departure from Male to Ukulhas: 11:00 and 15:00-16:00 (on Friday at 9:30 and 15:00).
Departure from Ukulhas to Male: 07:00 and 16:00.
[mashshare]
/** * RECOMMENDED CONFIGURATION VARIABLES: EDIT AND UNCOMMENT THE SECTION BELOW TO INSERT DYNAMIC VALUES FROM YOUR PLATFORM OR CMS. * LEARN WHY DEFINING THESE VARIABLES IS IMPORTANT: https://disqus.com/admin/universalcode/#configuration-variables*/ /* var disqus_config = function () { this.page.url = PAGE_URL; // Replace PAGE_URL with your page's canonical URL variable this.page.identifier = PAGE_IDENTIFIER; // Replace PAGE_IDENTIFIER with your page's unique identifier variable }; */ (function() { // DON'T EDIT BELOW THIS LINE var d = document, s = d.createElement('script'); s.src = 'https://budgetmaldives.disqus.com/embed.js'; s.setAttribute('data-timestamp', +new Date()); (d.head || d.body).appendChild(s); })();