2022-09-05 08:07:03
Ukulhas is my second most visited island after Rasdhoo – 6 times in the last 3 years. I like it because of the beach and house reef.
The island is located 72 km from Male and is part of the atoll Alif Alif. The size of the island is 1000×200 m. about 900 people live on it.
Table of content:
Things to do on Ukulhas
Beach and house reef
The beach is the main attraction of Ukulhas. Its length is almost 1 km! Therefore, it occupies almost the entire western part of the island. Some hotels have direct access to the beach, but there is no sea view from the room. There are a lot of sunbeds and umbrellas. You can comfortably be under the shade of trees. The beach is regularly cleaned, like the rest of the island. Despite a large number of tourists, there is enough space for everyone. Not like on Rasdhoo or Thoddoo, where there really may not be enough sunbeds.
Budget packages to local islands
But this rule applies only to the period of Nov – Apr. The rest of the time, waves and currents carry a large amount of dead coral. Locals can't take them off because there are too many of them. Also, during off-season tides are usually higher, so most of the beach is underwater and you can no longer go from one end to the other. Depends on the times of the year, the size of the beach can change, for example, in April, the southern part almost completely disappears. The reason is the change in wind direction and the absence of an external reef, which serves as a barrier to debris and waves.
This island is a perfect place for families with small children because the distance from the beach to hotels is a maximum of 100 m. Ukulhas is very popular among Italians, about 80% of tourists are from there.
There is almost no garbage on Ukulhas, as on many local islands. Moreover, the island is considered one of the most environmentally friendly in the Maldives and in 2014 received the award from the government.
Snorkeling on Ukulhas
Opposite the bikini-beach, there is a long and beautiful house reef with live soft and hard corals. Many fish, including huge schools of parrotfish, can be seen during a snorkel. Also, almost every day you will see stingrays, small cuttlefish, turtles, and octopuses. Sometimes there are even mantas! I saw only once mantas during the off-season.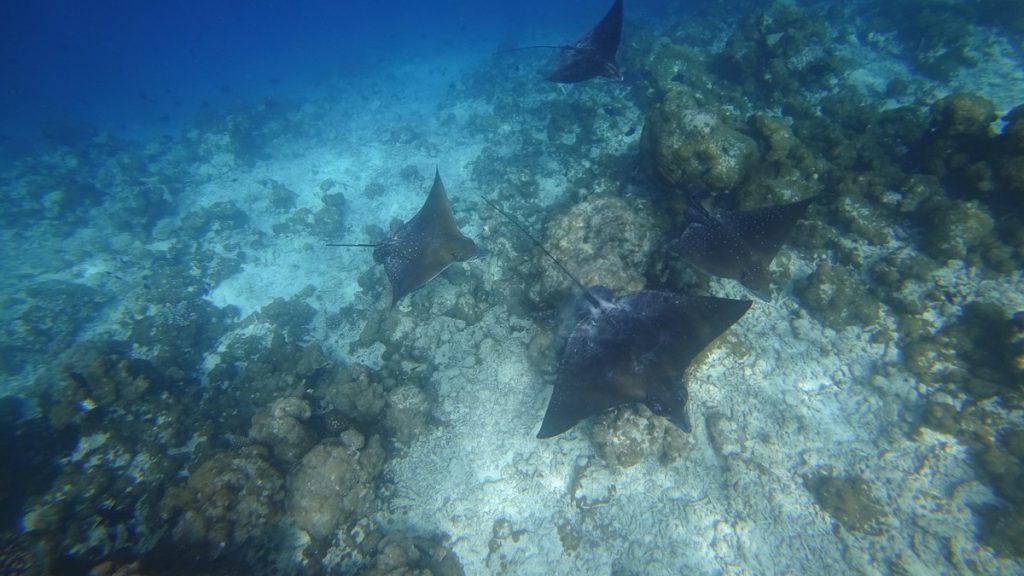 Ukulhas is home to sea turtles. Once I saw three (!) turtles there at once. This can only be seen on snorkeling safaris on other reefs.
In the northern part of the island, there is a lagoon with a coral reef. A couple of years ago there were some alive corals, but not so long ago I swam there, and no sharks, no stingrays, no live corals, only some fish.
Truly large schools of fish, living corals, and manta rays can only be seen during a snorkeling safari.
Between Ukulhas and Mathiveri there is a lagoon, where up to 20 mantas gather together! This is the only place in this area with manta rays. Therefore, tourists often come there both from local islands and from resorts.
How to snorkel with manta rays? Mantas are very intelligent and friendly animals that if they feel threatened, they will never come to you. What to do in this case? It's simple, as soon as you jump into the water and see mantas, just do not rush and swim toward them very carefully and wait a bit. If the manta feels that you are not a threat, it will come to you. Chasing manta rays is the last thing you need to do because it will be faster than you in any case.
Any snorkeling is not a sprint, but a marathon that requires patience and endurance.
There was such a story, I went on a snorkel with mantas. In the same place was a group of tourists. Because of the rush, the manta always sailed away from them and sailed to me, because as soon as I jump into the water, I just waited. They swam so close that I could touch them.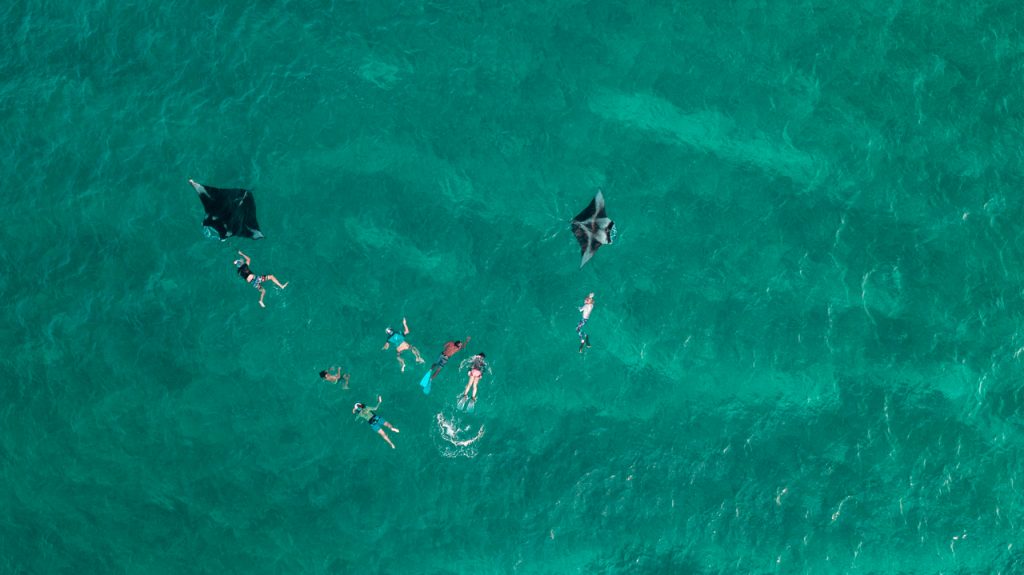 Life-hack: do not try to touch the mantas, it will touch you if it feels that you will not harm it.
Due to its size (wings up to 6m.), It can scare you, but do not worry. Their main food is the smallest plankton. Therefore, it certainly will not swallow you!
Over the past 4 years I have seen hundreds of manta rays, so I can say with confidence that following the above rules will help you get to know these marine giants closely.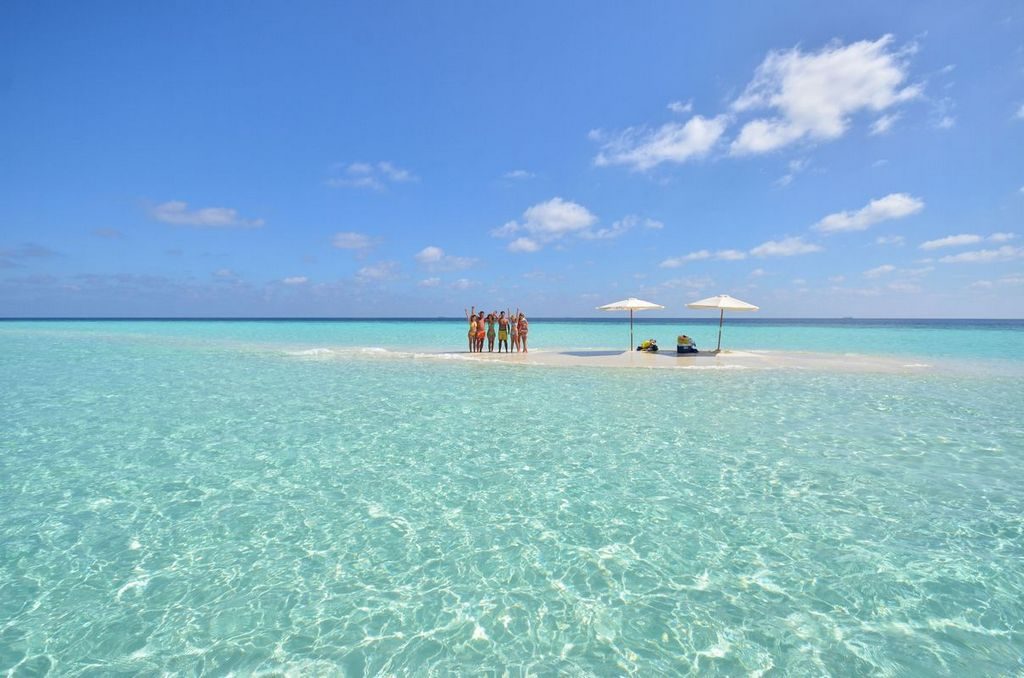 Uninhabited island near Ukulhas
I would say that this is something between a sandbank and a desert island. They do not organize trips from Ukulhas because of the poor beach and inconvenient entrance. For these purposes, tourists are taken to uninhabited islands near Rasdhoo.
Sandbanks
In the Ukulhas area, there are at least 5 sandbanks that are available at different times of the year. Most tourists are visited three of them. I visited all of them at different times. Such places are a unique Maldivian experience where you can feel like Robinson Crusoe, being cut off from the outside world!
The length of one of them is approximately 100-150 m and is available year-round. There is a cool house reef with plenty of fish, stingrays, and even turtles. Visibility – up to 40 m! I was not able to fully explore it, because at the end the current becomes strong, so I had to go back to a sandbank.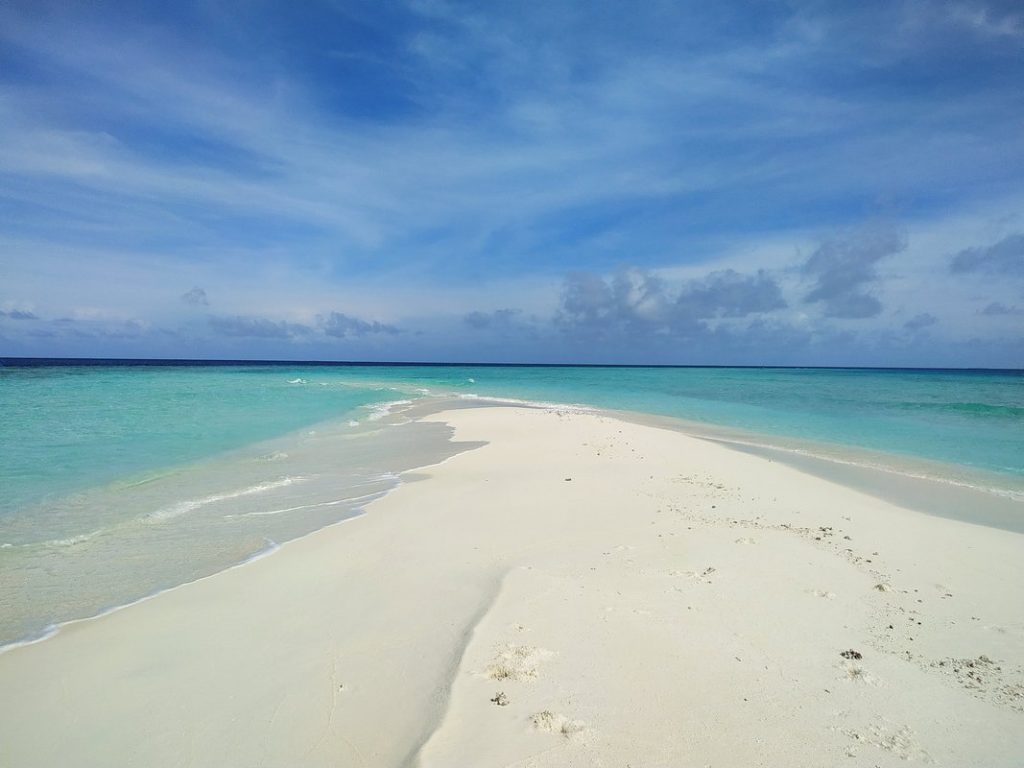 Never swim alone in such places! It may be dangerous! Every year, in the Maldives, tourists are taken to the ocean by the current. Some of them can't be rescued
Sometimes tourists from nearby resorts are brought to this sandbank, so it can be crowded or no one at all.
There are no palms, so you must take umbrellas and a portable refrigerator with you (the hotel provides).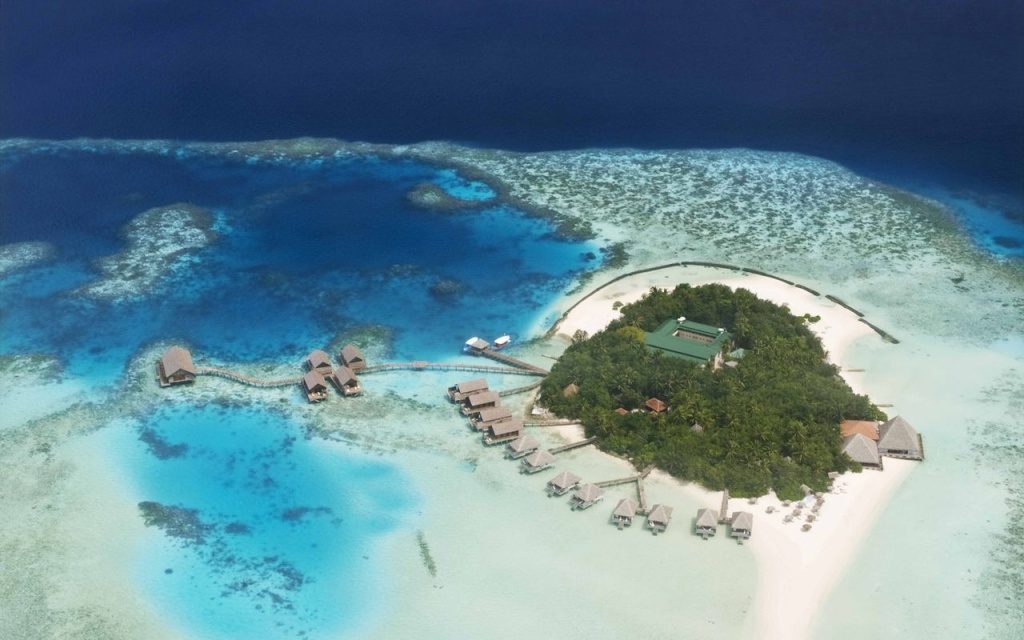 Resort visiting
From Ukulhas, trips to resorts such as Nika Island, Gangehi, Ellaidhoo by Cinnamon can be organized on request. The cost depends on the resort. The hotel only charges for transfers to/from the resort. But the entrance fee is paid separately at the resort (about $ 100-150 per person).
The price includes the time spent on the island (usually from 10:00 to 17:00), towels, food and drinks (depending on the resort), the ability to visit bars, restaurants, SPA, and other resort amenities
Access to the villas is at an additional cost.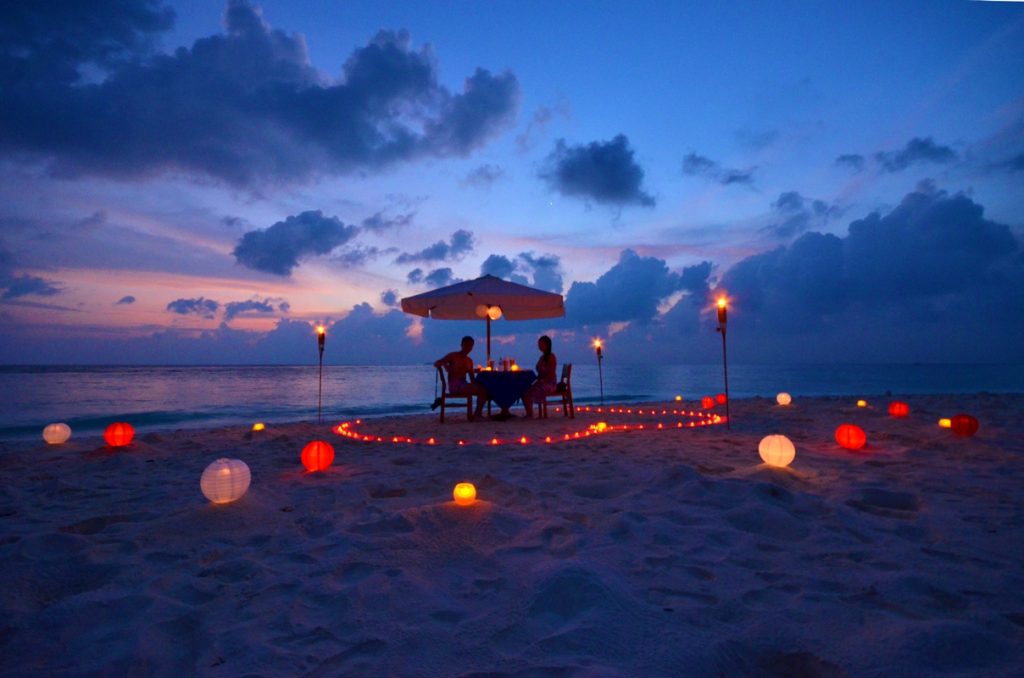 Romantic dinner
Hotels can organize two types of dinner: on the beach and on the sandbank. The cost of the first is about $ 100 per pair, the second is about $ 250. The high cost of sandbank dinner is because of the high cost of logistics.
On the beach, unlike Rasdhoo, you can organize a fairly private candlelight dinner for two. No one will disturb you.
Big game fishing
Ukulhas is one of the few local islands where such activity is organized because it requires knowledge of the places and availability of special speed boats that can sail to a depth ocean.
Popping. There is no better site for a fisherman than to see a sudden explosion on the surface and the popper or swimbait being smashed while the reel starts to lose line rather rapidly. Be it a GT, Dogtooth, Red Bass, Coral Trout, or Barracuda they simply cannot resist a surface lure that is properly displayed.
Jigging. With plenty of dropoffs and channels all across the Maldives, Jigging always land you plenty of fish and quite often fish that can give you a real fight. Big Dogtooths, GT's, Barracudas, and if at the right location Yellowfin Tuna take the properly worked jig with surprising regularity.
Trolling. Every angler has their sights set on a successful day of fishing, but it's more than just throwing some bait on a line and hoping for the best. There are different techniques used for every type of fishing, whether it's inshore or offshore.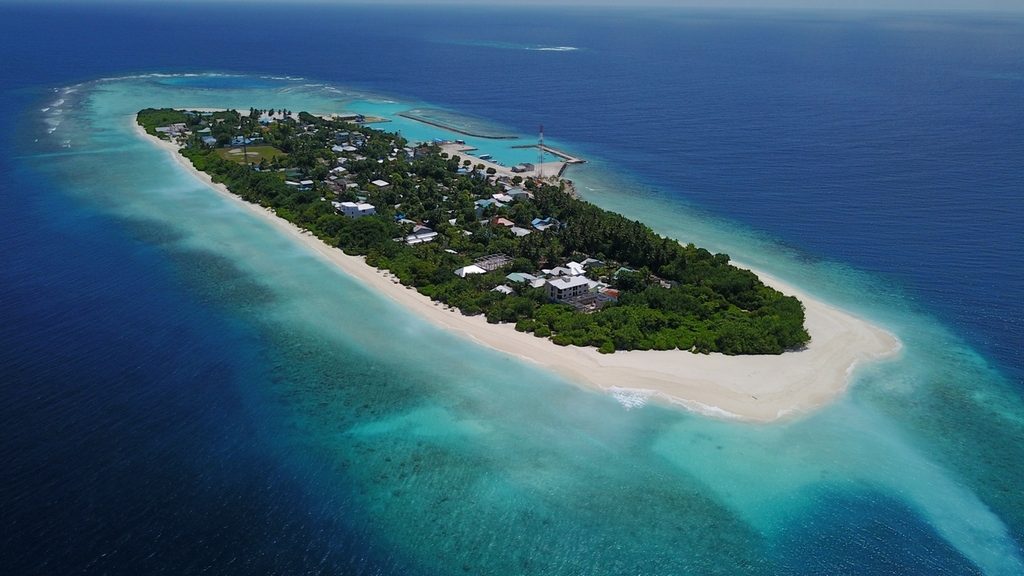 Safari with dolphins
Not regularly arranged because the natural habitat of dolphins is far from Ukulhas. However, I saw them several times along the way from the sandbank. They are not very friendly and do not allow them to swim close to themselves.
Seeing playing dolphins in the wild is an unforgettable experience, and the Maldives are home to some species of dolphins, including spinner dolphins and grind. This is one of the most fun activities for Ukulhas and is especially popular among families. Excursions for watching dolphins are on request, early in the morning, or before sunset.
Diving
There is only one dive center on the island. This is due to the limit of dive spots nearby. Usually, divers go to Rasdhoo or other islands of the central and southern Ari Atoll.
Night fishing
Even amateurs can try to catch a fish. It is very rare that anyone comes back without any single fish. A catch can be prepared at the hotel.
Ukulhas Infrastructure
The island has everything you need: a hospital, a school, a fitness center, and a football field, several shops and cafes. Near the pier is a small mosque. Although there are few shops on the island, only 4-5, and the choice of products is limited. However, here you can buy drinks, fruits, cookies, etc.
On Ukulhas there is a modern hospital, school, football field, Body Work Gym, and two mosques, where the Kudamiski'y mosque is the oldest building on the island (since 1656), the remains of which are presented as a popular tourist attraction.
Several simple grocery shops can be found at Bodu magu, the island's main road that goes from east to west. Those shops sell a variety of items ranging from food and beverages to cosmetics and building materials. You can also reload your cell phone there.
After the rain, the streets can literally turn into rivers! So be prepared for this.
Where to eat on Ukulhas
Local cuisine is not much different from other local islands. All dishes are mainly Indian, Thai, Western cuisine, with local characteristics. Among other dishes, hedhica is served as an appetizer: grilled fish with grated coconut, lime juice, onions, and chili. In addition, you can taste bajiya (pies stuffed with fish), Kulhi boakibaa (fishcake), Keemia (fish roll), gulha (fish balls), and masroshi (small pancake stuffed with fish).
Céleste Restaurant. The 150-person capacity, located near the harbor, serves Maldivian dishes plus Asian and European staples. The place is good value for money even if it is marginally more expensive than average.
Home Beach Restaurant. It's a local cafe with air conditioning and a nice local vibe. You can get all kinds of food here including cheeseburgers with cheese and vegetables, soups, curry, fresh grilled fish with a taste of soy sauce, and light seasonings. There are delicious fresh fruits and Maldivian sweets. It is also inexpensive as well.
Central Diner Restaurant. Many of the island's guesthouses use this place to cater to their meals. Best place to eat Italian cuisine on Ukulhas. Portions are huge, however, at times you can get less than usual.
Retro Royal. The place has become one of the most popular eateries on the island with tourists. Located in the northern corner of Ukulhas island near the school, Retro Royal is indeed a haven for seafood lovers. The menu has a wide selection of dishes such as freshly grilled fish or garlic prawns with fish steak, calamari, chili octopus plus chips, rice, and salad.
Olhumathi Restaurant. Olhumathi is set near the bikini beach. It's the oldest restaurant in Ukulhas. Along with the Asian and Local, the menu also has local Maldivian and International cuisine. The menu offers around 8 different fish and seafood dishes, including Indian style.
Black Y Garden. It's just next to the port. Set in the garden, the restaurant offers varied local and international dishes, including noodles and lots of salads and desserts.
Coco Bar. Serving only fresh juices and canned drinks, no alcohol is allowed on inhabited islands. The prices are great and you always get some fresh fruit besides. It's near the beach and the service is fantastic.
Paguro Cafe. Paguro Café is an international affair combining the best of the world's cuisines to offer a delightful menu. For lunch and dinner pick from dynamic dishes that are inspired by the very best of the Americas, Europe, and Asia. However, for breakfast expect more traditional dishes such as eggs, pancakes, and fresh smoothies
Where to stay on Ukulhas?
About 30 hotels and guest houses of various price categories are open on the island. During high season, the cost starts from $ 60 and up to $ 150 per night! On the island, there is something like a union of hotel owners and guest houses that keep prices at about the same level and do not lower them.
I always stay at Starry Nights at Ukulhas- one of the first hotels in Ukulhas, which has been open since 2015. Its main features are a high level of service, reasonable prices and family rooms with up to 4 beds!
For three years of working with them, tourists from more than 30 countries have been welcomed. Everyone was satisfied. And if there were minor misunderstandings, they were all quickly resolved as soon as possible.
Ukulhas Vacation Package
Accommodation at Starry Nights at Ukulhas, breakfast and dinner, sandbank trip, manta ray snorkeling, transfer by scheduled speedboat Airport-Ukulhas and Ukulhas-Airport, all taxes and charges. Total (for 2 adults):
| Nights | May – Nov | Dec – Jan | Feb – Apr |
| --- | --- | --- | --- |
| 4 Nights | 720 USD | 880 USD | 800 USD |
| 5 Nights | 805 USD | 990 USD | 900 USD |
| 6 Nights | 890 USD | 1,120 USD | 990 USD |
| 7 Nights | 975 USD | 1,240 USD | 1,100 USD |
SEND REQUEST
Transfer to Ukulhas
Public ferry
Cost: $4 one way, per person (it takes about 4 hours).
Departure from Male: Sunday, Tuesday, at 9:00.
Departure from Ukulhas: Monday, Wednesday at 10:00.
Sharing Speedboat
Cost: $50 one way, per person (duration is 1,5 hours).
Every day
Departure from Male to Ukulhas: 11:00 and 15:00-16:00 (on Friday at 9:30 and 15:00).
Departure from Ukulhas to Male: 07:00 and 16:00.
Seaplane
It's possible to fly to Nika Island Resort by TMA seaplane, as there is no TMA platform at Ukulhas Island. From the resort to Ukulhas it's another 20 minutes by speedboat. Price is 260 USD + speedboat fee depends on the hotel.
Contact us to get a personal tour to the Maldives!
Read also:
How to book Maldives on a budget?