Top Budget Resorts in Maldives
Maldives doesn't mean spending a huge amount of money on deluxe 5+* resorts. You can cover this stunning cluster of islands on a rather reasonable budget. The country has a low ground surface and a major portion is covered by sea, which means you can enjoy living in awesome beach villas and over-water bungalows.
A dream location, tropical sunshine and unbelievable natural beauty – the Maldives has it all. The country is made up of 1200 coral islands, with around 130 luxurious resort found on its own private isle. Seclusion, serenity and simplicity are the pillars of life in the Maldives.
We carefully selected for you top 9 budget resorts in Maldives with an average price per night below 400USD, including all taxes and meal plan.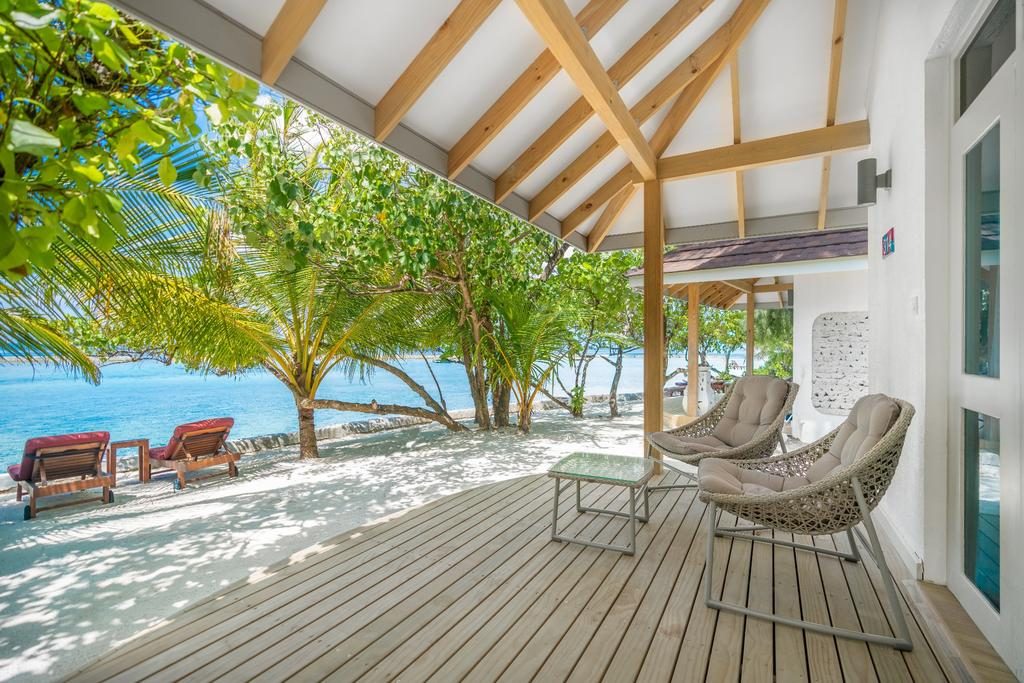 Ellaidhoo By Cinnamon
Price range: 287 – 396USD/night on HB basis, Superior Room
Transfer: speed boat/seaplane
Located about 42km away from Male and a 25-minute seaplane ride or 1,5 hrs by speedboat away, the Ellaidhoo Reef sits on the eastern fringe of North Ari Atoll – the largest of the 22 natural atolls that make up the Maldives. This resort is blessed with amazingly colourful coral reefs, fine white sandy beaches on one side of the island and a turquoise lagoon, making it perfect for those seeking unspoiled surrounds in which to relax.
Want a special package for this resort? Send us a request!
With 24 overwater bungalows and 88 Superior rooms on the island, the Ellaidhoo Maldives by Cinnamon is a great choice for those seeking an affordable 4-star hotel in the Maldives.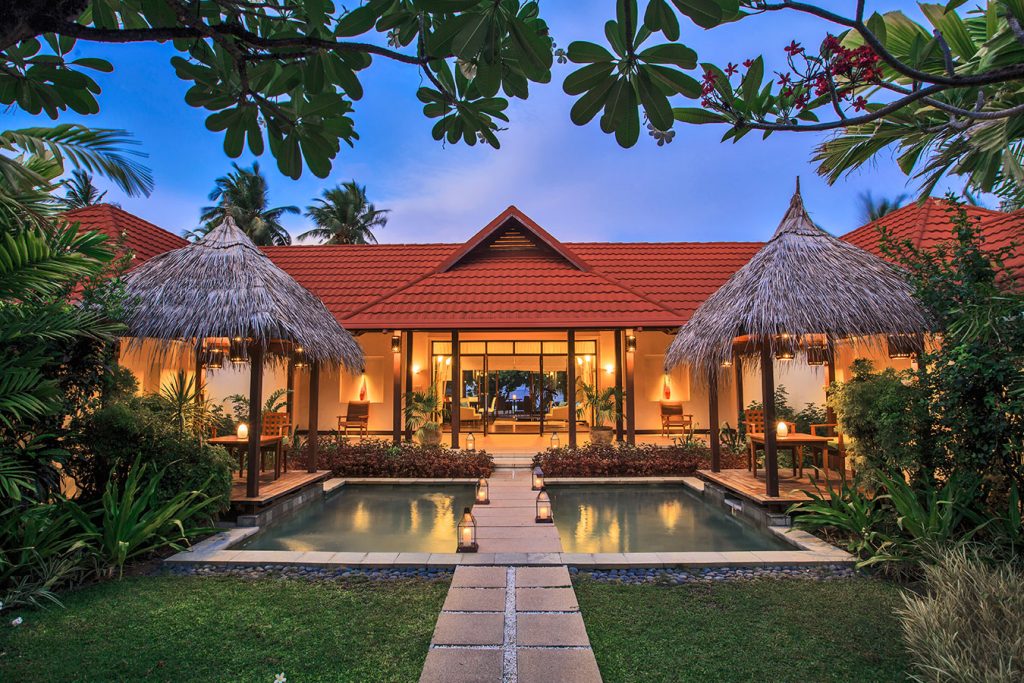 Kurumba
Price range: 336 – 468USD/night on BB basis, Superior Room
Transfer: speed boat
Kurumba island resort offers more than just sun, white sand and blue-color ocean! A resort full of surprises, fun activities, lively entertainment and smiling faces that are sure to give your Maldives holiday so much more.
The resort's name 'Kurumba' is derived from the coconut trees that grow here in glorious abundance. The resort 's lovingly nurtured tropical gardens include an orchid nursery. Shaded paths lead from one side of this 30-acre circular island to the other. Intimate white beaches are protected by eco-breakwaters of weathered coral.
It'is just a 10-minute ride via a comfortable speedboat from the Male International Airport (available 24 hours).
Bandos Maldives
Price range: 243 – 285USD/night on BB basis, Classic Room
Transfer: speed boat
Bandos is one of the most famous Maldives' resort. Bandos stands out by its great hospitability, blithe atmosphere and a wide range of possibilities in your leisure's organization. It has lush vegetation, cozy sandy beach and very picturesque house reef. The resort is good for families with children, old couples, outdoor enthusiasts, divers and honeymooners.
Bandos has in total 215 rooms.The island itself is located in North Male Atoll. The distance between Bandos and the main island is just 7 km. Speedboat can get you to the resort in 15-20 minutes.
Bandos Maldives is well known for being one of the best family-friendly resorts. You can relax and enjoy whilst your young ones are having the time of their life.
Paradise Island Resort and Spa
Paradise Island Resort on a map
Price range: 250 – 340USD/night on HB basis, Superior Beach Bungalow
Transfer: speed boat
Paradise Island Resort & Spa is a 20-minute speedboat ride from Malé International Airport. In general the island is quite large according to Maldives standards so it may be described as quite a big and busy resort. Yet you may still find some privacy especially on the east side of the island which is far from the main facilities area.
Paradise island is a place beyond the reach of stressful modern life, a realm of complete relaxation with bliss to be found amid white sands and azure seas. It is a place where nothing stands between you and the bountiful waters of the warm Indian Ocean.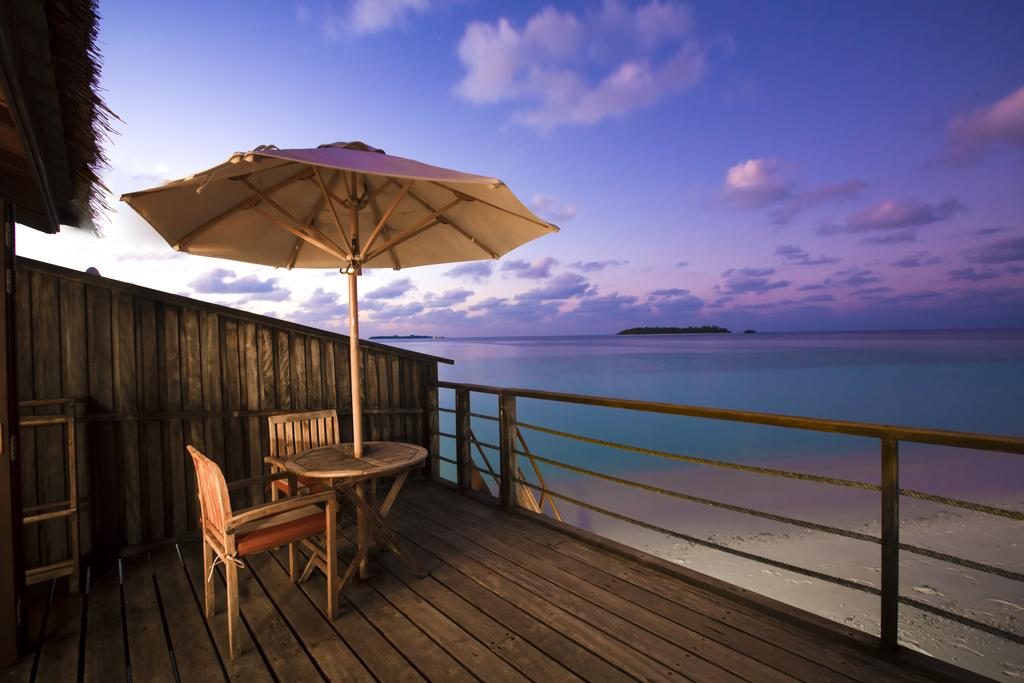 Reethi Beach Resort
Price range: 170 – 230USD/night on BB basis, Reethi Villa
Transfer: seaplane or domestic flight + speedboat
Reethi Beach Resort is located on a tiny island in Baa Atoll, a scenic 35-minute seaplane flight or 1 hr combined transfer (domestic flight + Speedboat) from Male. The elegant and spacious detached and semi-detached villas are built from natural materials in typical Maldivian-style, providing first class comfort in a unique setting.
Want a special package for this resort? Send us a request!
The unique local architecture of this 4-star resort blends with the natural beauty of the island creating an eco-friendly environment. The resort has three room categories: reethi villas, deluxe villas and luxurious water villas built on stilts over the lagoon.
All villas are air-conditioned and set amid tropical foliage fringing a long expanse of powder soft beach or on stilts over the clear blue lagoon. There are five restaurants and five bars, poolside and beachfront.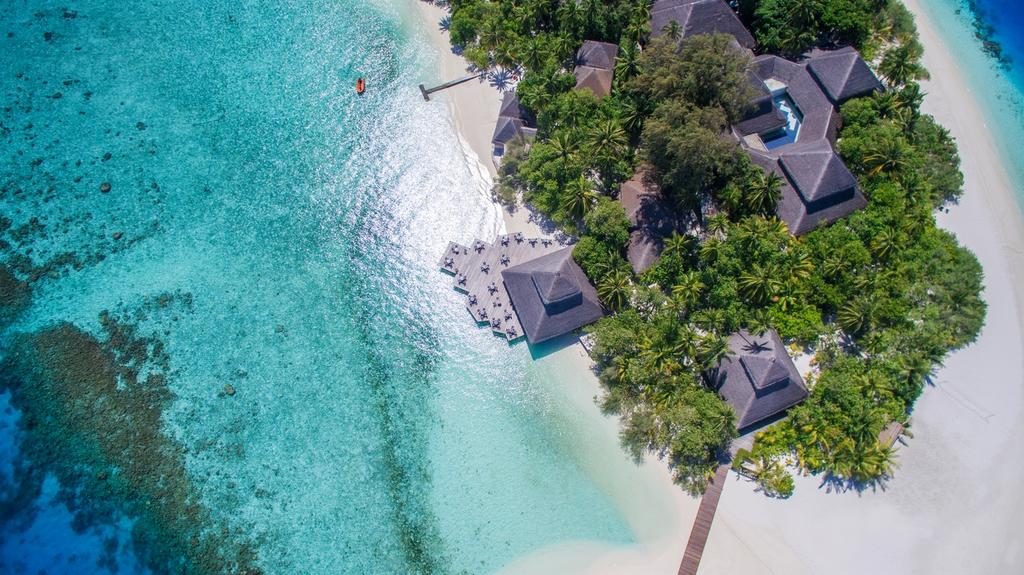 Adaaran Club Rannalhi
Adaaran Club Rannalhi on a map
Price range: 315 – 390USD/night on AI basis, Standard Room
Transfer: speedboat
Adaaran Club Rannalhi creates a cozy home atmosphere and its lush vegetation create all conditions for an unforgettable vacation. The hotel itself is ideal for a first acquaintance with the Maldives, and for the re-rest.
The resort is located 34 km from the main Male Island in South Male Atoll, the Island of Kaafu. Transfer from the airport to the island takes 45 minutes by speedboat.
Adaaran Club Rannalhi is featured among the best budget resorts in Maldives and sits exclusively at the tip of the South Male atoll within the exotic collection of islands known as the Maldives. Its unique location offers access to pristine beaches, excellent scuba diving opportunities and a relaxed environment with easy access to the capital city of Male.
Kuredu Island Resort and Spa
Price range: 315 – 375USD/night on AI basis, Garden Bungalow
Transfer: seaplane
Kuredu Island Resort is located on the northern part of Lhaviyani Atoll, an area famous for its beauty and an abundance of fish life. The 35 min seaplane trip to the island on board adds to the allure of your Maldives holiday and provides astounding views of one of world's most distinct seascapes.
The themed, air conditioned rooms have a kitchenette, a mini bar and movies-on-demand. Hot drinks can be brewed with the available tea and coffee supplies and savoured in the comfort of the room's sitting area.
Want to know what happens now in Kuredu? Check a web camera here!
As a larger island, there's a real choice of accommodation, ranging from the traditional, simply furnished Garden Bungalows to the romantic Jacuzzi Beach Villas with four-poster bed and outdoor Jacuzzi bath, and the Sangu Water Villas sitting on stilts over the lagoon.
The size of the Kuredu Island Resort allows it to have things other nearby resorts don't have, for example a 6-hole golf course with a pro shop. The atmosphere is casual and the entire island has sand floors, which should be very popular with those who might not be in the mood to dress up while on a tropical island.
Vilamendhoo Island Resort and Spa
Price range: 305 – 350USD/night on FB basis, Garden Room
Transfer: seaplane
Awesome 184-room Vilamendhoo Island Resort & Spa is one of the few in the Maldives that can boast whale watching. It is 900 meters long by 250 meters wide, about 55 acres. The resort has multiple pools, restaurants, sports fields, and a spa scattered throughout, and there are dedicated adults-only areas. With a reef on-site and all-inclusive options, it's a romantic, tranquil choice for families and couples.
It's a 25-minute seaplane journey from Malé to this Paradise.
Vilamendhoo is located in one of the best diving spots in the area. The island has a beautiful sandbank at the west end.
/** * RECOMMENDED CONFIGURATION VARIABLES: EDIT AND UNCOMMENT THE SECTION BELOW TO INSERT DYNAMIC VALUES FROM YOUR PLATFORM OR CMS. * LEARN WHY DEFINING THESE VARIABLES IS IMPORTANT: https://disqus.com/admin/universalcode/#configuration-variables*/ /* var disqus_config = function () { this.page.url = PAGE_URL; // Replace PAGE_URL with your page's canonical URL variable this.page.identifier = PAGE_IDENTIFIER; // Replace PAGE_IDENTIFIER with your page's unique identifier variable }; */ (function() { // DON'T EDIT BELOW THIS LINE var d = document, s = d.createElement('script'); s.src = 'https://budgetmaldives.disqus.com/embed.js'; s.setAttribute('data-timestamp', +new Date()); (d.head || d.body).appendChild(s); })();