2022-07-30 08:04:04
Take a look at the Top 10 budget Beach Villas with Pool of the finest and most romantic hotels in the Maldives.
Ranking top position in the list of the world's popular destinations, the Maldives are the best of the best, except for costs
The budget is might be the best as well, and the wave of hotels in the Maldives proves once again that nowhere else in the world is the ideal combination of sea, sand and luxury, as on these islands in the Indian Ocean. Just imagine a beach villa with a pool near the turquoise lagoon, pristine house reef, clean white beaches, innovations in dining, facilities, and service, from underwater restaurants to overwater spas, and attractive prices for the first visitors.
ATTENTION! All the published rates are non-discounted. Each resort provides its own discounts and special offers. The lowest given rate is for the season May-Jul and the highest – Christmas and New Year time.
Check: Special Deals to Maldives 2022
Table of content:
Price range: 340 – 1200 $/night/villa with half board (breakfast and dinner)
Transfer: 30 min by domestic flight. Cost – 300 $/person, round trip
At Sun Island Resort & Spa – a flowering jewel among Maldives hotels – every moment is free to shape into your personal version of paradise.
If your ultimate dream is to experience the stunning surroundings and get close to the colors of the natural world beneath the ocean, you can scuba dive, snorkel, or sail a catamaran in the pure blue water, or if you prefer to catch up on some of that much-needed rest and recuperation, perhaps some gentle fishing could be for you.
Explore the spectacular local scenery and unique culture with excursions to neighboring islands.
With enhanced living and relaxation facilities, Beach Pool Villas feature private pools and have direct access to the beach.
This budget beach villa with pool size is 64 sqm.
Room amenities include a private freshwater pool, air conditioning, hot/cold water, tea/coffee making facilities, telephone, hairdryer, minibar, TV (without a flat screen), safe and free wi-fi.
Price range: 540 – 670 $/night/villa with half board (breakfast and dinner)
Transfer: 30 min by seaplane. Cost – 410 $/person, round trip
You & Me Cocoon is a private rustic and romantic island, in a beautiful, untouched corner of the Maldives. A world away from the stresses of everyday life, You & Me is the place to relax, curl up, and spend some quality 'us time'.
A brand new, 5-star resort, You & Me is located in Raa atoll, northern Maldives, just 20 minutes by speedboat from Ifuru domestic airport, or a 45 minute, scenic seaplane ride from Male' international airport.
Adults-only island, targeting couples, honeymooners, and friends, the resort is a quiet, relaxing retreat, far away from other hotels. And it offers one of the best budget beach villas with pool in Maldives.
Beach Suite with Pool is located on the beach with a sunrise view. Enjoy a luxurious and rustic feel, with a beautiful bathroom including a couple's bathtub and rain shower, a king-size bed overlooking the beach, sofa, deck, and private pool with private beach and sea views. The size of villa is 85 sqm.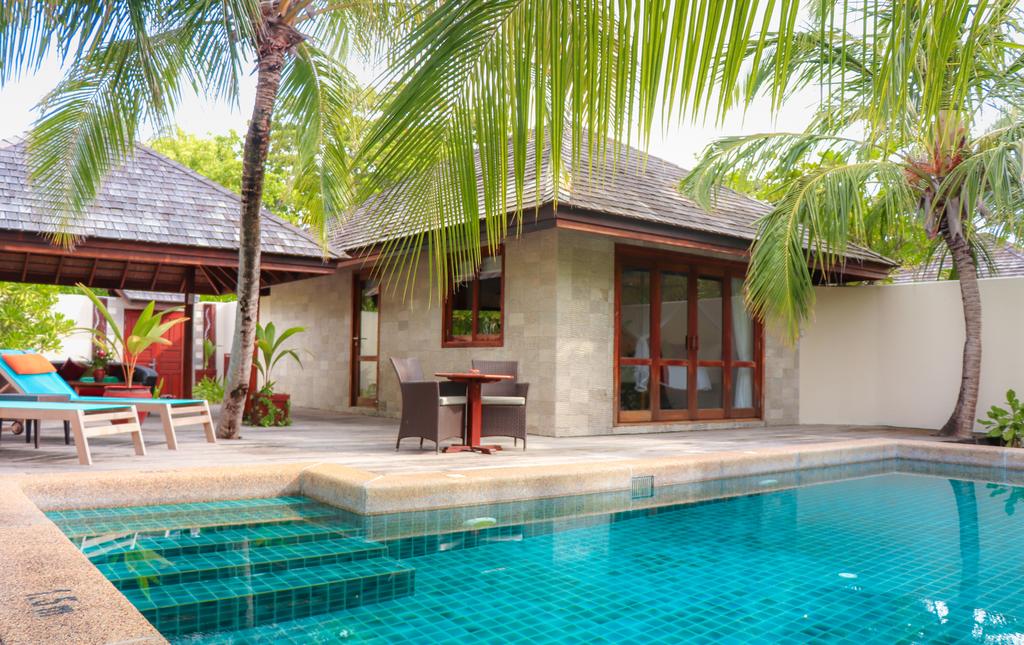 Kuredu Island Resort on the map
Price range: 600 – 1100 $/night/villa with Full board (breakfast, lunch and dinner)
Transfer: 35 min by seaplane. Cost – 280 $/person, round trip
The Kuredu Island Resort in the Maldives reflects the Island's character in every dimension. This Maldives resort is your chic retreat. Reconnect with yourself, your loved ones and the wonder of the natural world. Remind yourself what time out and travel should feel like. Breathe the clean, sea air. Meet the Hawksbill turtles. Witness the peaceful majesty of the native Nurse sharks.
Its facilities are glorious too – sand paths around the island lead to a cool infinity pool, extensive thatched overwater spa and a variety of chic restaurants.
Pool Villa is built on the fine white sand that frames the island, each facing out to its exclusive share of the beach complete with shaded loungers. The villa size is 188 sqm.
Inside, a bathtub for two, a king-size bed, and a sunken living area all offer elegant character and unconditional comfort.
Sun Siyam Iru Fushi on the map
Price range: 420 – 1200 $/night/villa with breakfast
Transfer: 40 min by seaplane. Cost – 525 $/person, round trip
Welcome to The Sun Siyam Iru Fushi, a luxury 5 star home in the heart of the Maldives, where days are long and sun-filled in a setting you'll never forget.
Over the water or on the beach, the choice is yours. Whether you opt for sunrise or sunset vistas, all of our spacious villas and retreats offer endless ocean horizons with the promise of total privacy. Outside you'll find huge day beds to laze on, swings to enjoy the sea breeze, and bathtubs big enough for two.
Each of Deluxe Beach Villa with Pool features an oversized outdoor terrace and garden, with a large private pool stretching out onto the beach. A dining table and chairs accompany a shady cabana and daybed, with the lagoon just a few steps away. Inside this budget beach villa with pool you'll find a king-size bed and bathroom with a jacuzzi and rain shower. Villa size is 125 sqm.
Price range: 700 – 820 $/night/villa with breakfast
Transfer: 5 min by speedboat. Cost – 110 $/person, round trip
Welcome to Kurumba Maldives. A Maldives island resort that offers more than just sun, sand, and sea! A resort is full of surprises, fun activities, lively entertainment and smiling faces that are sure to give your Maldives holiday so much more.
The choice of dining is superb – there's a restaurant for every night of the week with a poolside café to spare. And the quality is excellent. It begins with the main restaurant, Vihamanaa, which serves up buffet dishes from hearty Italian to fiery curries.
Garden Villa with Pool is nestled in tropical gardens. This is a great option of a budget beach villa with pool. Perfect for couples seeking more space or families. A private plunge pool with an open-plan courtyard and rain shower. Villa size is 124 sqm.
Atmosphere Kanifushi on the map
Price range: 800 – 1600 $/night/villa with Platinum All Inclusive
Transfer: 30 min by seaplane. Cost – FREE OF CHARGE
Escape to a secluded Atmosphere Kanifushi island getaway amidst azure Indian Ocean waters. Stand-alone beach and water villas spread along the 2 kilometers long island showcase vast living spaces with elegant interiors.
Atmosphere Kanifushi Maldives is delighted to offer Platinum Plus, a premium all-inclusive holiday plan that enhances the typical 5-star Maldivian resort experience and is one of our top picks for all-inclusive resorts.
Sunset Beach Villa with Pool allowing for space and exclusivity A secluded sanctuary at the northern-most tip of the island; these signature villas are the pride of Atmosphere Kanifushi! Soak in the pleasures of island living in your private garden – with lush tropical shrubs, soft sand beneath your feet, and an inviting 30sqrm private pool. Villa size is 192 sqm.
Price range: 720 – 1200 $/night/villa with breakfast
Transfer: 15 min by speedboat. Cost – 90 $/person, round trip
In the middle of the Indian Ocean sits the island of Bandos. A picture-perfect paradise is hidden away from life's everyday stresses. The clear blue water, vibrant plant life, and white sandy beaches create an immediate feeling of tranquility.
Bandos Maldives is well known for being one of the best family-friendly resorts. You can relax and enjoy yourself whilst your young ones are having the time of their life.
A luxurious modern villa is with a private infinity swimming pool and cabana-style sun deck. The Beach Pool Villa has a state-of-the-art king-size bed, rustic wooden furnishings, and a serene, romantic atmosphere for those looking to relax and unwind in style. The spacious jetted tub adorns the en-suite bathroom, where one can enjoy a luxurious soak. The size of the villa is 90 sqm.
Price range: 490 – 690 $/night/villa with Full board (breakfast, lunch and dinner)
Transfer: 35 min by speedboat. Cost – 230 $/person, round trip
The traditional Maldives meets modern design at Sun Siyam Olhuveli, with accommodations ranging from Maldivian-inspired suites to sleek contemporary villas. Designed to cater to your every whim, we've three pools to choose from, including an adults-only infinity pool that never fails to impress – but be warned, the lagoon may entice you into an adventure.
Sit back with cocktails at dusk and watch the most amazing sunsets, relax in the decadent beach or lagoon villas surrounded with luxury mod-cons and let the mind and body relax. Extra luxuries await each guest with world-class cuisine, spa services designed and activities that will provide thrills and spills for all of you.
Set right on the beach, Grand Beach Villa with Pool villa boasts private pools and expansive outdoor lounges with a day sofa, dining table and sun loungers. Inside, a king-size bedroom with a large alcoved daybed leads to an open-air bathroom with a spectacular rain shower. Villa size is 84 sqm.
Price range: 675 – 1060 $/night/villa with Full board (breakfast, lunch and dinner)
Transfer: 45 min by domestic flight. Cost – 400 $/person, round trip
Welcome to Amari Havodda Maldives. The resort is located on a secluded private island 400km south of the Maldives capital Male, in the Gaafu Dhaalu Atoll, an Indian Ocean paradise. This isolated haven, with its tropical greenery, crystal-clear turquoise waters, and white sandy beaches, is the paradise that is Amari Havodda Maldives.
Amari Havodda also offers an impressive selection of leisure and sporting activities, and unique dining experiences under the stars.
Private Pool Villa is one the most budget beach villa with pool. The sun gently rises, daylight flickers through, you draw your curtains, an incredible backdrop of sapphire blue unfolds in front of you. You walk out to your terrace, barefoot, sea-gaze, recline on your lounger, do absolutely nothing, take in the Maldivian rays. The size of villa is 121 sqm.
OBLU Select at Sangeli on the map
Price range: 680 – 1100 $/night/villa with Serenity Plan
Transfer: 50 min by speedboat. Cost – FREE OF CHARGE
Sangeli Island, North Male Atoll – renowned for its Exotic House Reef, with its resident Silver-tipped Sharks, Lobsters & Giant Sea Turtles, undergoes a full make-over! Embracing the green environment on Helengeli Island and ensuring that the wonderful house reef, just meters away from the island is fully protected in its original state – the resort with vibrant, trendy & cool designs.
OBLU Select at Helengeli is a vibrant and refreshingly modern all-inclusive resort with a stylish design and a relaxed island feel.
The tropical and vibrant stand-alone Beach Villa with Pool faces the beautiful turquoise lagoons of Sangeli Island. Each with direct beach access, large open-air bathrooms, and cozy and comfortable interiors. Accentuating trendy design styles fused with traditional Maldivian architecture.
Contact Us to get the customized package.
Check these articles as well:
The most exclusive resorts in Maldives
Top luxury resorts in Maldives
The list of 10 resorts for snorkeling in Maldives
Amazing honeymoon resorts in Maldives
Top 10 budget water villas in Maldives
The best resorts for families in the Maldives
Top 10 all inclusive resorts in Maldives
Top 10 Budget Resorts with Pool Water Villas in Maldives 2022