Gudie to Thinadhoo
Thinadhoo is one of the five inhabited islands of the atoll Vaavu. It is located 78 km south of Male. Next to the island are Felidhoo and Keyodhoo. Do not mess up this island with another Thinadhoo located in the atoll Gaafu Dhaalu – in the south (ie, further south) of the Maldives.
The island is divided into two parts: a village in which 120 people are officially registered. And in fact, only about 40 people live. There are very few local islands where you can see like that. Between the village and the bikini beach stretches the jungle. Virtually no rubbish. It's clean and well maintained. The road to the beach takes 5-7 minutes of walking.
Only a couple of shops, two dive centers and a café you can find on the island. Surprisingly, there are 5 guest houses packed mostly with Italians and a hotel where Eastern Europeans usually spend their holidays. There's no school, stadium or hospital on the island – that's why you can call it a "local" resort.
Beach and house reef
Despite its rather small size Thinadhoo can boast one of the best bikini beaches on Maldives. The beach is really nice: no dead corrals on beachside where you enter the ocean. The house reef surrounding the island is gorgeous which makes Thinadhoo one of the prettiest places on Maldives.
You can easily find a shade under the palms and relax on one of sunbed. Thick vegetation creates plenty of private and enclosed places where you can enjoy your privacy.
The house reef of Thinadhoo is good, but full of dead corals. There are plenty of fish and some colorful corals. You won't get enough of it even if you've been snorkeling for several days. The most interesting part or reef, as usual, on the edge. The easiest way to explore the reef is while drifting along the current without any movement.
What to do in Thinadhoo?
Besides the beach and the house reef you may discover the neighboring picnic island and several sandbanks where you can make a barbecue or simply spend a day far from civilization.
There's been a day when the dolphins playing around, showed up so close to the beach that one could easily join them once happened to be on the edge of the reef.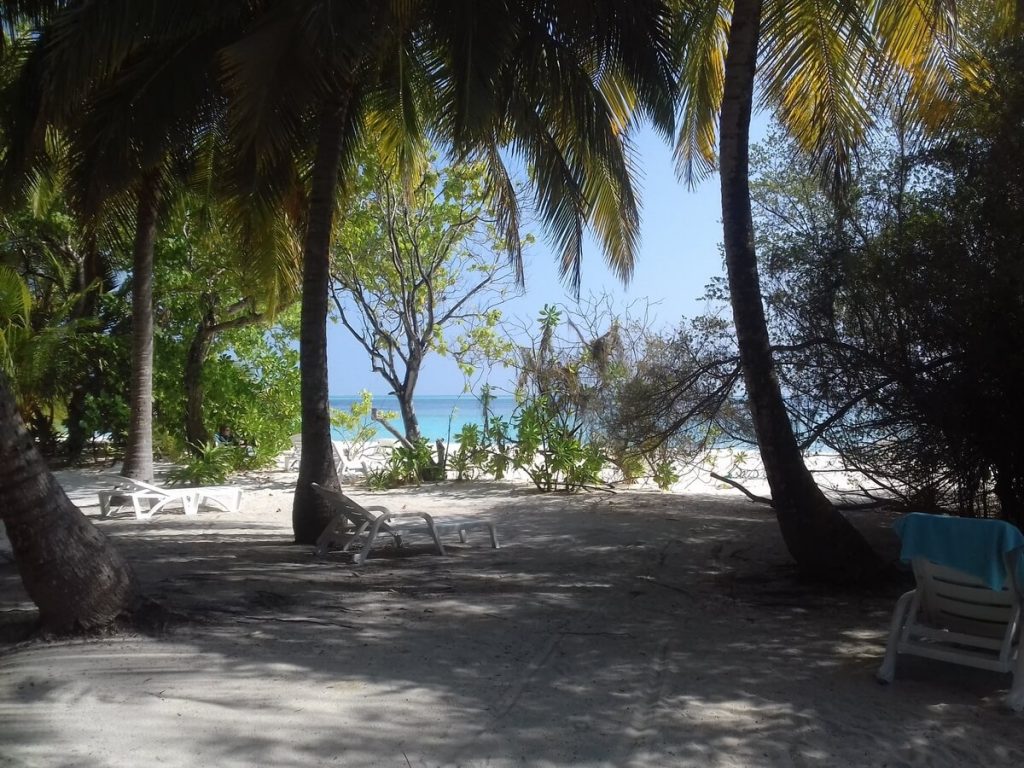 If you're tired of snorkeling around the island you can visit one of the closest outside reefs. Not to say that night snorkeling with sharks is definitely a must! That point is near Alimatha Resort you can enjoy the company of nurse sharks which are completely safe and friendly for human. There you can meet around 20-30 sharks! Isn't that impressive?
The diving should be described in particular. In the "shark" place mentioned above it's possible to do dive as well. The only problem is a number of divers – there were a lot of them! So it's better to wait until the very end when all of the divers ascended. Because in a while dozens of sharks were appeared from nowhere all the way around so that was really unforgettable experience.
This map is not really complete, but in fact there you get even more dive points. Diving here is much better in comparison with South Male and North Male.
There are only two dive centers on the island. One of them is owned by Plumeria Boutique Hotel and the other — Blue Horizon.
Transfer to Thinadhoo
By a public ferry:
— price: $5 per a person one way;
— time: 5 hours 20 minutes (there 2 stops at Maafushi and Fulidhoo)
Male — Thinadhoo, Vaavu Atoll: 10:00 on Sundays, Tuesdays and Thursdays.
Thinadhoo, Vaavu Atoll — Male: 9:00 on Saturdays, Mondays And Wednesdays
By scheduled speedboat:
— time: 1,5 hour;
— the departure from Male to Thinadhoo: 10:00 and 16:00;
— the depature from Thinadhoo to Male: 7:00 and 14:00
Please, note, this is Plumeria speedboat
By a private speedboat:
You can get a private transfer by a speedboat from the airport to Thinadhoo, Vaavu Atoll every day at request (time of travel 1,5 hour). This type of transportation is recommended for a group from 6 people. The price is $750 for a trip.
By seaplane:
Transfer by a seaplane to Thinadhoo, Vaavu Atoll takes about 20 minutes and costs $420 per person both sides. This trip should be booked in advance (not less than 5 days before arrival).
Seaplanes fly only at a daytime from 6:00 till 16:00.
[mashshare]
/** * RECOMMENDED CONFIGURATION VARIABLES: EDIT AND UNCOMMENT THE SECTION BELOW TO INSERT DYNAMIC VALUES FROM YOUR PLATFORM OR CMS. * LEARN WHY DEFINING THESE VARIABLES IS IMPORTANT: https://disqus.com/admin/universalcode/#configuration-variables*/ /* var disqus_config = function () { this.page.url = PAGE_URL; // Replace PAGE_URL with your page's canonical URL variable this.page.identifier = PAGE_IDENTIFIER; // Replace PAGE_IDENTIFIER with your page's unique identifier variable }; */ (function() { // DON'T EDIT BELOW THIS LINE var d = document, s = d.createElement('script'); s.src = 'https://budgetmaldives.disqus.com/embed.js'; s.setAttribute('data-timestamp', +new Date()); (d.head || d.body).appendChild(s); })();