Resort vs local island, what to choose?
Everyone knows that the Maldives is a paradise for privacy, with insanely beautiful views, a snow-white beach and the azure ocean. It attracts with its remoteness from the outside world and its accessibility not for everyone.
Not everyone could afford to get holidays in this amazing corner of the planet for many years. The average cost of such a holiday began from $ 1,500 for a couple for 4 nights. Is it worth it?
Until 2008, there were no other options, so the Maldives remained a very closed resort. Only occasionally ordinary tourists visited the local islands in search of exotic and the opportunity to plunge into the real, wild and unexplored Maldives.
But everything changed with new government and the change of laws in relation to ordinary Maldivians – they were allowed to open their own tourism business on local islands. From that moment, the era of affordable, cheap, and most importantly, quite high-quality holidays in the Maldives began.
You can argue endlessly about where it is better – a local island or resort. Therefore, all the main pros, cons and similar features of relaxation on local islands and at the resort will be described below.
Advantages of local islands
Local islands in the Maldives are the inhabited islands on which the locals live. The population of such islands is from 500 to 2500 people. Sizes: length from 500 to 2000 m, width about the same. It is not by chance that the emphasis is placed on these figures, later we will explain why.
There are about 200 inhabited islands in Maldives. On a hundred of them, there is a tourist cluster (at least one guest house). And on about 40, the infrastructure is quite developed, including a jetty, several guest houses, cafes and restaurants, a tourist beach, diving centers. Consider the main advantages of such islands.
Cost of living
Of course, the main thing is the cost of living. It ranges from $ 30 to $ 150 per night, depending on the hotel and the season.
How to choose a local island in the Maldives?
Guesthouses in the Maldives are small hotels with 4-12 rooms. At the same time, the quality of the rooms is at a fairly high level: in each room you have air conditioning, a toilet with a shower, a table and chairs, sometimes a minibar. The rooms themselves are clean, well maintained and furnished with new furniture.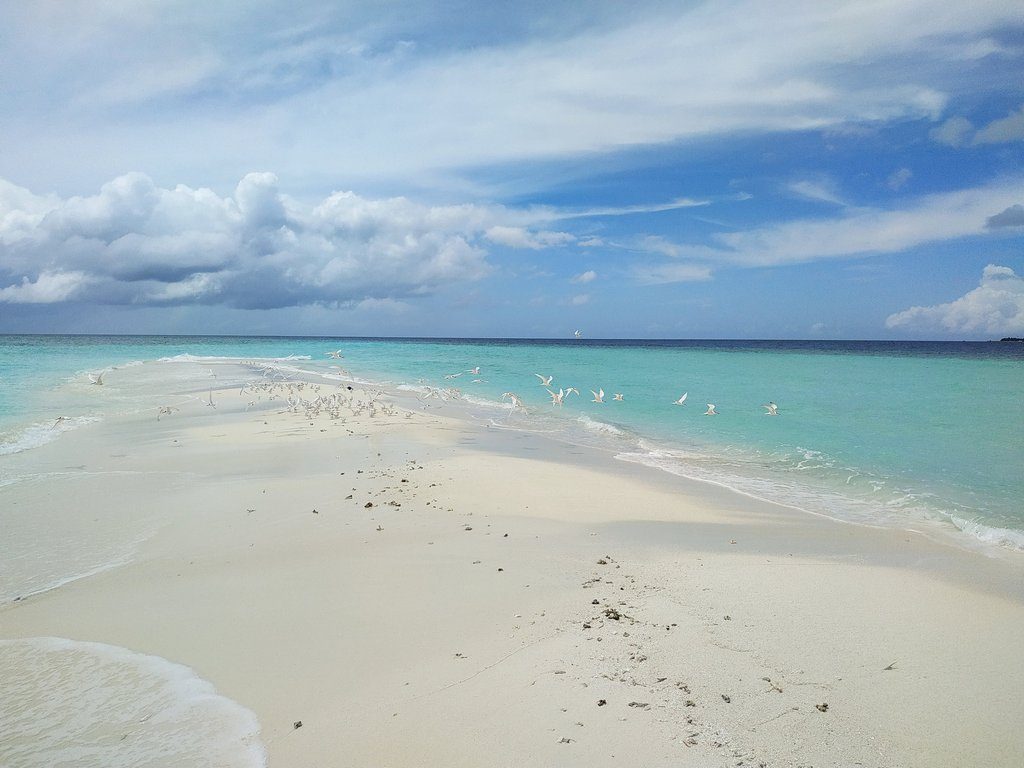 Of course, the cost of living is much higher than in neighboring India or Sri Lanka. But do not forget that the country imports almost everything: fuel, building materials, food, clothes, etc. In addition to this, there are also taxes on tourism activities. Owners of guesthouses add to these expenses not a significant profit.
Tourism is almost the only source of income for most Maldivians.
Restaurants and guesthouses mainly serve continental and Maldivian cuisine. The main products that used are rice, pasta, vegetables, beef, chicken, fish, spices [many spices], as well as marine inhabitants: lobster, crabs, octopuses.
It is worth recognizing that the dishes are not very diverse. Therefore, do not consider local islands from this point of view.
However, the portions are really huge and quite satisfying. It costs lunch from $ 10 per person.
Transfer
One of the main features of the Maldives is the movement between the islands. Given that the distance between the northernmost and southernmost atolls is about 1200 km, then this is really a problem.
To date, a public ferry runs between all the inhabited islands, the cost of which does not exceed $ 10 one way. The main problem is that they run strictly according to a certain schedule and there are times when they are canceled for weather or other reasons. The second disadvantage is the travel time: from 1 to 12-15 hours.
Therefore, private boats (scheduled speedboats), which add the public transfer between the islands, are a good alternative. The cost of the trip in this case is $ 10-80.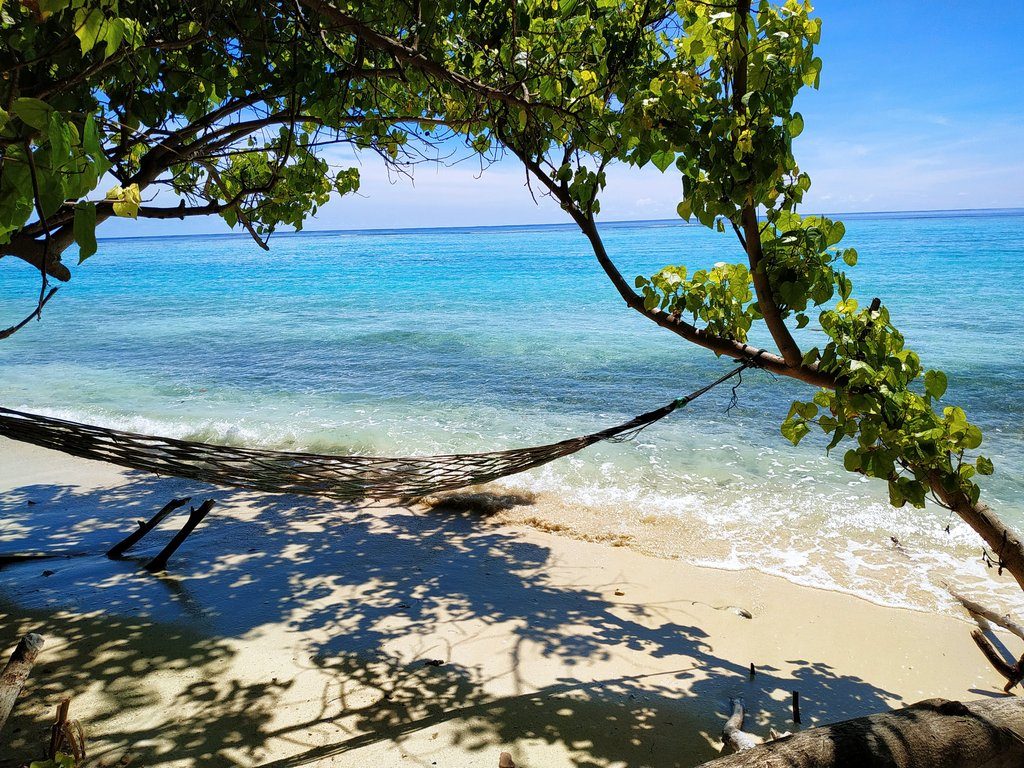 Guesthouses can arrange a private speedboat, but its cost will be from $ 200 per trip.
For comparison: you can be delivered to resorts either on the hotel speedboat (from $ 90 per person in both ways), or on a seaplane (from $ 360 in both ways), or on a domestic airline + speedboat (from $ 230 per person in both ways).
Local culture
If you go to the Maldives not only for the beach and the sun but also to get acquainted with the culture and tradition of the locals, then the local islands will not disappoint you in this regard!
Maldivians are very friendly people with their own traditions and culture. Despite the fact that they are Muslims, outwardly they almost don't show it. Of course, there are some rules that should be followed when you are going to the local islands. But they will not cause you any significant inconvenience.
At the same time, pagan traditions that have appeared thanks to the African influence of the past times are still present on the islands.
On the local islands that you have the opportunity to see the real Maldives – without chic and frills. And the locals will be happy to help with this (they like to talk, just give them a reason).
The shops
On any inhabited island there are several restaurants, grocery and souvenir shops. There is one interesting feature – you should take off your shoes before entering the store.
In shops you can buy a wide variety of products that can't be found in the guesthouse. Similar shops on the resorts are simply absent. If we talk about souvenirs, they are much cheaper on local islands than on resorts.
Resort advantages
Resorts or island hotels are separate islands, the territory of which is occupied by one hotel. The size of such islands is usually much smaller than the size of local islands.
The main feature of the resorts is a bungalow – private villas that are located either on the beach or on the water (with higher price of course). The villa is equipped with everything you need: bathroom, air conditioning, minibar, etc. In addition, the island usually has fitness centers, bars, restaurants, spa centers, diving centers and water sports centers.
Transfer to the island is carried out by seaplane, speedboat and domestic flights (with the following delivery to the island by speedboat).
The number of rooms depends on the size of the island. Usually in the range from 100 to 200. For comparison, a guest house on local islands usually has 3-10 rooms.
In total, there are about 130 resort islands in the Maldives. And every year 3-7 new ones open.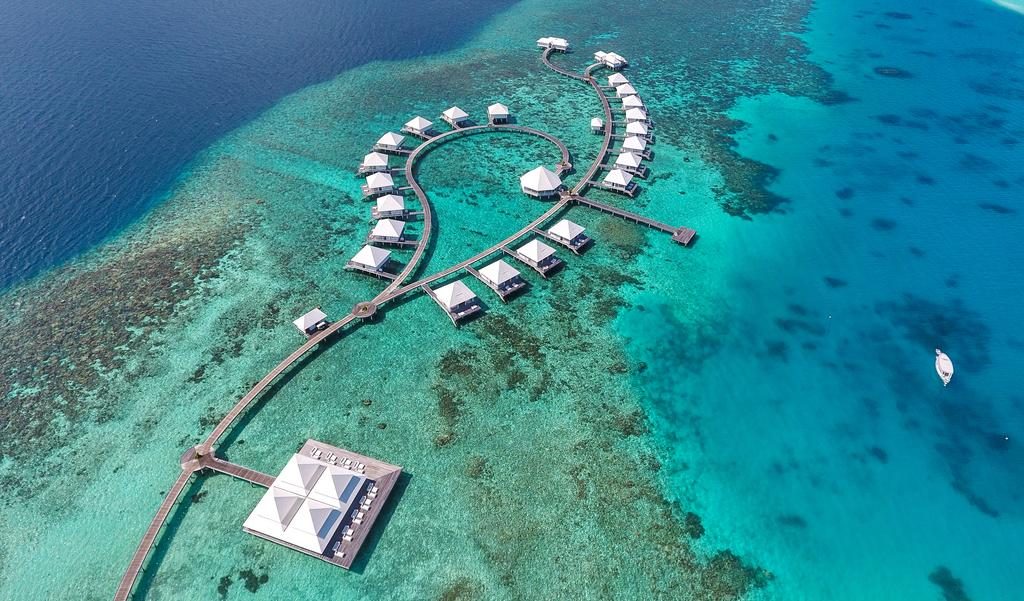 Privacy
One of the main reasons why people go to the Maldives is privacy. And the local islands will not be able to fully enjoy this feeling. This is especially important for young couples. Therefore, your own bungalow is a great place to completely renounce the world and enjoy peace and tranquility.
The very small size of the island, plus its remoteness (not many resorts are located next to local islands) create that uniqueness of separation from the outside world.
On the local islands, it's still a little crowded and it will not be easy to find privacy.
Villa
Without a doubt, your own villa is the undoubted advantage of resorts, without which a resort is not a resort. As mentioned earlier, Maldivian bungalows are a fully furnished villa located either on land or on water. Moreover, those who have a glass floor on the water [not all] through which you can watch the underwater world of the Maldives, and he is simply amazing!
The area of ​​such a villa is really impressive from 55 to 1300 m2! The cost of bungalow starts on average from $ 130 per night (including all taxes and fees, in the low season). But at the same time you get at your disposal a beautiful view of the ocean and a chic villa!
Bars and entertainment
In the Maldives there are no separate areas for large concerts or something like that. One of the reasons is religion, under the influence of which the adoption of certain laws takes place. Also there are no clubs on the islands.
But all this does not apply to resorts where nightlife is boiling! There are bars, karaoke, restaurants, open-air discos and entertainment programs on your choice. Every evening you have the opportunity to have a great time with a glass of wine and dance to modern music.
It should be noted that only at resorts the alcohol is absolutely legal and accessible to everyone (above 18 y.o). For some people, it's a decisive factor when choosing an island: resort or local. On local islands, and in the country as a whole, the consumption of alcohol is prohibited.
The value
The price you pay for the resort is fully justified. This is an indisputable fact. After all, the island is completely privately owned, and the staff will do everything to make you happy and come back again and again.
Perfect cleanliness of the beach, the bottom with no sharp remains of dead corals, well-groomed paths and lots of greenery await you at the resort. There are no signs of negligence or trash on the island. Cleanliness and order in everything. But it is worth noting that this depends on the resort.
At the same time, you understand that all this requires constant attention, care and funds to maintain. Resorts are a great place to relax, where you get what you paid for.
What is common between local island and a resort?
Despite the obvious differences and advantages of both resorts and local islands, there are quite a lot of similarities between them. Taking all this into account, you can make a choice: local island or resort.
Ocean and sun
Yes, exactly, the most obvious similarity is the same water and the same sun. The color, temperature and purity of the water are one and the same, whether it is a resort or an ordinary local island. In this case, there is always a chance to stumble on floating debris during snorkeling.
In the Maldives, the sun is the same everywhere. The Maldivian sun is merciless, you need to be careful with it, because you can easily sunbathe, do not forget about sunscreen.
Beach
The excellent condition of the beaches at the resorts has already been mentioned. What about the local islands? In general, not so bad. On most local islands, the tourist beach is constantly cleaned and kept in order. Not as perfect as at the resorts, but still they try.
But still it is worth saying that the size of the beach [and its presence on the island] may vary from island to island. Therefore, in this case, tourists are taken to neighboring uninhabited islands, where beaches are specially equipped for tourists.
Also, there is still a garbage problem on local islands. The authorities simply do not have time to export it in time and it accumulates. But on the local islands, things are changing very quickly and the problem with garbage is becoming less and less relevant. Many islands, such as Ukulhas, have already solved this problem.
Underwater world
The Maldives underwater world is unique and inimitable in many respects. Crystal clear water; many fish, sharks, stingrays; colorful corals make this place unforgettable!
Many local islands boast an excellent house reef, where you can meet not only fish, but also larger representatives of marine fauna. Resorts have the same benefits.
Underwater inhabitants do not care where to swim: whether it is a resort or a local island. Therefore, the same fish, stingrays, and sharks.
Activities
In the Maldives, there are a lot of water activities, both underwater (snorkeling and diving) and on the surface (jet ski, boat trips, surfing, etc.). Moreover, if we talk about diving or snorkeling, then tourists from local islands and resorts are taken to the same places. It is obviously that this rule only applies if the resort and the local island are located in the neighborhood.
As for safari with dolphins, fishing, surfing, etc., Resort provides vider choice of activities than in the guest houses.
But with a price, resorts have been losing for a long time, guesthouses on local islands are easier with this and they can flexibly set prices for excursions and provide additional bonuses that are not included in the price.
Nevertheless, if you book a resort through agents (such as Islandii), you can get discounts and other special offers. At the same time, the total cost is lower than at Booking.
What to choose?
The main advantages of local islands and resorts were considered.
We found out that they have similar features and have their own characteristics.
The final choice is yours, as it depends on many factors. And last but not least from financials.
The purpose of the trip is what you should pay attention to when choosing between a resort and a local island.
If you wish (and most importantly opportunities), try visiting both the resort and the local island – you will not regret it.
About Author
Welcome! My name is Alex and since 2015 I have been "sick" with Maldives. In 2016-2017 I lived in Maldives and worked at a local travel agency. I managed to personally visit 15 local islands and 10 resorts.
Since 2017, I have been organizing holidays for couples, families and groups. More than 300+ clients from 60 countries have used my service.
Contact me for a free consultation and help with a personal tour to Maldives!