Guide to Rasdhoo
Rasdhoo Island is one of the most popular destinations for diving in Maldives. The island is located in Alif Alif Atoll 56 km west from Male. Rasdhoo is a rather small island, it's about 500 m in length and approximately 600 m in width. The population is around 1500 people.
Bikini beach
The beach on Rasdhoo is not so long as on Ukulhas or Thoddoo, but well maintained. Its length is about 100m. Entry into the water can be difficult during low tide due to dead corals. There is a shadow made by trees where you can hide from the hot Maldivian sun.
It should me mentioned that the beach on Rasdhoo is hardly worse than on other islands. It's smaller than on Thoddoo or Ukulhas, but it is clean and well maintained, with almost no dead corals on the beach. While entering the water you may feel some discomfort by the presence of seaweed, but they are absolutely safe and don't cause any issues.
In this island (like in any other local island, it's prohibited to appear in public places in a bikini. The restriction does not apply to the bikini beach and guest house territory.
Snorkeling
Rasdhoo is known for its house reef – it's around 50-70 m from the beach area. It's better to swim there during high tide. There is a strong current on the edge of the reef, so it's better to swim towards one of the points (it depends on the direction of the current). Just relax and don't move – the current will carry you. You can see a great variety of fish, living soft and hard corals and marine life, such as reef sharks (safe for humans), eagle rays and sea turtles.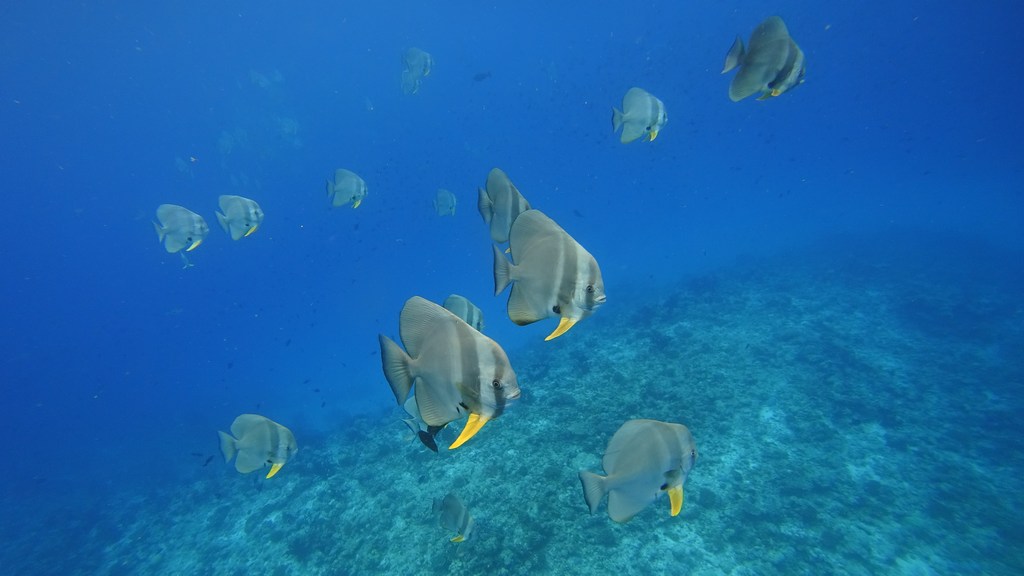 More over, you can take a guided tour around the three snorkeling points. It should be noted that outside the house reef, the corals are looks better. There is manta ray point, where you can see giant mantas rays. And a turtle garden where you can see up to 4 turtles!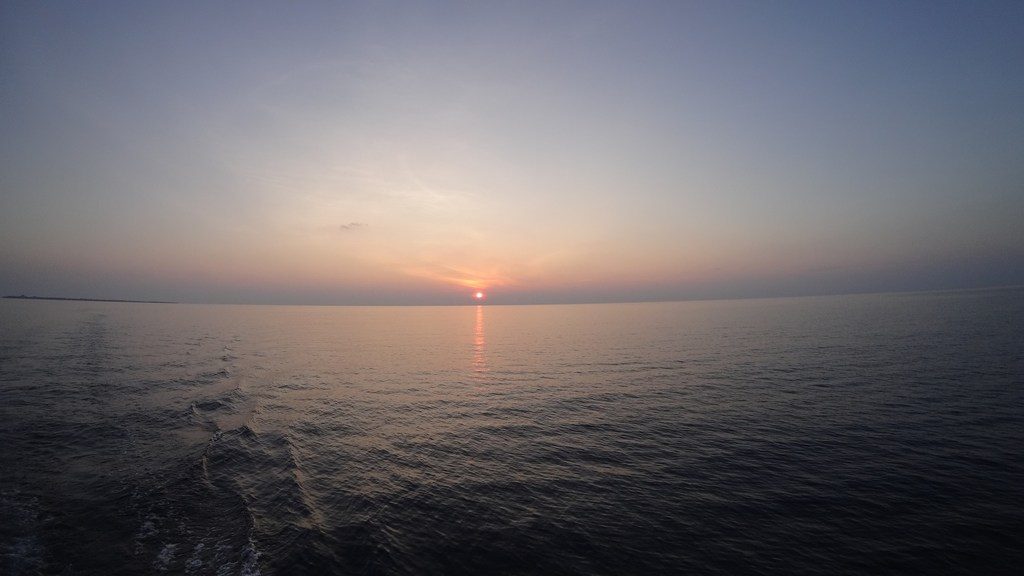 Glowing plankton
It's very rear to see glowing plankton in Rasdhoo only. Usually, It happened during the low tide, without the moon, and with calm ocean.
Dolphin Cruise
Unforgettable evening safari with a group of dolphins. Sometimes they can be seen in a front of bikini-beach, but usually, they play between Rasdhoo and Thoddoo. They're swimming close to the boat, you can even pat them.
Swimming with dolphins – that is at the top of many people's wish lists. Unfortunately, very few people know how to treat dolphins with respect. We pay close attention to dolphin encounters. In fact, our groups are rewarded with very special, close and unique dolphin encounters on every trip.
Of course, the first priority should be that we do not support dolphin captivity and only visit wild dolphins. Any form of captivity is torture for the active dolphins and whales. But even in the wild, dolphins are treated very disrespectfully by some people. For example, quite a few try to touch them. But the wild is different than some dolphin cuddle films convey. Here, for example, touch can damage the microbial protective layer of the dolphins and transmit diseases. It is also a breach of trust when dolphins get so close to humans and then try to touch them. We show you how you can have close and intimate encounters without being disrespectful.
We have thorough training of the travel participants so that everyone knows how to behave in the water and how not. Every dolphin swimming provider should do that, but unfortunately the reality is very different. These training courses work really well and the participants really benefit from them. We were told at what unusually high level the participants of our dolphin trips start swimming with dolphins.
We are happy to share our experiences here so that all people swim more carefully with dolphins – wherever they do.
The basics are, of course, first of all general rules that must be observed. If you want to come to the free dolphins with us, you agree to these rules:
Code of conduct for swimming with dolphins
We don't "hunt" dolphins. That means we don't duck after them, but swim relaxed with and next to them and don't cut their way. We can even lie relaxed in the water, because the dolphins mostly swim in their circles and keep coming back to us.
We slide into the water as gently as possible and don't splash or jump (when dolphins are nearby).
We take care not to hit the water with our fins (or our hands). Because hitting the tail fin is an expression of threat in dolphin language and is very disruptive.
We use fins, mask and snorkel to watch the dolphins calmly.
We keep our arms still on or in front of the body. By snorkeling with fins, arm movements are unnecessary. They would also disturb or distract the dolphins.
We do not approach the dolphins directly, but in parallel / sideways.
We don't dive right over the dolphins.
We never touch the dolphins. Because we destroy the microbial protective layer of the dolphins and they can get sick. It's also a disrespect.
We respect the dolphins' rest period. When we see the dolphins sleeping, we will take special care not to disturb them and in most cases do not swim with them. However, in exceptional cases it may be that they are looking for us and suddenly we are surrounded by dolphins. Then we may be able to float quietly and relaxed in the group with you. If in such a situation young daredevil dolphins who do not want to sleep want to encourage us to play with them, we will not go into it. If dolphins cannot recover enough during the day, it can cost them their lives at night.
We only use organic sunscreen without nano-particles (e.g. from Eco Cosmetics)
We note that all cosmetics on our skin are completely biodegradable (soap, sunscreen without nano-particles, creams, shampoo, etc.). Awesome and probably the best: Dr. Bronner's All-One !.
Of course we do not dispose of anything in the sea.
We never feed dolphins.
We pay attention to the snorkeling guides / guides to be able to follow their hand signals and instructions.
Now we want to reveal the big secret of really fulfilling dolphin encounters:
The more we open our hearts without expecting anything, the closer the dolphins come to us.
Sometimes they stay with us for hours. There is hardly a more fulfilling and touching experience than swimming with dolphins in complete relaxation.
Unfortunately, swimming with dolphins often turns into stress for people and dolphins when they try to keep up and chase the dolphins. We often observe how people in the water want to be particularly close to the dolphins and give their all in the process. Since they are not alone with this, it often gets tight among people and they form an excited bustle. This is not good for the dolphins that are more or less hunted, nor for the people who fall into a kind of "hunting mode".
We always had the most beautiful dolphin encounters when we were away from other groups and moved slowly or not at all. How can you open your heart in a relaxed manner when you hurry up and get stressed? True heart-to-heart movements are only possible when you are relaxed.
Uninhabited Islands
Perhaps one of the most beautiful places to visit in the Maldives (at least close to Male) is uninhabited islands near Rasdhoo. It's a chain of 2 picnic islands and 3 sandbanks, You can walk between them. It's better to go there during low tide (usually morning time or afternoon). You can check tides here.
Near one of the islands, in the lagoon, there is a small but beautiful live reef with a lot of fish, which themselves come to you while you swimming to the reef. You can go to the islands for a whole day or for a half day. It is best not to go there on Friday, as there will be a lot of people.
Diving
Rasdhoo is truly famous for its dive-points. They said, some of the dive points are among the best in the Maldives. Dive schools offers fan dive, for those who never dived before. It includes theory, skills in the shallow water and finally a dive in depth of 8-10 m with the instructor. A great advantage of Rasdhoo is the availability of points for diving for beginners.
For certified divers, 17 spots are available. The most popular among them:
Madivaru corner. One of the most famous dive-points in the Maldives because of an excellent reef, a large number of fish, sharks, and rays. You can do even 3 dives here and every time it will be different.
Caves. The furthest point from Rasdhoo. It's a drift-dive with many caves at different depths. It has a wide variety of soft and hard corals. You can see up to see 6 lobsters!
Hammerhead point. It's one of few places in the Maldives where you can see sharks-hammers. Morning dive, which starts at 6:00. The chance to see sharks 50/50.
Manta point. It's a cleaning station for mantas. It's possible to see up to 5 mantas during one dive.
Shark point. You can see white tips, black tips and reef sharks here.
The best way is to take a package of 8-10 dives and dive into the most popular places. You can make up to 3 dives per day.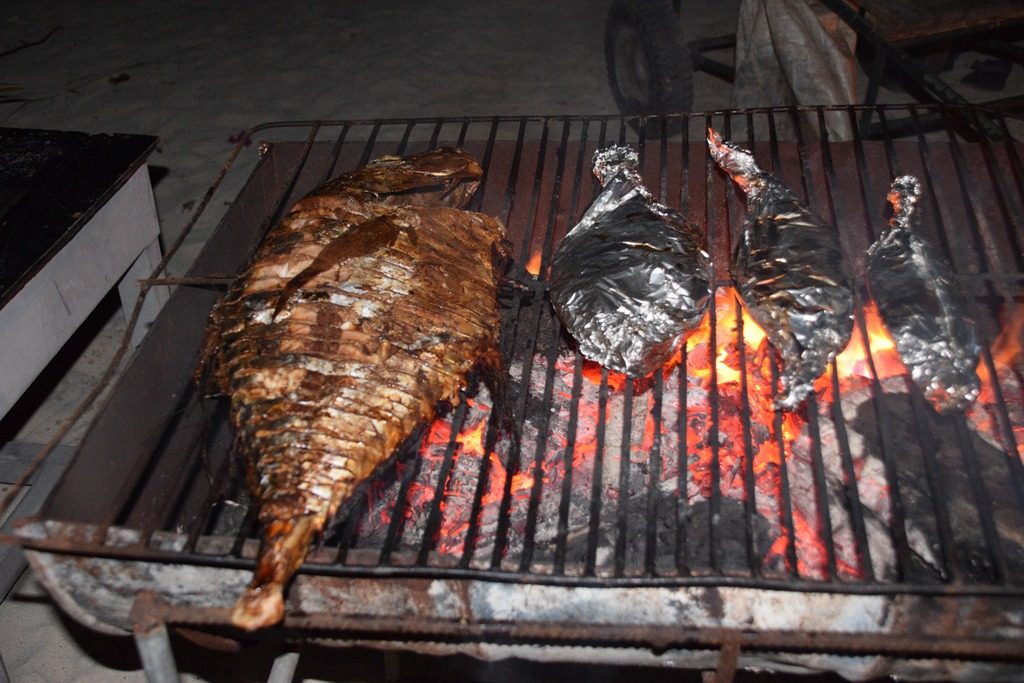 Fishing
To catch fish, you don't need a cool fishing rod with expensive rod and line. Only a line, a hook and ledger bait will be enough. That's a simple way how to catch a fish for dinner. Real fishing lovers can go to Big Game Fishing on a fully-equipped boat.
Infrastructure
The island itself, in general, is very well maintained. Litter, as on any other local island can be found as well, but very few. Locals clean the territory near their houses every day.
In Rasdhoo you can find all necessary:
– groceries and hardware stores. There you can buy fruit and drinks, and also beach staff. It's very convenient for those, who left something at home.
– gift shops. There are 5 or 6 gift shops on the island. There are lots of various souvenirs, everyone can find something to his liking.
– several cafes. There are 3 cafes on the island, and what's more, most of them are intended for tourists.
– dive centres. There are 5 dive centers on the island. And one water sport center
– a bank;
– ATM (your can withdraw rufies only, the service fee is 100 ryfiyaas, and it doesn't matter how much money you're going to take out);
– a branch office of the mobile network operator.
– a hospital. They can help you in a case if you have got a minor illness. Otherwise, they'll transfer you to Male by speedboat.
– a post office;
– a police station.
Using a drone, you can take the best photos of Maldives.
From Rasdhoo you can also take a ferry to the neighbouring Thoddoo or Ukulhas.
Transfer to Rasdhoo
Rasdhoo to Male at 11:00
Every : Sunday , Wednesday
Male to Rasdhoo at 9:00
Every: Monday, Thursday
Scheduled speedboat
Runs daily, duration is 1 hour 20 minutes, price is $35 per person.
Male-Rasdhoo at 10:30 and 15.30 – 16.00, on Friday at 9:30 and 15:00
Rasdhoo – Male at 7:30 and 13:30.
Private speed boat
The traveling time is about 1 hour 20 minutes, the cost is $550-650.
Seaplane
The traveling time is about 15 minutes, the return ticket is $375.
[mashshare]
/** * RECOMMENDED CONFIGURATION VARIABLES: EDIT AND UNCOMMENT THE SECTION BELOW TO INSERT DYNAMIC VALUES FROM YOUR PLATFORM OR CMS. * LEARN WHY DEFINING THESE VARIABLES IS IMPORTANT: https://disqus.com/admin/universalcode/#configuration-variables*/ /* var disqus_config = function () { this.page.url = PAGE_URL; // Replace PAGE_URL with your page's canonical URL variable this.page.identifier = PAGE_IDENTIFIER; // Replace PAGE_IDENTIFIER with your page's unique identifier variable }; */ (function() { // DON'T EDIT BELOW THIS LINE var d = document, s = d.createElement('script'); s.src = 'https://budgetmaldives.disqus.com/embed.js'; s.setAttribute('data-timestamp', +new Date()); (d.head || d.body).appendChild(s); })();