2022-09-02 09:20:44
Rasdhoo is the only island I've visited 10 (!) times in the last 5 years. The first visit was back in 2015, when a budget holiday was just started in the Maldives.
At that time there was very little information about local islands, but because of that island, I created a blog about local islands and later founded a travel agency to the Maldives.
Table of content:
The island is located in the North Ari Atoll, 60 km west of Male. The size of the Island is approximately 500×600 m. Almost the entire territory of the island is built up. The population is about 1200 people. You would think like so many people can live on such a small piece of land, but in reality, you won't even notice it.
Check: Budget tours to local islands
Things to do on Rasdhoo
Bikini beach and house reef
At the moment, the beach on the island is not very large, about 100 m in length, which is not so much compared to Ukulhas or Thoddoo. However, during the season it's packed with people. There are sun loungers for common use on the beach, which is very convenient. Entrance to the water can be inconvenient, especially during low tide, because in some places there is a lot of dead coral. Therefore, in order to avoid injuries, I advise you to wear special shoes (I personally do not do this because I have already walked in such places many times). If you don't have shoes, it is best to swim right away.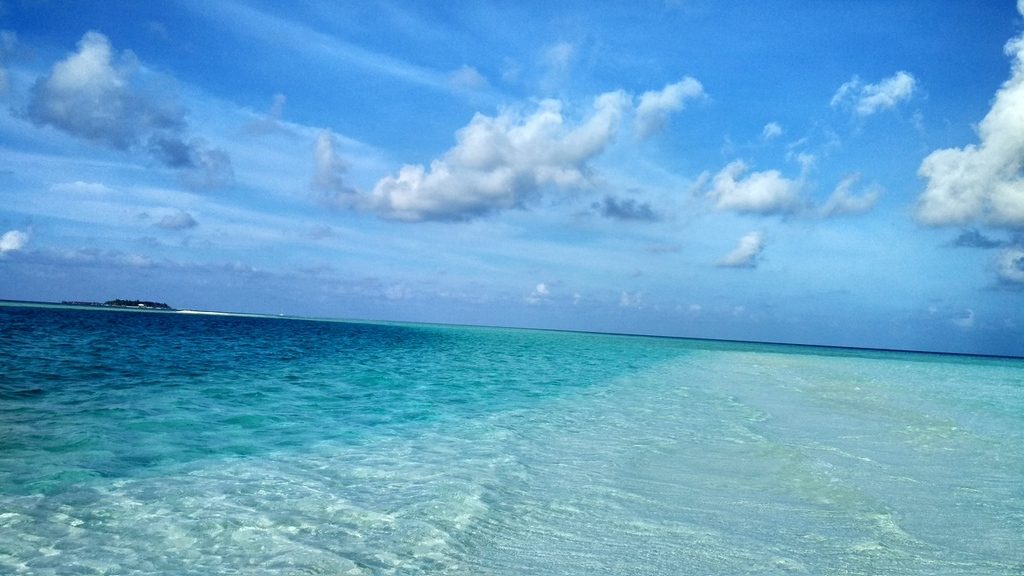 Soon, hopefully, it will change because a joint project with the Indians involves cleaning the coastal area of debris and expanding the beach. Due to the coronavirus, all work is postponed, so if everything goes well, then by the 2020/2021 season the project will be completed. Let's hope for the best.
The length of the house reef is about 1 km. In this case, you will see all the most interesting stuff on its outer side. The current is constantly changing: today it may not be, tomorrow you can only swim with flippers. If you are a beginner, then you have to snorkel only with a buddy for your own safety.
What you can see on the outer reef? Depending on the current and time of the year, on the reef you can see huge schools of reef fish, batfish, tuna, parrot fish; there are Napoleon fish and schools of barracudas. Rasdhoo is famous for its habitats of black and white tip reef sharks. And for good reason – in one place you can see up to 3-5 sharks, is this not breathtaking? These sharks are absolutely safe for humans and they scare you more than you do them. So when you see them, you can just freeze and watch them.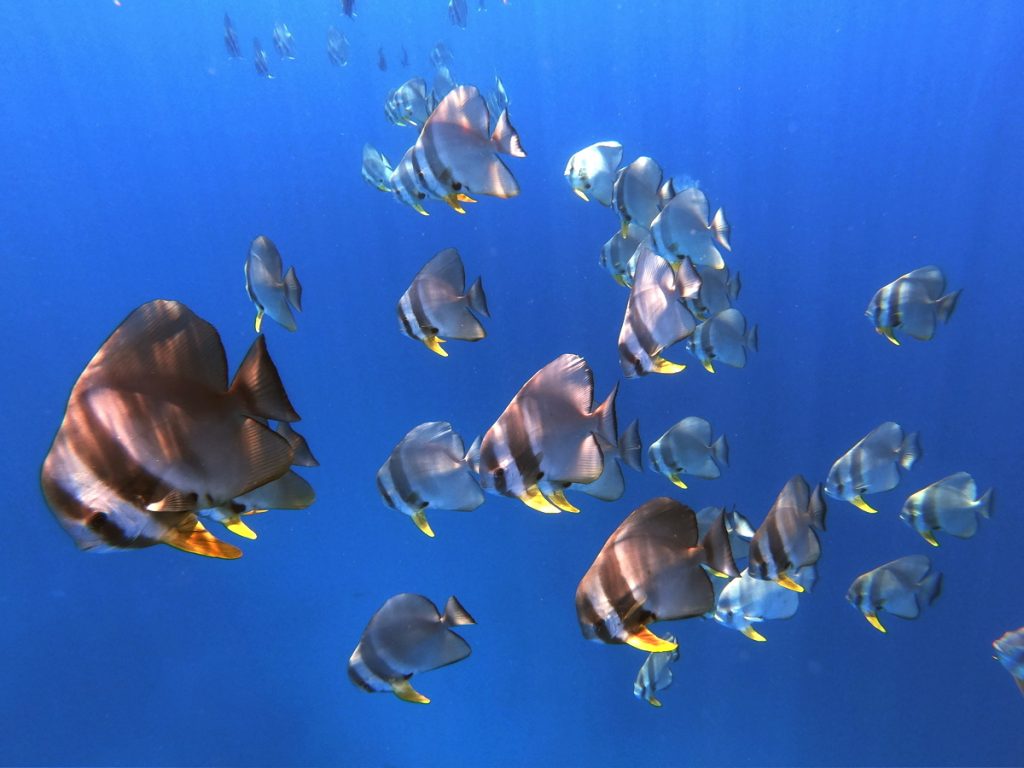 The most awesome experience while snorkeling was when I met a school of batfish. They were so friendly and close to me, that I could even touch them! Without any reason, they followed me around 100 m. ! I don't know why they liked me, but it was extremely unusual and breathtaking!
Tip: if you want the fish/rays/sharks to come towards you, then do not make sudden movements do not try to catch them (anyway they are faster than you). Best of all is just to stop and wait.
Several turtles live on the reef and you can see eagle rays almost every day!
If all these creatures can be seen on a house reef, then why you should take a snorkeling safari tour? It is a good question that you asked. That is why I advise you to take this tour.
Here is house reef review by Marie, USA (Nov 2020):
"Went for the first snorkel this is just off the shore. Wow. Now I "get it" about Rasdhoo. Saw three mantas, close enough to touch, one passed by 5 times until snorkelers from a boat scared it off, saw a group of 4 southern stingrays and another giant one and one lying on the sandy bottom, saw a pair of eagle rays that circled me twice, and saw one of them again swimming slowly in the current in the channel, I swam alongside it for some time, saw a moray, a 4-foot long jack, schools of tuna, two hawksbill turtles, a coral pipefish, two black-tipped reef sharks (one multiple time), a white-tipped nurse shark???, etc etc. Don't think I've seen three types of rays in one snorkel or dive before. Coral here looks perkier than on Kuredu plus more sponges and anemones. And this is all 50 to 100 meters from the guesthouse. So maybe I can get used to feeling odd here on the island!
Had another great snorkel off house reef, saw a gigantic black marble stingray, truly evil-looking, draped on the bottom in 8-10 ft of water then slowly moved off, 2 giant groupers bigger than me, several more v large groupers, the resident giant trevally, perhaps the largest turtle I've ever seen sleeping on the bottom of the channel, multiple black tips and white tip reef sharks, dogtooth tuna, etc. On another snorkel saw my first contained or feather tailed ray, also a large individual."
Firstly, you will be taken to places where the water is more transparent, more live corals, more fish.
Secondly, there are places, for example, next to Veligandu resort, where you can see up to 7 (!) turtles and even manta rays! Mantas do not swim ashore because they prefer deep water.
Thirdly, with a high chance, you will want to try scuba diving to see more. Perhaps this is a so-so reason for some, but diving opens you a truly new underwater world compared to snorkeling because corals and fish will be much closer and you can make out them in detail.
Uninhabited islands
Perhaps the most breathtaking and amazing place I visited in the Maldives is the nearby chain of uninhabited islands and sandbanks. Every time I visit Rasdhoo, I definitely visit these places.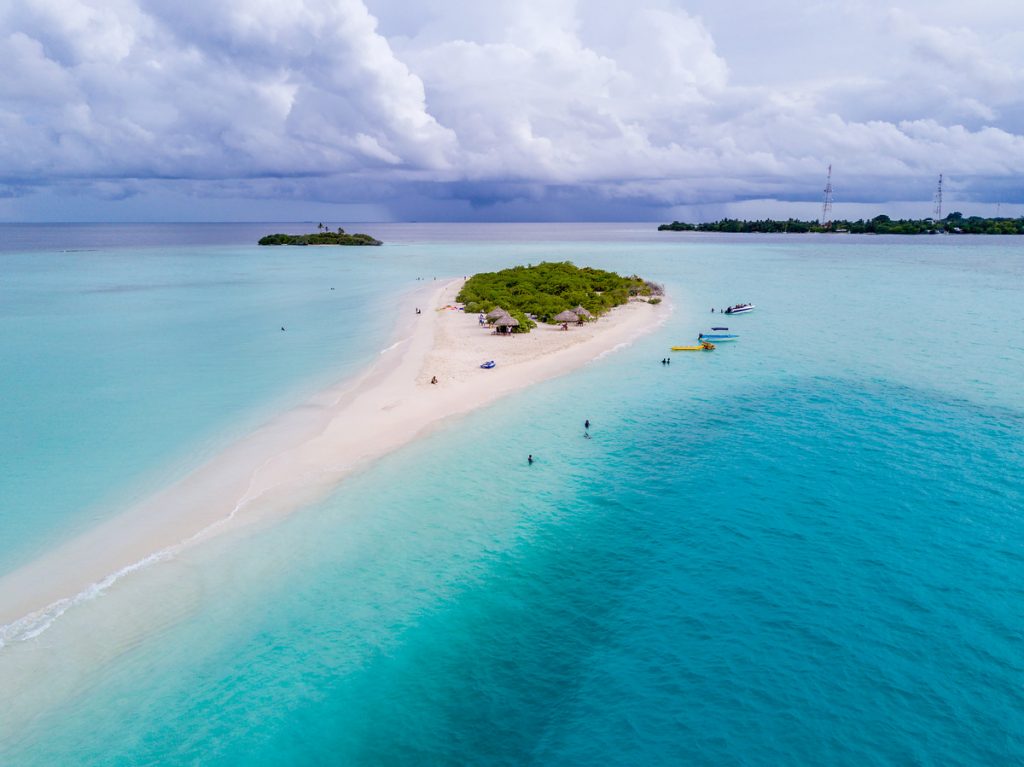 What is so unique about it? First of all, there is a lagoon, where you can see a real 50 shades of blue with a beautiful reef in the center. A lot of fish live on the reef, which themselves swim up to you because they expect something delicious from you. They are already taught this. Therefore, if you still decide to feed them, then take a bit of bread in a plastic bottle and mix it with water. But be careful, there can be a lot of them.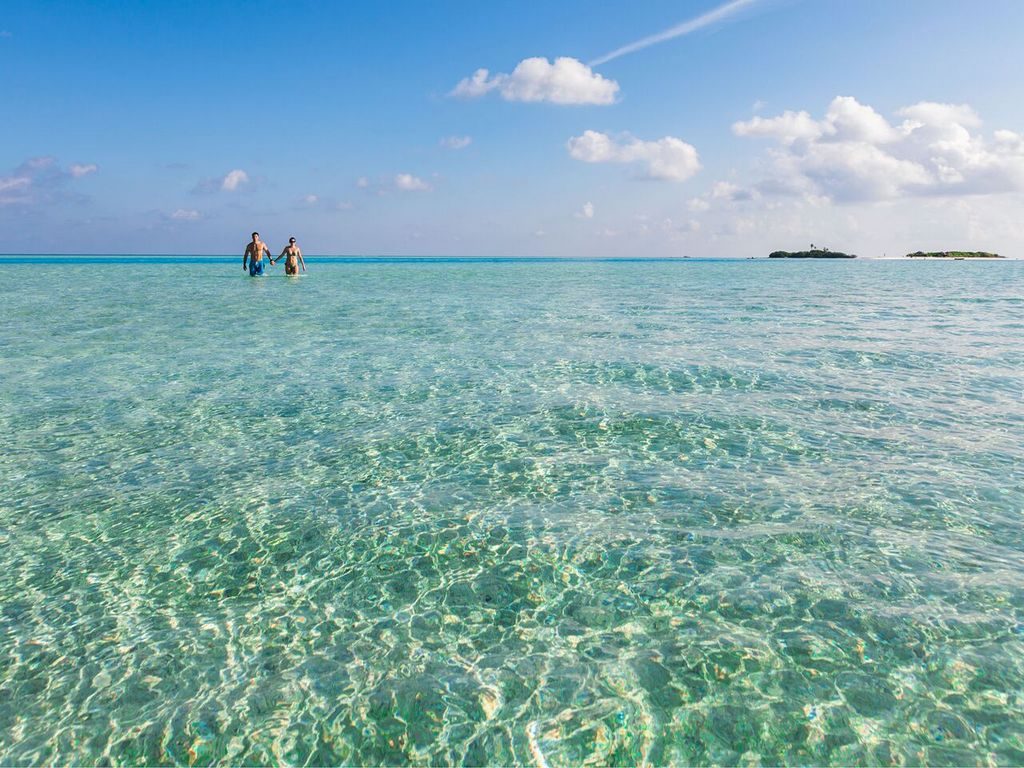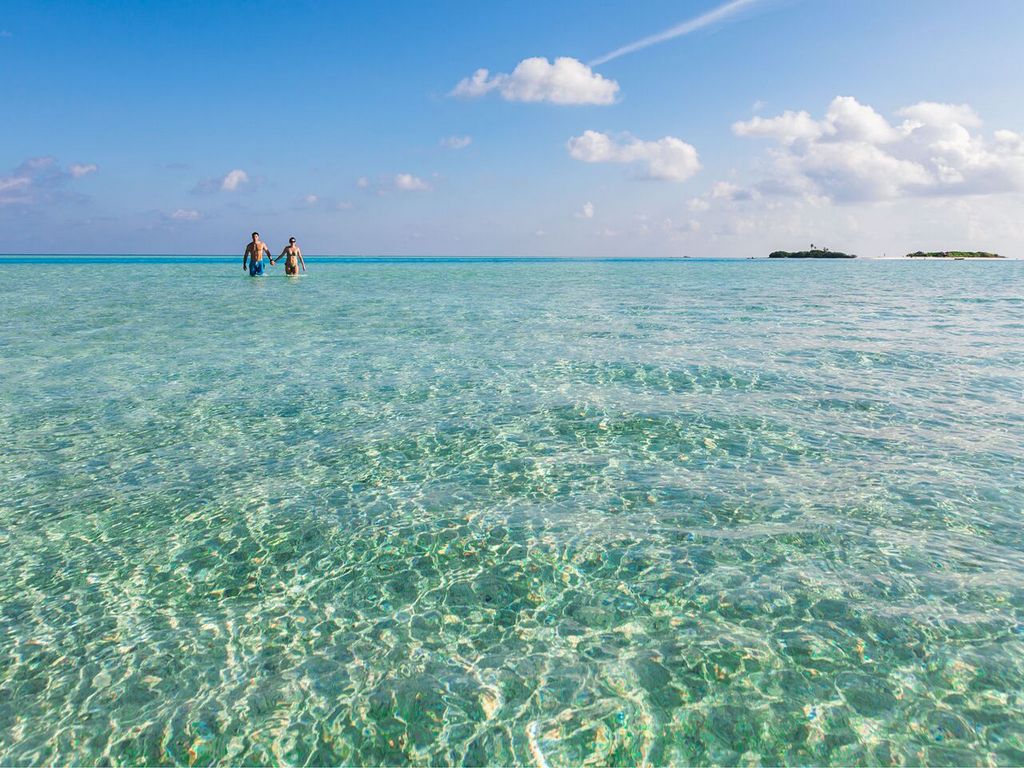 The second thing is the ability to walk by water between these islands and sandbanks. There is some magic in the sandbanks because you are on a piece of land without any plants or palms in the middle of the ocean! Isn't that fascinating?
The outer reef of the lagoon is rich in its wildlife and you can see sharks, stingrays, and turtles. But there is always a current between Rasdhoo and the lagoon, so I strongly do not recommend swimming alone there!
Dolphin safari
Between Rasdhoo and Thoddoo there is a place where a group of dolphins gathers in the evenings. They are very friendly and follow the boat. Sometimes they swim so close that you can even touch them (but you shouldn't do that). But officially you can't swim with them. You can try, who knows, maybe you are lucky and they will come to you.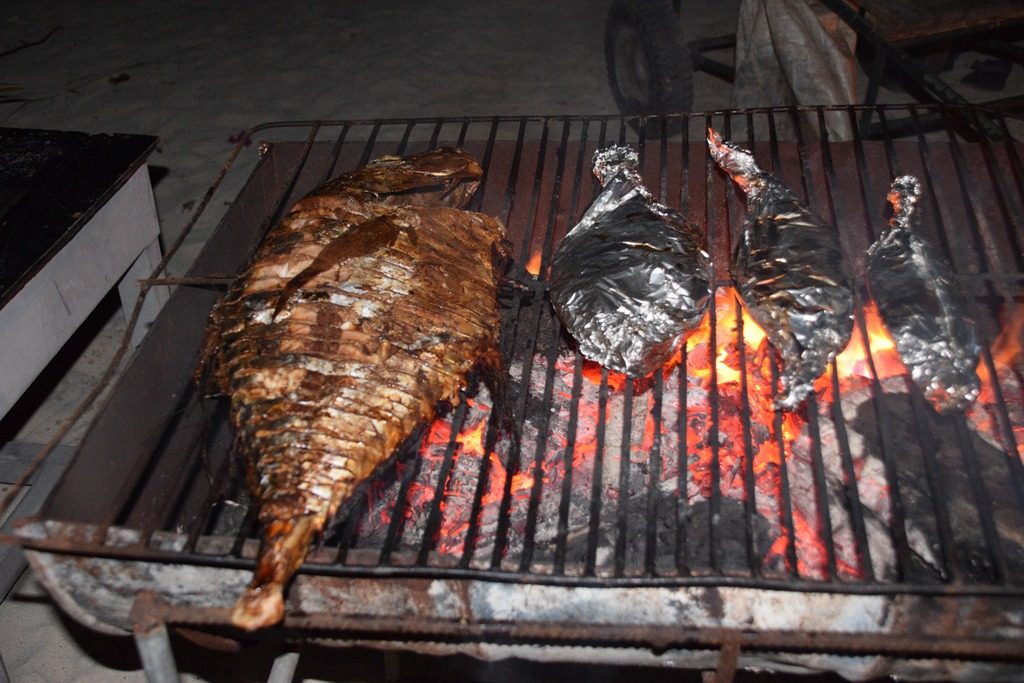 Night Fishing
Usually, it's still an evening activity. No need to be a professional fisherman to catch a fish in the Maldives. It is enough to have only reels and fishing lines. You can ask to cook caught fish at your hotel (in most cases this is free of charge, but depends on the hotel). Personally, I'm not a good fisherman, so I tried only once and caught a small snapper.
Romantic dinner
It can be arranged either on the beach or on a sandbank. Based on my experience, the beach is not very suitable for that, because there is almost always someone nearby.
For this reason, a sandbank will be the best solution. After all, there will be no one else except you. The maximum level of privacy is guaranteed!
Resort day visit
Nearby resorts Kuramathi and Veligandu are not allowed guests from inhabited islands. Only Ellaydhoo by Cinnamon and Nika Island is possible to visit. Price is around 100-120 USD per person (entrance fee + round way transfer).
Scuba Diving
Rasdhoo is truly famous for its diving. It's said, this area is one of the best in the Maldives. Eight (!) diving centers (nowhere else in the Maldives you can find so many centers on one island) offer to take a short training course and dive with an instructor. A great advantage of Rasdhoo is easy to access dive spots even for beginners. Even diving in 8 m depth will open you to a new underwater world!
I made my first dive in 2015 near Kuramathi Resort. At that time I was wearing glasses but has dived with contact lenses. After that, I decided that if I return to the Maldives, I will do a LASIK correction and take the course. Just next year it happened. Now I have Rescue Scuba Diver certification, just only one step for a divemaster!
For certified divers, 17 spots are available. The most popular among them:
Madivaru Corner, one of the most famous dive spots in the Maldives due to its excellent reef, a large number of fish (barracuda, batfish, Napoleon, etc.), sharks, and stingrays. Every time you can see something new.
Caves. The farthest point from Rasdhoo. Drift dive with many caves at different depths. It features a wide variety of soft and hard corals. You can see a lot of lobsters!
Hammerhead point. One of the few places in the Maldives where you can see hammerhead sharks. Morning diving that starts at 6:00. Chance to see sharks 50/50. I tried several times – not lucky.
Manta point  Manta ray cleaning station. You can see up to 5 rays in one place. You can also snorkel at this point, but diving is much better.
Read more about Scuba diving in Rasdhoo.
Shark Point. Many reefs, whitetip, and blacktip sharks.
The perfect solution would be to take a package of 8-10 dives and dive into the most popular places. Up to 4 dives can be completed per day.
Therefore, I recommend everyone to try diving, after which your ideas about the underwater world will change dramatically!
For water sports lovers, a center is open on Rasdhoo where you can rent a jet ski, wake/keyboard, kite surfing, and more.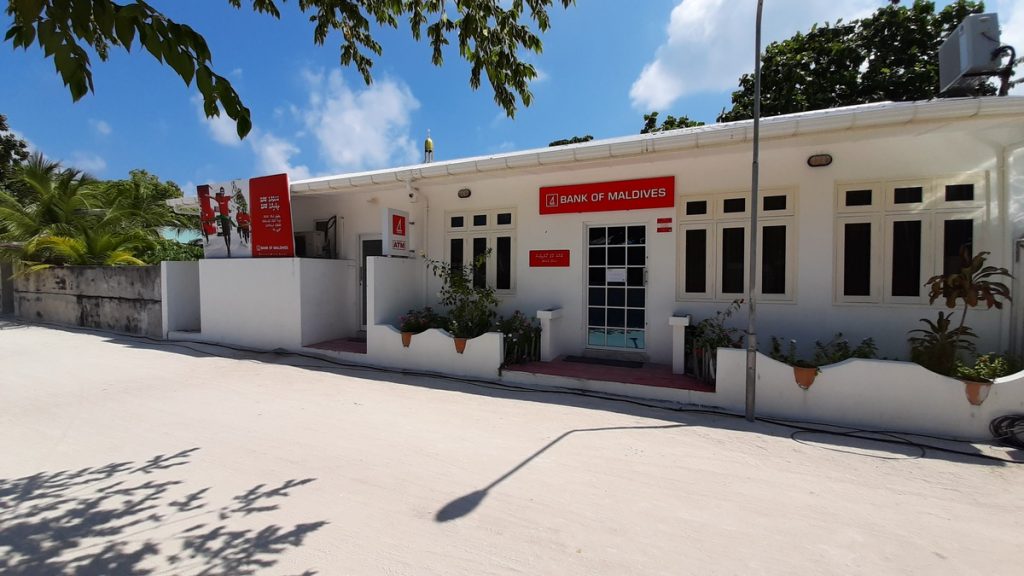 Rasdhoo Infrastructure
Rasdhoo is the administrative center of the North Ari Atoll. This means that the island has everything you need for life:
– groceries and hardware stores. There you can buy fruit and drinks, and also beach staff. It's very convenient for those who left something at home.
– gift shops. There are 6 gift shops on the island. There are lots of various souvenirs, everyone can find something to his liking.
– several cafes. There are 4 local cafes (two more are coming) on the island, and what's more, most of them are intended for tourists.
– dive centers. There are 8 dive centers on the island. And one water sports center
– a bank;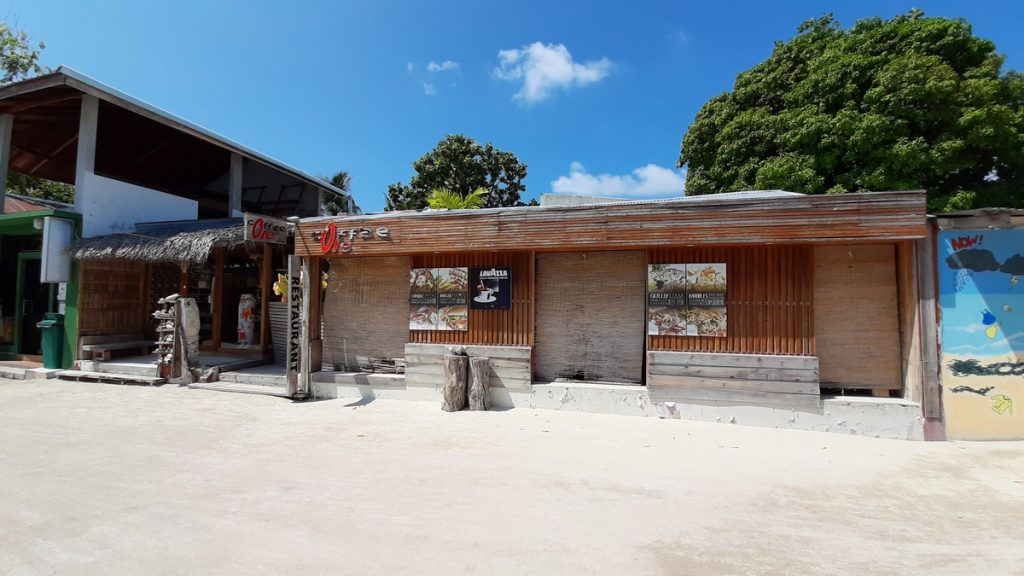 – ATM (you can withdraw rufies only, the service fee is 100 rufiyaa, and it doesn't matter how much money you're going to take out);
– a branch office of the mobile network operator.
– a hospital. They can help you in case if you have got a minor illness. Otherwise, they'll transfer you to Male by speedboat.
– a post office;
– a police station.
Where to eat in Rasdhoo
Each guest house has its own restaurant tuned to Western tastes and also BBQ facilities on each site. In general, food quality is better at in-house restaurants.
Cafe Ole. It's in the village is a cozy place to drink a good cup of coffee. Wide menu with dozens of options for Maldivian, Asian and European food. The place is clean, the food is tasty and the portions served were large and satisfying.
Lemon Drop. Nice Maldivian breakfast and great service! Lemon Drop is serving lunch and dinner as well. The place is popular so sometimes you will have to wait for the food, but it's worth it.
Alimente. Nice place with an excellent sea view. The best for coffee, drinks, and delicious local spicy snacks with tuna.
Palm Shadow. Good food, but a little more expensive than the other restaurants at Rasdhoo.
Where to stay on Rasdhoo?
There are a lot of places to stay, already about 30. The cost varies from $ 40 to $ 110 per night.
I always stay only at Shallow Lagoon Rasdhoo.  And that's why:
1. This is one of the first hotels I'm working with since 2017. During this time, I organized holidays for clients from 40 countries to that hotel, and there were no concerns during that time. I also brought my friends here several times while I was living in the Maldives in 2016-2017. Everyone was satisfied.
2. They are very responsible and easily go to meet customers (which is not so common in the Maldives), therefore they are always ready to satisfy any of your wishes. The staff is always nearby, so there is no need to look for anyone if you need anything. In this hotel, you will feel at home!
3. Shallow Lagoon Rasdhoo is almost the only example of a hotel that is developing and expanding. I work with 20+ hotels on local islands, so I can see the changes. For example, in three years they expanded their area by 3 times and now they have the largest garden on Rasdhoo!. They have their own snorkeling gear, including life jackets. Free unlimited tea, coffee, water.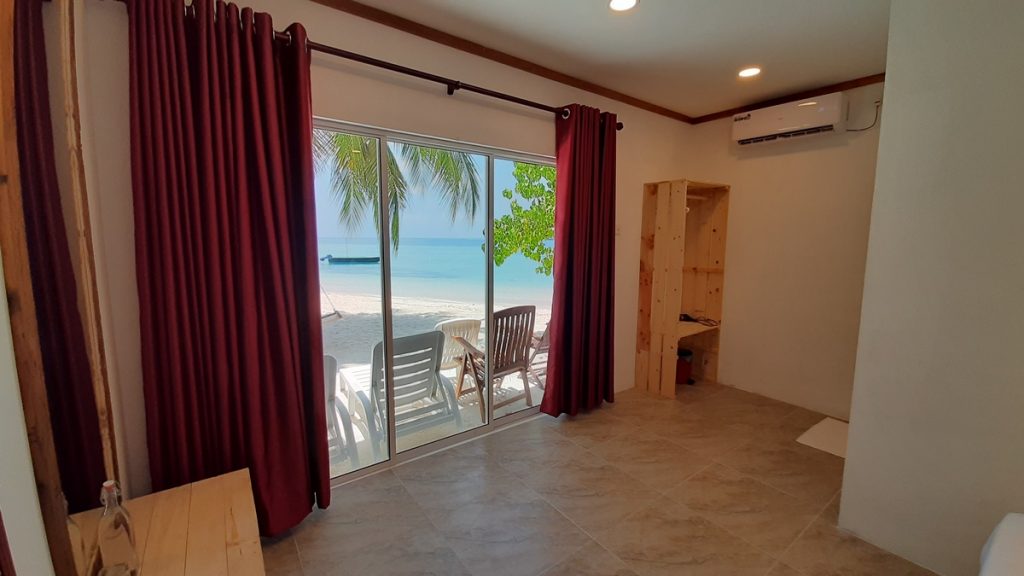 4. They have a separate block, which is located on the beach, with an ocean view. No other hotel on the island can offer an experience like that. Soon they will finish another block near the main hotel. Thus, the total number of rooms will increase to 17.
5. They recently equipped a new kitchen and hired a chef from Sri Lanka, who used to work at Adaaran Rannalhi Resort (the vast majority of hotels can only afford Bangladeshi or local). Therefore, high-quality food is guaranteed!
6. I have an exclusive partnership with them. This means that I can offer you the most attractive prices for accommodation, meals, excursions.
This hotel is above the average price range and they used to work with agents directly (not through booking or agoda). But this cost is fully justified by the quality of service they provide.
Rasdhoo Vacation Package
Accommodation at Shallow Lagoon Rasdhoo, breakfast and dinner, sandbank trip, 3-spots snorkeling, transfer by scheduled speedboat Airport-Rasdhoo and Rasdhoo-Airport, all taxes and charges. Total (for 2 adults):
Deluxe Room
| Nights | May – Nov | Dec – Jan | Feb – Apr |
| --- | --- | --- | --- |
| 4 Nights | 600 USD | 660 USD | 620 USD |
| 5 Nights | 670 USD | 750 USD | 710 USD |
| 6 Nights | 740 USD | 840 USD | 790 USD |
| 7 Nights | 810 USD | 930 USD | 880 USD |
Seaview Room
| Nights | May – Nov | Dec – Jan | Feb – Apr |
| --- | --- | --- | --- |
| 4 Nights | 660 USD | 760 USD | 700 USD |
| 5 Nights | 745 USD | 870 USD | 800 USD |
| 6 Nights | 830 USD | 950 USD | 890 USD |
| 7 Nights | 915 USD | 1,055 USD | 990 USD |
SEND REQUEST
Transfer to Rasdhoo
Public ferry
Rasdhoo to Male at 11:00
Every: Sunday, Wednesday
Male to Rasdhoo at 9:00
Every: Monday, Thursday
From Rasdhoo you can also take a ferry to the neighboring Thoddoo or Ukulhas.
Scheduled speedboat
Runs daily, the duration is 1 hour 20 minutes, price is $40 per person.
Male-Rasdhoo at 10:30 and 15.30 – 16.00, on Friday at 9:30 and 15:00
Rasdhoo – Male at 7:30 and 13:30.
Private speed boat
The traveling time is about 1 hour 20 minutes, the cost is $550-650.
Seaplane
The traveling time is about 15 minutes, the return ticket is $280 per person per one way.
Read also:
Top 16 things to do in Maldives 2021