Omadhoo
Local islands are reopened on 1 Oct 2020 onwards. All you need to know is here.
Omadhoo is located in South Ari Atoll and that is about 70 km far from the capital Male. About 800 people live on Omadhoo but this shouldn't bother you at all like on many other islands in Maldives it's not busy here. Not so long time ago the island has started to develop. The new guest houses are popping up, the litter is being thrown away and the size of the bikini beach is increasing. What is more the transport communication is being rapidly developed too.
The village takes up 2/3 of the island that is measured 1000m in long and 300m in wide. Life in Omadhoo is simple and has changed very little over the past few hundred years. Sometimes shy, women are dressed in black from top to toe, unlikely in Male, where traditions are not so strict.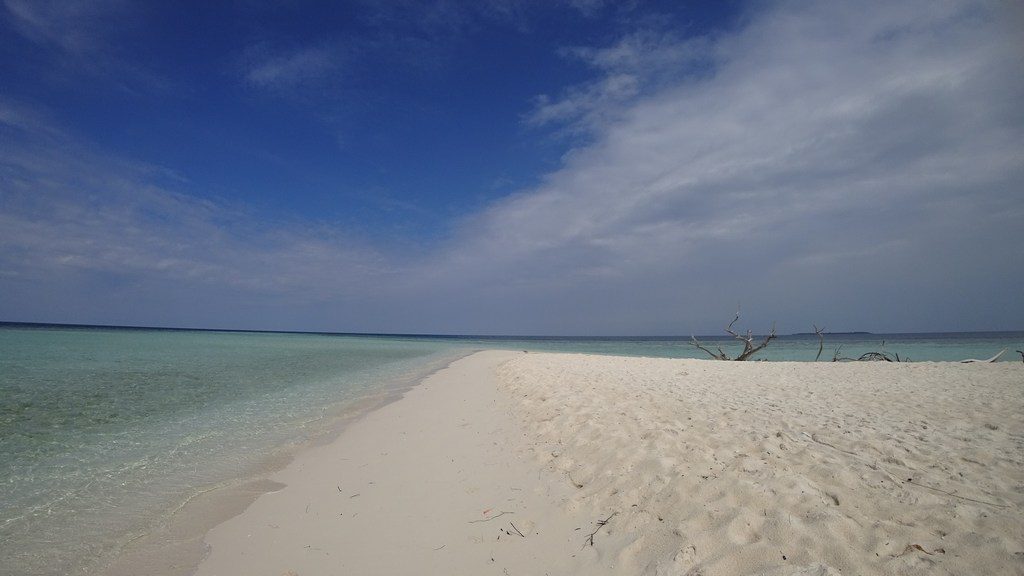 The eastern and western parts of the island are covered with tropical vegetation such as breadfruit and coconut trees. The island's western part could be described as a real island jungle due to a rich abundance of huge banyan trees and tropical palms. Omadhoo is home to birds and flying foxes and also curious herons.
Things to do in Omadhoo
Beach and snorkeling
At this moment bikini beach area officially rather small, but guests can go outside and locals won't say anything. The beach is clean and nice with long sandbank with water "entrance" to a house reef.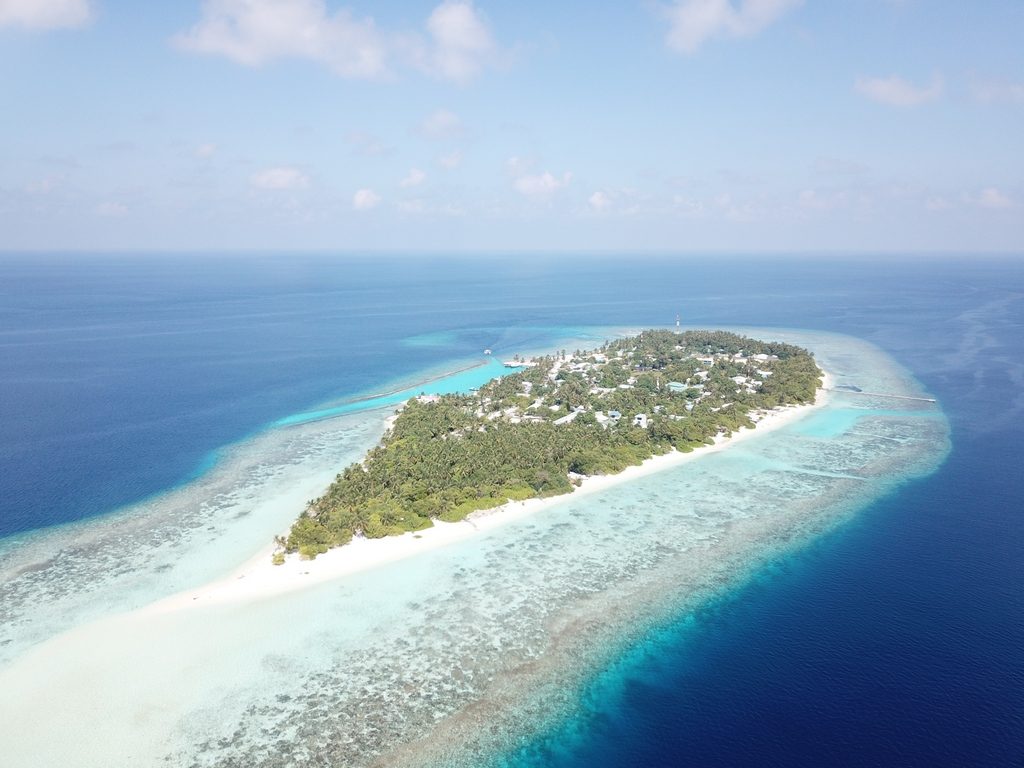 The house reef is very long and has 2 entrances. Its length is about 1km, so every day you can see something new. The current can be very strong, so I recommend using fins. Although you can swim without them – it's up to you.
The Eastern part is full of sharks and a school of fishes.
The central part is a great place to see a group of eagle rays and turtles.
The Western part is a home of huge school of fishes, like snappers, unicorns, barracudas.
The most exciting thing awaits you at the very edges of the house reef as well as on the most other islands. The reef is 60-70% alive so you can see a lot: schools of fishes, lots of actinia with Nemo fish and beautiful coral gardens. It is even possible to see turtles, rays, sharks as well.
Manta ray snorkeling
The reef manta ray is a large animal but feeds on tiny creatures – plankton. Specifically, zooplankton. Its teeth are useless when feeding as this species filter food through plates called gill rakers that are found in their ventral gills.
Turtle snorkeling
Turtles were of such a size that the shell of one would suffice to roof a little hut or cot and to cover ten or more persons sitting. There were vast numbers of them at the Maldives and some little islands you may see inhabited by no other animals than these great turtles, but covered with them.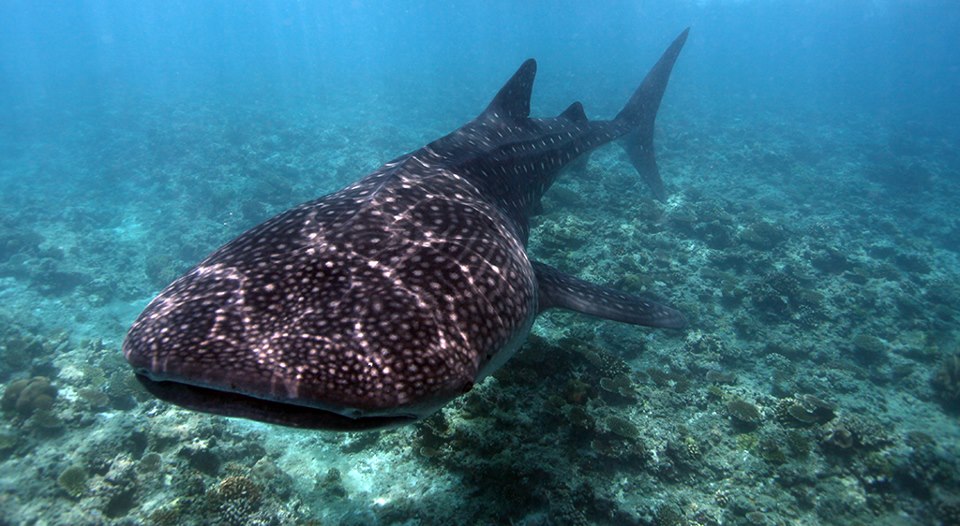 Whale shark snorkeling
If you're visiting Omadhoo, you should not leave without having joined one of the whale shark safari excursions. These gentle giants are filter feeders, meaning that although they are the largest fish on the planet, they are completely harmless to humans. Swimming alongside one of these colossal creatures is truly a once in a lifetime experience! In fact, snorkeling is one of the best ways to encounter whale sharks as they often swim very close to the surface. The excursion takes the whole day and includes not only whale shark point but manta point and sandbank visiting.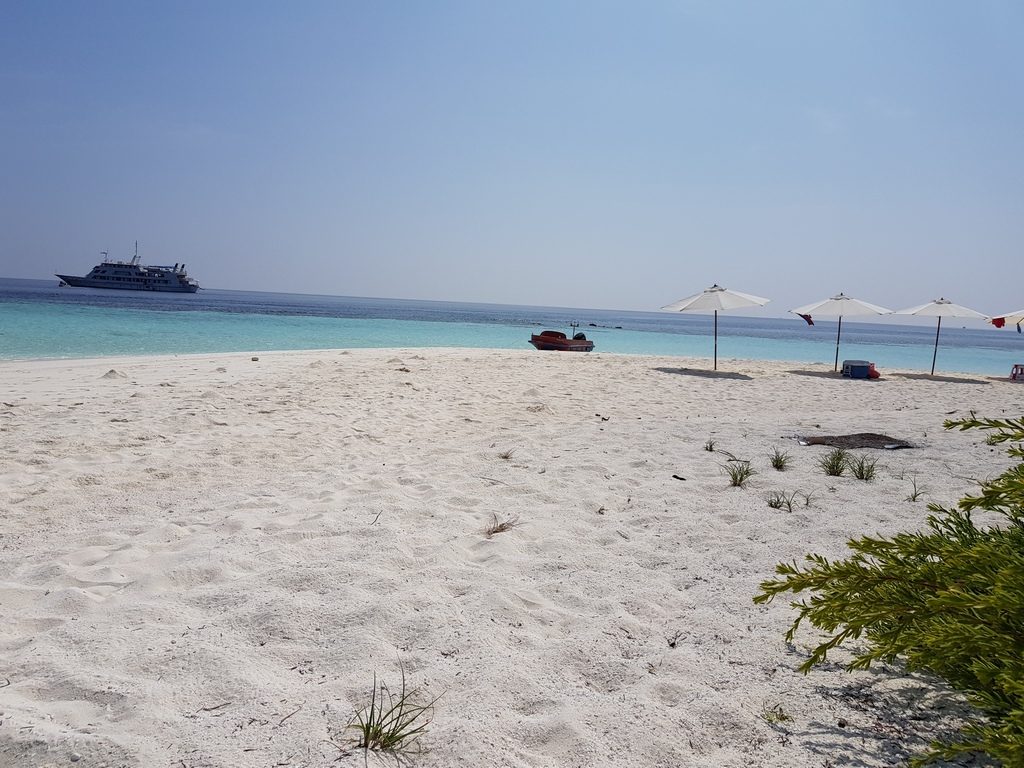 Robinson Crusoe
One of guest house – Omadhoo Inn has exclusive access to a nearby uninhabited picnic island (they manage it), where guests can enjoy the same freedom as Robinson Crusoe! The entire island can be booked by your request. With sun loungers, snorkeling equipment, barbecue facilities and an onsite bathroom, this island has everything you might need to enjoy a day away from the world!
The island is very beautiful with a white beach that surrounds the whole island! There is a house reef where you can see a lot of fish, rays and sometimes turtles. The reef is badly damaged due to global warming and it takes time to re-enter us with this color diversity.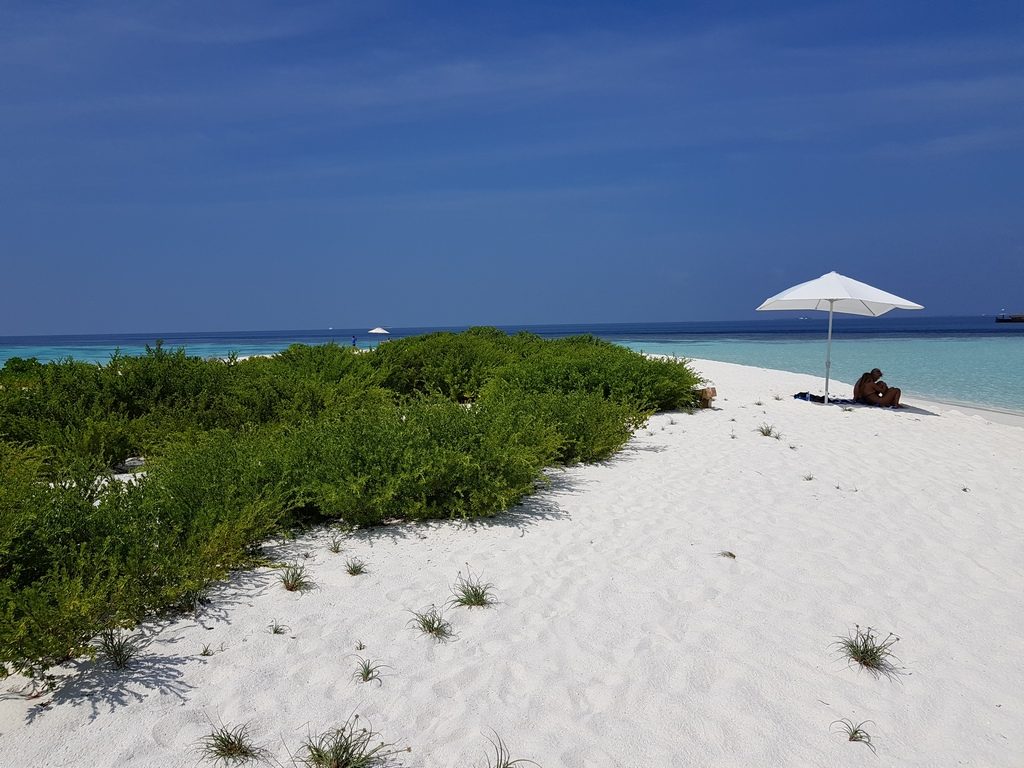 Sandbank
There are several sandbanks near Omadhoo, the largest one is located near the island of Hangnaameedhoo. Its length is about 150-200 m. There are very few tourists coming here, so it's cleaned not regularly. The other sand bank appears only in certain months of the year once current changes.
Another sandbank is on the way to Dhigura (a place where you can see whale sharks). On the way back you'll visit it as well.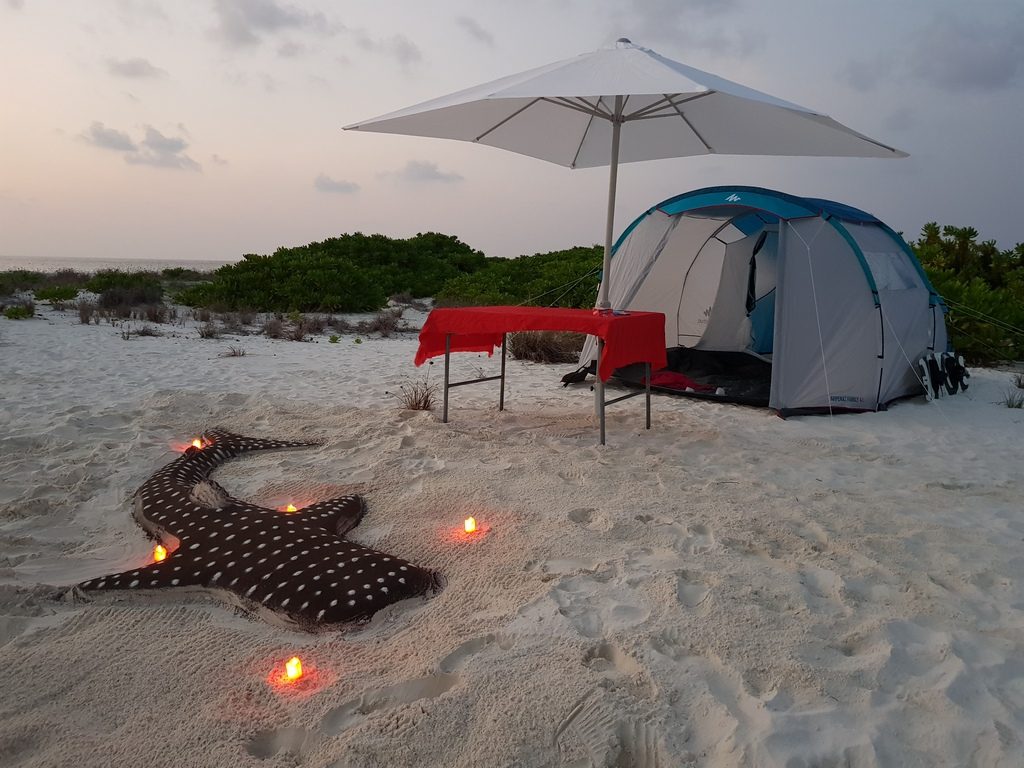 Overnight in an uninhabited island
Have you wanted to spend the night under a million stars, by the water's edge, at one with nature? Omadhoo Inn – the only guest house on Omadhoo can make this a reality! In fact, they give permission to other guest houses, resorts, safari boats to visit this island. Therefore, they are always aware of how many people are on the island. And it's very convenient because you can know for sure that today the island will be only for you. Sometimes safari boats have parties, so you can join them.
It's possible to organize a night of Maldivian camping under the stars! And with an onsite bathroom, and electricity, you'll still have everything you need to be comfortable! Tent renting, beach BBQ dinner and transfer is included. Alcohol is by request for an additional charge.
Scuba diving
There are 3 dive centers on the island. For certified divers they offer morning, afternoon and night fun dive boat trips every day. For first-timers the dive center offers an introdives with the professional instructors or a base PADI Open Water Diver course.
Omadhoo Dive Center can offer to the free divers the best dive sites of the Ari atoll with the innocent and beautiful underwater nature. And on the top of this – incredible free diving with manta rays and whale sharks.
Resort visiting
There are a lot of resorts that open for day visit: Centara Grand Resort, Lily Beach, Conrad Maldives and others. You can also dine in the underwater restaurant of the Conrad Maldives Resort.
Omadhoo Infrastructure
There are no ATMs on island, so prepare some cash. In hotels and dive centers bank cards are widely accepted.
There are several grocery shops, but the choice of products is very poor compared to other nearby inhabited islands.
A school, a playground and mosque are located on Omadhoo as well.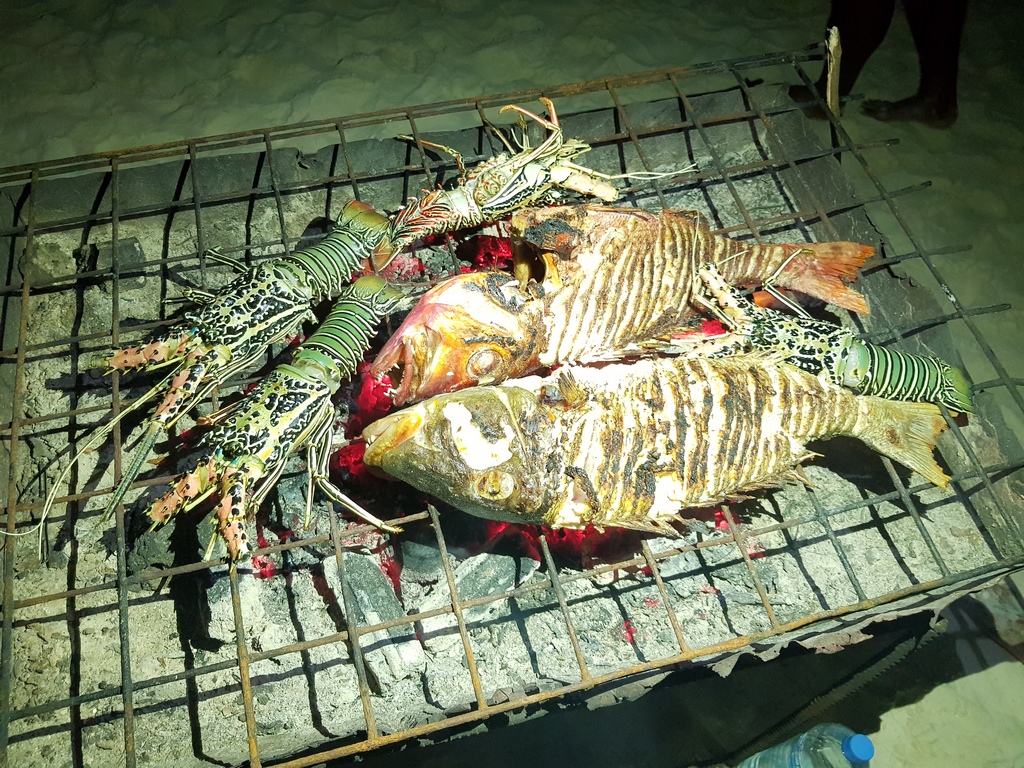 Where to eat
In Omadhoo the majority of guests are used to eat in the in-house restaurants.
Breakfast. Continental one: Sausages (soybeans), sweet egg pancakes, fruits (different every day) – bananas, papaya, pineapples, juice, tea, coffee (with powdered milk). Maldivian one: roshi and paste (canned tuna, chili, onion, coconut nuts).
Lunch/Dinner, mostly fish, seafood, curry (4 types), rice (steam or fried), noodles, pasta, 3 types of salad, dessert and fruit.
For tourists, only 3 local restaurants are available on the island.
Ocean Restaurant. Nice and cozy place with a wide choice of local carries and fish.
Moorish Idol Cafe. Tasty and cheap meals. The staff is friendly and they speak English. Grill fish is big enough for 4 people. The chicken masala is very good. For 2 person you can have dinner 8-20 USD.
Wood Gate. Great local food in Omadhoo island. The staff was really friendly. There are not so many positions in the menu but the food is delicious, portions are huge and price is affordable.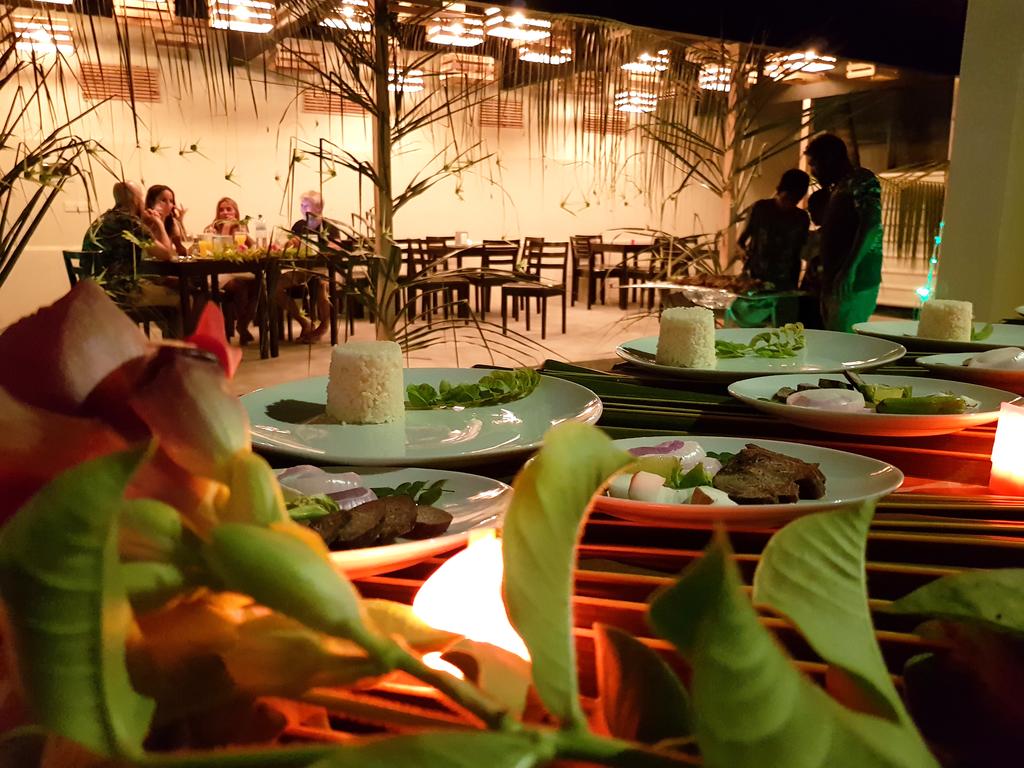 Where to stay
There are a lot of places to stay, but I advise Omadhoo Inn, and that's why.
– One of the first guest house in Omadhoo;
– Super friendly staff with experience working in resorts. So high-quality service is guaranteed;
– Amazing in-house restaurant with a great variety of local and continental cuisine;
– Unlimited coffee and tea;
– Private dinner on a beach;
– Private dinner on a dhoni. They can organize a romantic dinner with the cruise on dhoni – what an experience;
– Own 8 pax capacity speedboat for cruising on nearby islands;
– Own private uninhabited island where you can stay overnight. Only you, no other people will be there;
– Affordable full-day trip to whale shark point with sandbank visiting and snorkeling at manta point
– Free Airport meet and greet service;
Book Omadhoo Inn with the lowest rates.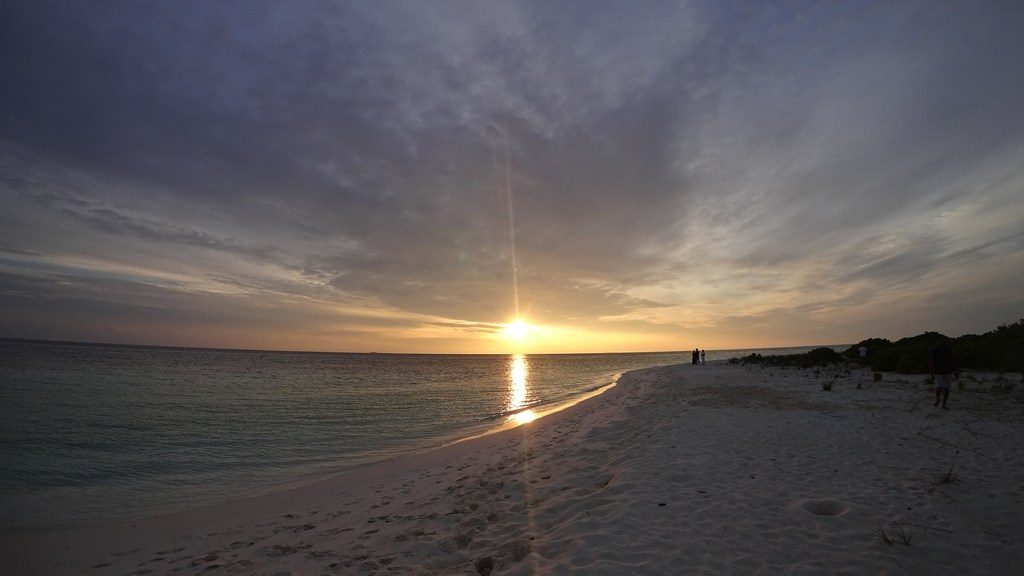 Transfer to Omadhoo
By a scheduled speedboat
The price is $25 per person.
Male – Omadhoo at 16:00, on Friday at 9:30, on Thursday 10:00, 16:00
Omadhoo – Male at 7:00
By a slow ferry
Travel time is 4.5 hours. Price is USD 4 one way
Malé – Omadhoo: 09:00 Saturday, Monday and Wednesday
Omadhoo – Malé: 10:00 Sunday, Tuesday and Thursday
About Author
Welcome! My name is Alex and since 2015 I have been "sick" with Maldives. In 2016-2017 I lived in Maldives and worked at a local travel agency. I managed to personally visit 15 local islands and 10 resorts.
Since 2017, I have been organizing holidays for couples, families and groups. More than 300+ clients from 60 countries have used my service.
Contact me for a free consultation and help with a personal tour to Maldives!