Maafushi
Local islands are reopened on 1 Oct 2020 onwards. All you need to know is here.
Maafushi is one of the biggest and most popular local islands in Maldives. It is located in South Male Atoll just 27 km away from Male. The size is 1270 x 265 m. The island itself has an elongated form. 2700 people live on the island. It's amazing how so many people can live on such a small piece of land, but as on other islands, you won't feel that the place is overcrowded.
From year to year, there are less and fewer locals are living on the island. The reason is simple – they either open another hotel by themselves or lease land with a house and move to Male or Hulhumale.
Tourism has been started in 2012 from President Nasheed. In fact, this man did a lot of things to establish the budget segment of tourism in the Maldives, and he began with Maafushi.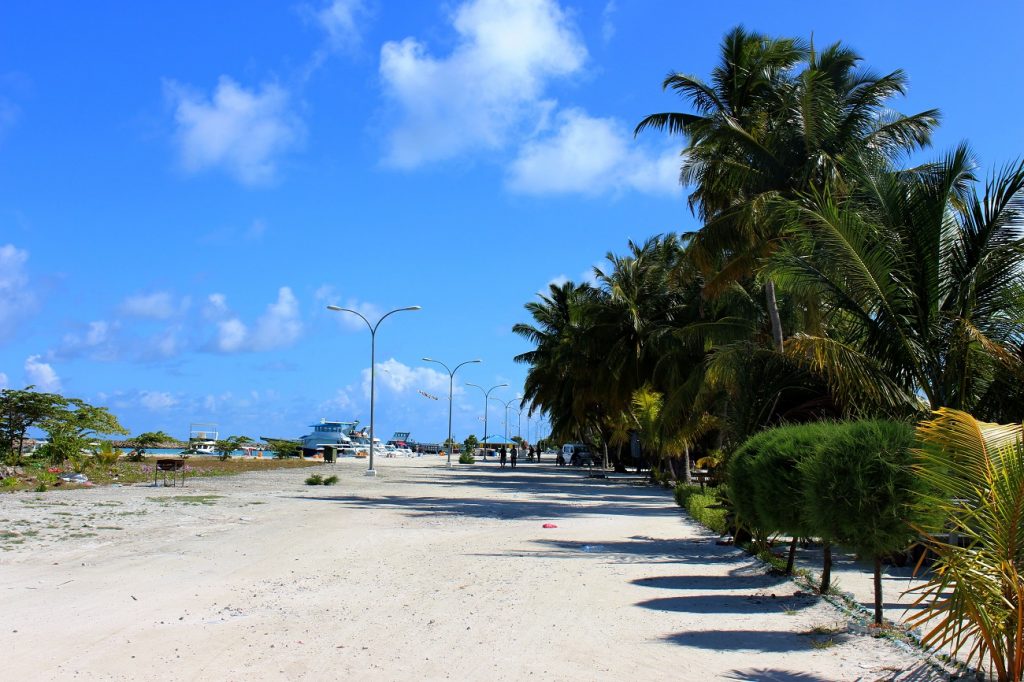 But still, why there are so many guest houses and hotels on Maafushi? All because of prison. It turned out that they pay very good salary – about $ 1000-1500 per month! This place employs almost the entire local population that is not working in tourism. Therefore, they are sufficiently secured to open their own hotel.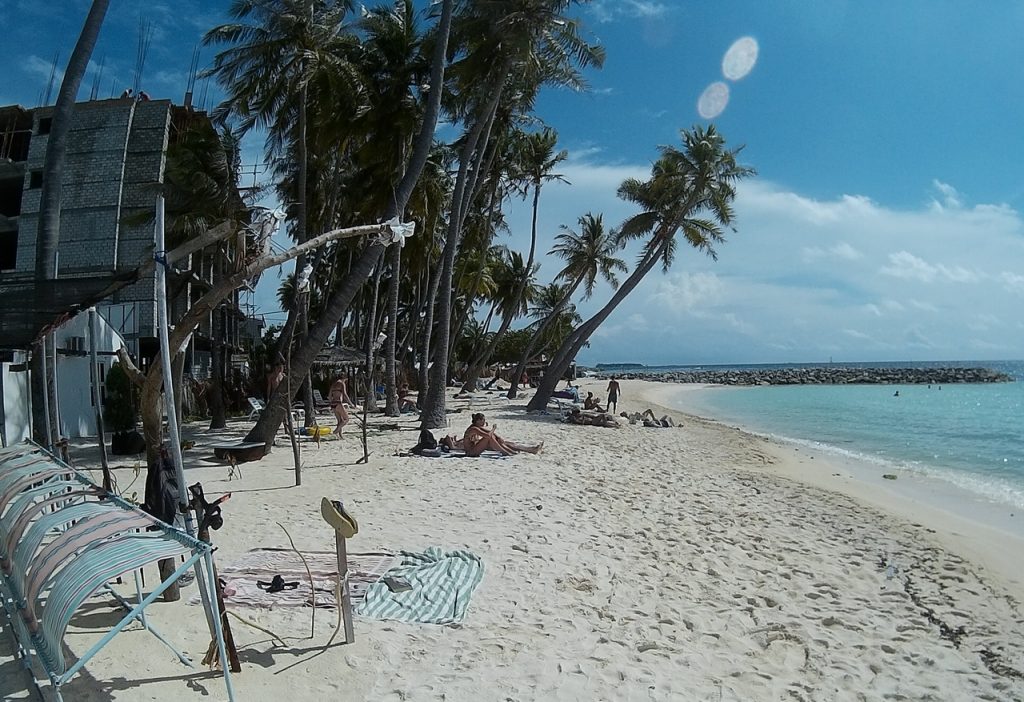 Things to do in Maafushi
Bikini Beach and house reef
The beach area on Maafushi, in comparison with Thoddoo or Ukulhas, is small and is divided into two parts by a breakwater. One part is surrounded by a fence, and in the second there are several restaurants, a dive center, and hotels. Due to a large number of tourists even during the off-season, the beach can be crowded. Therefore, no privacy out there.
The house reef is almost dead (it's pretty far from the beach). But guest houses organize snorkeling safaris at 1,2,3 different sites. The average cost of such a trip is $ 25-40 per person.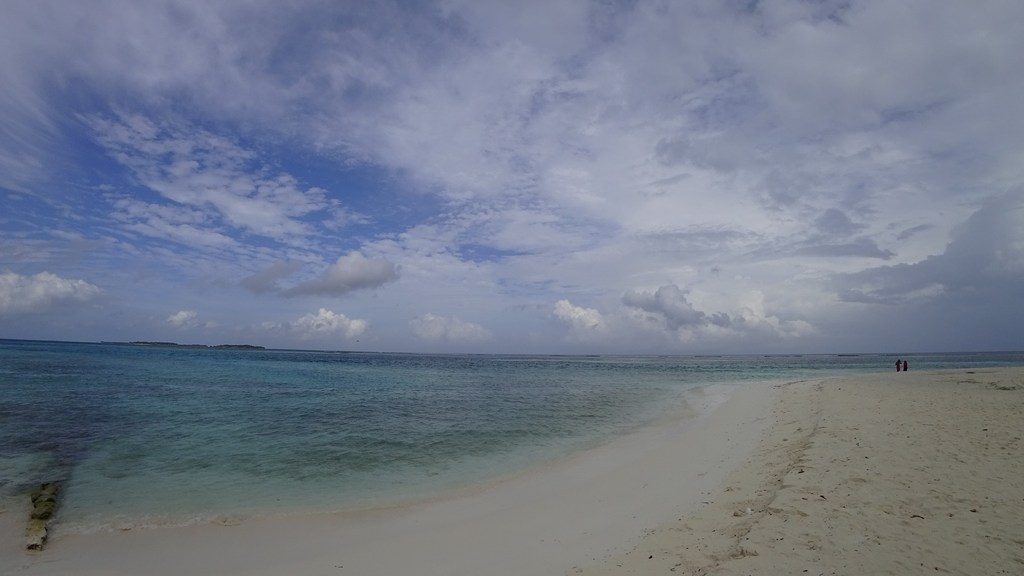 Sand Bank Trip
Head out to a stunning sandbank for a picnic lunch, an awesome spot to snap heaps of beautiful pictures, and enjoy the clear waters. You won't be alone on a picnic island. Nowadays, a lot of nearby sandbanks and picnic islands are occupied by ner island resorts. So only near Rihiveli is one of few places to visit.
Snorkeling Safaries
All guesthouses and water sports center in Maafushi offer exciting trips to breathtaking reefs that are full of colorful coral gardens and are teeming with marine life. Some of the best snorkeling sites are Maavelaathu, Banana Reef, Vilivaru Corner, Turtle Garden and Maafushi Corner. All trips are with a group.
Some guesthouses organize full-day excursions in Vaavu Atoll and include snorkeling, a sandbank visit, lunch, a safari with dolphins.
Night fishing
Caught fish can be cooked for free at your hotel. But it is better to discuss all the details in advance, because it can be served with rice, greens, etc.
There are several types of fishing, the easiest of them is when they give you a reel with a fishing line and a hook. The option is more serious – big game fishing – hunting for large fish – marlin, sailfish, barracuda.
Floating Bar
Alcohol is prohibited on any local island. However, a safari boat is anchored near Maafushi with a bar where you can stay with a can of beer, a glass of wine or a cocktail. How does it work? It's very simple: from Maafushi you will be taken to a safari boat, where you relax and after a few hours you will be taken back. Approximate prices for alcohol: a can of beer 0.33l 5-7 $, a bottle of wine – 30-50 $, a bottle of vodka/whiskey 1l – 100-130 $. It is prohibited to take alcohol with you.
Scuba Diving
Everyone who is lucky to visit Maldives has to try scuba diving at least once. It will be an unforgettable experience! In the neighbor, apart from coral gardens, there is a wreck, but only certified divers can get there.
On Maafushi 4 dive centers, which guides have PADI certificates. If you wish, you can also take a course and get a certificate of a diver, which allows you to dive yourself (without a guide, but with a buddy). Depending on the season, you can see sea turtles, manta rays, sharks.
It should be noted that diving in Vaavu Atoll, South, and North Ari Atoll is much better. In this region, the South Male Atoll is now actively new island are building, followed by the construction of new resorts, which also affects the reef and its inhabitants.
Water Sports
At Maafushi you can try any kind of water sports: kite surfing, windsurfing, parasailing, water skiing, jet ski and much more. In this regard, Maafushi favorably stands out among other local islands, because such centers can be found not on every island.
If you are going to a group of 8-12 people, it's possible to organize an excursion to Ari Atoll to swim with whale sharks.
Resort Day Visit
There are a lot of island resorts near Maafushi that allow day visits for guests. The trip includes transfer by boat, entrance fee, meals, drinks and all resort amenities. The price from $80 to $180 per person.
6 km away from Maafushi another two local islands (Guraidhoo and Gulhi) are located, where you can be taken by local ferry running from Maafushi.
Available resorts:
Biyadhoo;
Adaaran Rannalhi;
Adaaran Vaadhoo;
OZEN by Atmosphere (with underwater restaurant);
Anantara Veli and Anantara Dhigu;
Fihalhohi;
Embudu Village;
Olhuveli;
Maafushi Infrastructure
It is easy to navigate on the island. The southern end of the island is a tourist are: bikini beach, guest houses and hotels, gift shops and restaurants are located there. In the northern part of the island, there is one of the prisons in the Maldives. In the center of the island, opposite the jetty, a school, the administrative office, a playground, and a central mosque are situated.
The eastern part of the island is mainly uninhabited; a noisy electric power plant is constantly in action there. That's why you'd better stay in the south of the island, although guest houses are 'scattered' around the whole island.
There are about 70 (!) guest houses and hotels on Mafushi! 4-5 hotels with a total capacity of about 200 people!
In general, the island is built up and is a smaller copy of Hulhumale, which is reflected in the overall atmosphere of the "budget Maldives".
If you want to see real Maldives with white sandy beaches, great house reef, high level of privacy, you should consider to go to other islands.
My suggestions are Ukulhas, Feridhoo, Omadhoo or Thoddoo.
Where to eat
There are a lot of cafes and restaurants for tourists on the island. Some guesthouses carry chairs and tables outside, giving the opportunity to enjoy dinner in the open.
Here is a small gastronomic vocabulary, which should help you to distinguish between different products and dishes:
Bajiya – fish pie with coconut and onion;
Baj – rice;
Bondi – pasties with coconut;
Garudhiya – fish soup and rice with lemon, onion and pod pepper;
Gula – fried meat balls with tuna and coconut;
Dhiyaa hakuru – coconut milk;
Keemia – rolls with fried fish;
Kiru sarbat – sweet milk;
Kulhi borkibaa – pasties with fish and spices;
Mas – fish;
Mas huni – dried and soft smoked fish with coconut flakes and onion;
Rihaukuru – fish paste;
Roshi – national no-yeast bread (looks like galettes);
Theluli kavaabu – croquette with fried fish;
Theluli mas – large pieces of fried fish with pepper and garlic;
Fihunumas – pepper-rubbed fried fish;
Foni boakiba – rice pudding with coconut milk;
Hikimas – dried and soft smoked fish;
Maldivian Hedhikaa – a deep-fried snack, which includes smoked fish, coconut flakes, lime juice, onion, and chili.
If you wish, in your guest house you can order a private dinner on the coast or a barbeque on one of the neighboring islands.
The best places to check out.
Fine Bake by Suzy. The only bakery on Maafushi Island, Fine Bake by Suzy is the place you should not miss if your sweet tooth. Fresh pastries and desserts daily, including bread, pizza, biscuits, vanilla rolls, muffins with chocolate, bananas, as well as cakes donuts and brownies, among others.
Raha Restaurant & Lounge. Chef Alex and her talented culinary team, who have mastered the art of achieving astounding new flavors, textures and aromas. Of course, with the added focus on regional ingredients and sustainable growing practices, you have a dining experience that is both a visual feast and culinary triumph!
Arena Beach Restaurant. Energetic all-day dining restaurant showcases an indoor and outdoor dining area serving up the best burgers, pizzas, spaghetti, and meticulously crafted mocktails on the island, all set amidst the stunning backdrop of the Azure blue ocean and ice white sand.
Suzi's Cafe Quench. Food is how you would imagine it if you were in Suzi's House: tasty, fresh and aromatic. The staff is very accomodating and friendly.
Hot Bite. Lots of choices. From burgers, pizza, sandwiches to local dishes. The service is extremely slow like at any other restaurant in Maafushi. The average waiting time is 30-40 mins.
Symphony Lagoon. The food is good and their signature salad is tasty. Biryani is good too, the service is acceptable. Drinks and food arrived in time, and everything was very tasty.
Kaalamaa Restaurant. Combining local ingredients with Western cuisine – delicious!
Recommended: tuna carpaccio, sesame tuna, tuna ravioli with spicy sauce, papaya soup, – and, yes, steamed reef fish – catch of the day – too much for one, to be shared.
Hiyala Mariyaadhu Cafe. The food is very good, the place is clean and the guys working here are very nice. In the lunchtime it can be busy and you may need to wait around 30 minutes for the food but its worth it. A lot of seafood is available here as well.
Kaani Beach Restaurant. Tender fish and amazing service. Beautiful setting for a meal in front of the hotel directly on the sand. Dinner buffet is $US 12U per person
Mr. Octopus. From the street, it doesn't look too promising, but once inside, it is really cozy. Food is delicious and they have a wide variety of juices and alcohol-free cocktails (mocktalis) as well. During lunchtime, someone from the restaurant comes to Bikini beach with a menu and offers food delivered to your right to the beach, without extra charge. The staff is very nice and price is fine too.
Pizza & pasta mamma mia. This restaurant is close to the center of Maafushi. Pizza, pasta, and hamburger are very tasty. They have a lot of juices and mocktails (alcohol-free cocktails) as well. The staff is very kind.
Harbour Cafe Maafushi. Very local place with Maldivian snacks and food.
Where to stay
There are a lot of places to stay, but I advise Kaani Grand Seaview, and that's why.
– There are 4 Kaani hotels, so you can use facilities of any of them;
– Seaview rooms;
– Super friendly staff with experience working in resorts. So high-quality service is guaranteed;
– Amazing in-house restaurant with a great variety of local and continental cuisine;
– Unlimited coffee and tea;
– Own floating bar Kaani Princes;
– Own speedboats for transfer and excursions;
– Pool and SPA facilities;
– Affordable excursions;
– Free Airport meet and greet service;
Book Kaani Grand Seaview with the lowest rate.
Transfer
From Male
Saturday: 15:00;
Sunday: 10:00, 15:00;
Monday: 15:00;
Tuesday: 10:00, 15:00;
Wednesday: 15:00;
Thursday: 10:00, 15:00;
Friday: not available.
From Maafushi
Saturday: 07:30, 12:45;
Sunday: 07:30
Monday: 07:30, 12:45;
Tuesday: 07:30;
Wedesday: 07:30, 12:45;
Thursday: 07:30;
Friday: not available.
Scheduled speedboat
Available daily, Male-Maafushi, the cost is $25, departs at 9:15, 13:30, 19:00, 22:00.
Maafushi-Male at 8:00, 12:00, 13:30, 17:00, 21:00 and runs to the airport.
Private speedboat
Available at any time. Price is $US 170 per way.
About Author
Welcome! My name is Alex and since 2015 I have been "sick" with Maldives. In 2016-2017 I lived in Maldives and worked at a local travel agency. I managed to personally visit 15 local islands and 10 resorts.
Since 2017, I have been organizing holidays for couples, families and groups. More than 300+ clients from 60 countries have used my service.
Contact me for a free consultation and help with a personal tour to Maldives!