How to choose a resort in Maldives in 2021?
While choosing a resort in the Maldives, there are difficulties with a large selection of hotels (now there are about 130 of them, and every year 3-7 new ones open). Which is better to choose: 5 or 4 *? What kind of food to choose from? What is the best way to book? These and many other points will be described in this article.
Check: Special deals to Maldives 2021/2022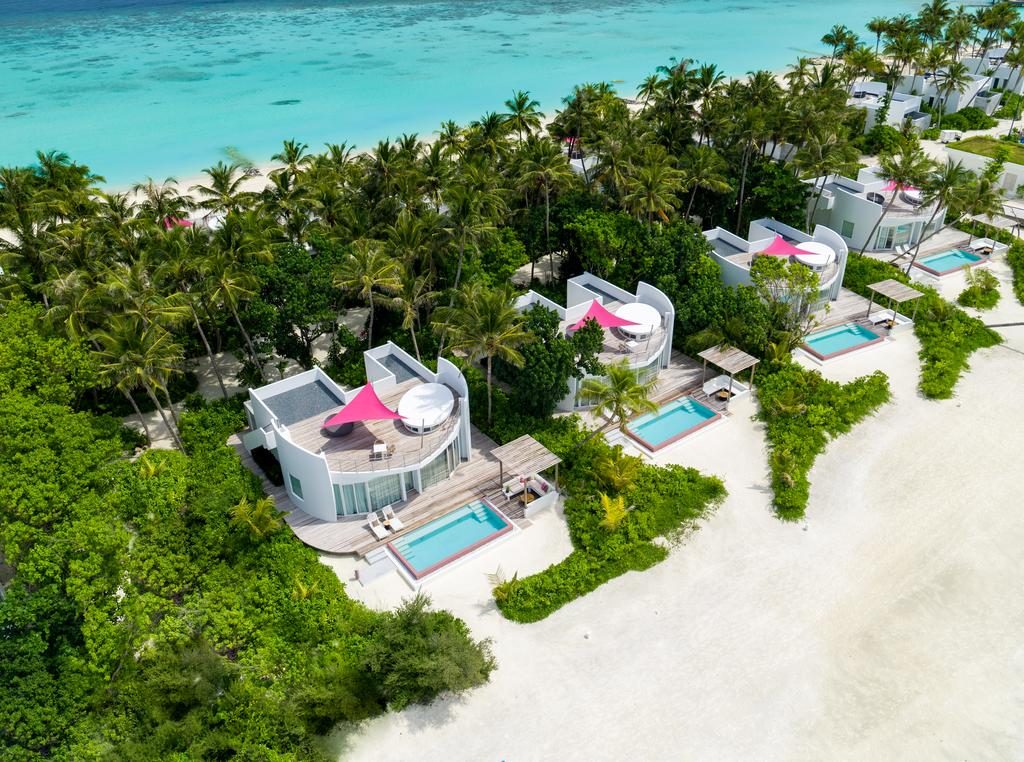 "Stars" of hotels
Each country has its own classification of hotels. For example, a 3* hotel (there are only a few) in Maldives is a hotel corresponding to the 4-5* level in Vietnam.
Most hotels in the Maldives have 5* or 5 +*. There are fewer 4 * hotels, but the price is noticeable. Therefore, let's consider the main differences between 4 and 5*.
– Accommodation. In the vast majority of 4 * hotels, the cheapest and easiest accommodation is in rooms/bungalows (blocks of 2-4 rooms). Separate villas will be more expensive. Nevertheless, the rooms are quite spacious and they have everything you need. At 5* resorts, the choice of villas is usually more than 4 * (for example, there is 11 type of villas at Kuramati 4*).
– Food. Most 4 * resorts offer half-board, full-board, or all-inclusive meals (this will be described in more detail below). It should be noted that water and drinks are not included in the half / full board. In 5 * hotels, this is less common. Also, 5* resorts have more restaurants of Thai, Indian and other cuisines.
– Service and facilities. In hotels, 5* service is more personal and generally higher than in 4*. But each resort has its own restaurants, dive centers, water sports centers, SPA, pools. In all 5 +* hotels you are provided with one or more personal butlers who help you with everything. In these hotels, half-board or full-board is usually not pre-ordered.
Rooms
Let's consider the main types of rooms/bungalows/villas that can be found in the Maldives.
Standard/Deluxe room. Rooms with a standard set of amenities: bed, table, chairs, minibar, bathroom. Usually built in blocks of 2-4 rooms. The simplest type of accommodation.
Beach Bungalow. In fact, there are very few differences from the Standard Room. In some cases, this is private accommodation in a separate bungalow. The rooms are larger.
Beach Villa. Private accommodation is just for you. However, your villa is not always separated from the neighboring by fence with trees. Some resorts, such as Angsana Ihuru, have a fenced private garden. They are usually close to the beach and have a private entrance.
Beach Villa with Jacuzzi/Jet Pool/Pool. Accordingly, villas that have a private bubble bath, jet pool, pool. Larger than regular villas.
Beach House/Suite 2-3 or 4 bedroom villas for 4-8 people. They have a private jacuzzi, a pool, sometimes a bar and spa, private garden. At a cost usually more than a separate two or more villas.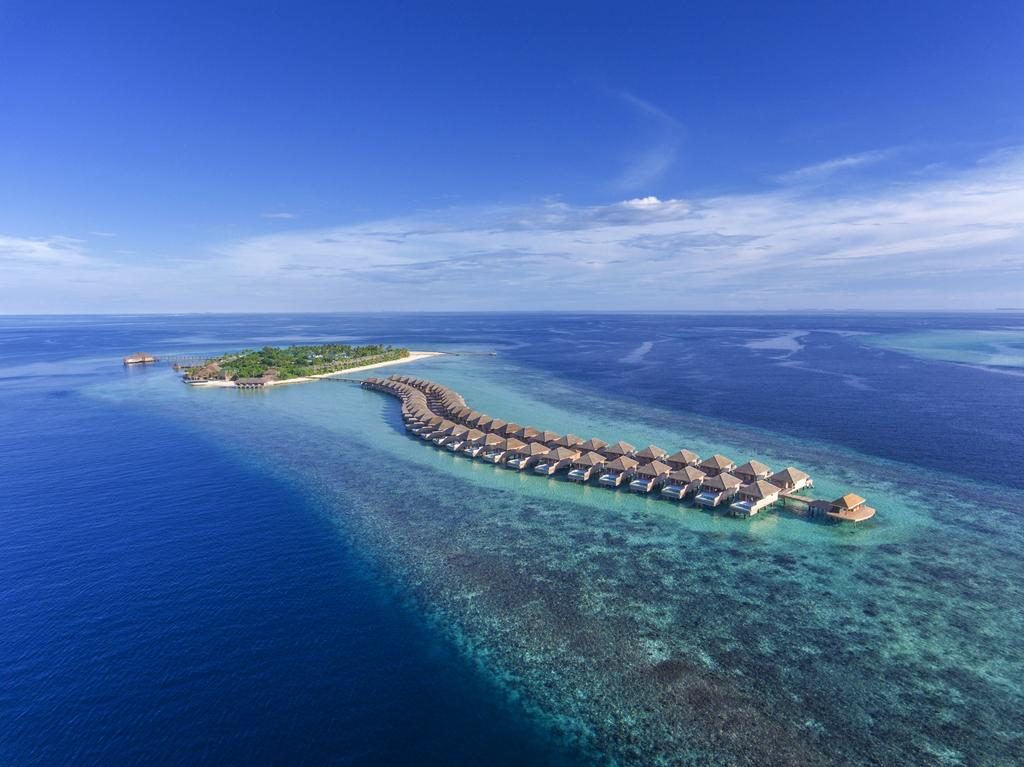 Water Bungalow. There are very few resorts that have two bungalows together, but this also sometimes happened. So basically these are separate bungalows.
Water Villa. Separate villa on the water. Deluxe villas are larger in size.
Water Villa with pool/jacuzzi. Private water villa with pool, bubble bath or simple bath.
In-ocean Villa. There are not many resorts with water villas that are not connected to the beach. Among them are Angsana Velavaru, Gili Lankanfushi, Jumeirah Vittaveli, Raffles Maldives. Every 15-30 minutes a boat runs to the coast. A high level of privacy is guaranteed!
Water Suite. 2-3 bedroom villas with the same amenities as Beach Suite.
Food
By default, each resort provides breakfast in the main restaurant. Type of serving – buffet.
Half board (breakfast and dinner), full board (breakfast, lunch, and dinner). Also served in the main restaurant. However, drinks are not included in the price. Some resorts have their own special "half board +" or "full board" which, in addition to meals, can include drinks or a discount on meals in other restaurants.
Let's consider the all-inclusive plan for 4*, 5* and 5 +* resorts.
Bandos Maldives, 4 *
All-Inclusive
– Breakfast, lunch and dinner are served at the Gallery Restaurant during meal times. Meals from other outlets will be at an extra charge.
– Non-carbonated bottled water is served at all Food & Beverage outlets.
– Regular tea and coffee (hot/cold) is served at Sand Bar, Huvan and Gallery Restaurant.
– Soft drinks and canned fruit juices are served at the Sand Bar, Pool Bar, Huvan and Gallery Restaurant. Fresh fruit juice will be at an extra charge.
– House wine is served at the Sand Bar, Huvan and Gallery Restaurant. Premium brands of wine and all sparkling wine are chargeable.
– Draught beer is available from the Sand Bar, Huvan and Gallery Restaurant.
– House spirit (gin, vodka, rum and whiskey) is available from the Sand Bar, Huvan and Gallery Restaurant. Premium brands of spirits are available at an extra charge.
– Select cocktails and mocktails are available from the Sand Bar and Huvan.
– Select sparkling wine is served by the glass at the Sand Bar and Huvan.
– Daily tea, coffee, and snacks, served on display, are available from Sea Breeze Café from 1530hrs – 1700hrs.
– All drinks are served one glass at a time.
– Sand Bar options are available from 07:00hrs – 00:30hrs daily.
– Pool Bar options are available from 10:00hrs – 20:00hrs daily.
– Huvan options are available from 07:00hrs – 00:00hrs daily.
– Windsurfing: maximum 02hours per person per day
– Canoeing: maximum 02hours per person per day
– Table tennis and billiards are included in the package, along with equipment.
– Gymnasium, fitness center, spinning, step classes, steam room, and sauna are included.
– Daylight tennis facilities with equipment are available.
Premium All Inclusive
– Buffet (breakfast, lunch, dinner)/main Gallary restaurant
– 2 dining in Ala Carte Restaurants
– breakfast, lunch, dinner: a 3-course meal in a la carte restaurant – one started or soup, one main course, and one dessert per person. The 4th item will be charged extra with 50% discounts. 50% discounts are applicable on started items in the menu wich is not included in Premium AI
– All-Inclusive beverages
– Beverages and wine bottle will not be taken away from the restaurants and bar
– Wine by the bottle is applicable in the restaurants during mealtime
– All-inclusive beverages are not applicable to private dinners, events, and night fishing BBQ
– 50% discounts on selected premium beverages and spirits wich not included on Premium AI
– 25% discounts on wines which are not included on DA AI
– Afternoon Tea at Sea Breeze
– Table tennis and billiards at Clubhouse are included in the package
– Gymnasium, fitness center, spinning, step classes, steam room, and sauna are included
– Windsurfing: max 2 hours per person per day
– Kayaking: max 2 hours per person per day
One of the following excursions for every 5 nights stay:
– Night fishing trip
– Half-day island hopping trip
– 30 minutes glass bottom boat ride
– 15% discounts applicable on other excursions excluding Photo Flight and Submarine Dive
– One – 55 minutes Massage/Spa Treatment per person for every 5 nights stay
Excluded:
– Food & Beverages not listed above such as other liquors, liqueurs, selections from the wine list, fresh fruit juice, espresso, cappuccino, blended drinks, cocktails etc.
– Beverage from Room Service, Gift Shops, Mini Bar, Sports Centre, and Excursions.
– Beverages served outside all-inclusive hours in any of the outlets
– Local & International Telephone Calls/Fax/Internet.
– Compulsory Christmas & New Year Supplement.
– Souvenir Shops and Laundry Service.
– Diving and any other recreation or sports (land and water-based) facilities not stated herein as all-inclusive.
– Airport/Resort/Airport Transfers.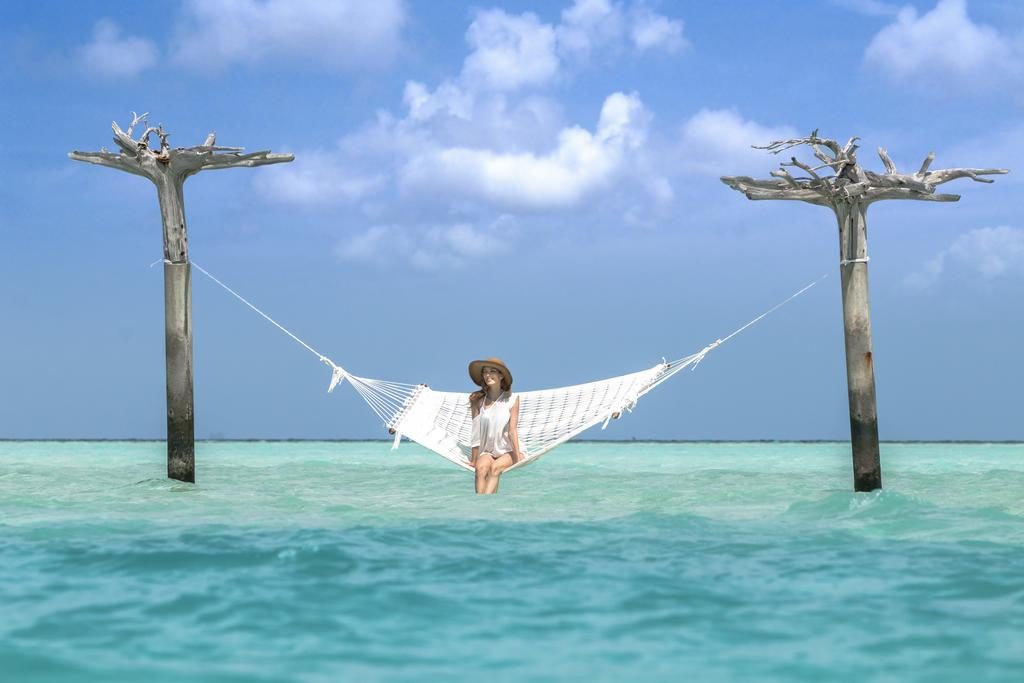 All-Inclusive
– Breakfast served in Iru restaurant (buffet) from 07:00hrs- 11:00hrs.
– All-Inclusive lunch is a three-course meal per person (1 starter, 1 main, 1 dessert) selected from the All-Inclusive menu at the following restaurants: Bamboo, Sinbad, Islanders Grill, The Trio, Fluid, and Reflections. Subject to opening/closing hours of the respective outlets.
– All-Inclusive dinner buffet is served at Iru Restaurant or as a three-course meal per person (1 starter, 1 main, 1 dessert) from selected All Inclusive menu at the following restaurants: Bamboo, Sinbad, Taste of India, Islanders Grill, The Trio, and Flavours. This is an alternative to the daily Dinner buffet at Iru Restaurant. Subject to opening/closing hours of the respective outlets.
– All-Inclusive Beverages: A selection of alcoholic and non-alcoholic drinks served per glass one at a time including Wine (single label, White, Red, and Rose), Spirits and Selection of Beers, selected cocktails and mocktails, soft drinks, chilled packet juices, water, coffee and tea in all restaurants during operational hours.
– Four complimentary coffee capsules (all refilled once per day).
– Selected items in minibar including beer, soft drink, still water, coffee & tea are complimentary (all refilled once per day).
– Daily unlimited Ice cream for all (Adults & Kids) at our La Cremeria from 11:00hrs till 17:00hrs.
– Non – motorized equipment one hour per day includes Kayak, Stand-up paddleboard, catamaran & windsurfing.
– All guests are required to know how to swim. Not included: Stand up paddle and Wind Surfing lessons; Catamaran excursions and lessons.
– Any other services, amenities, and facilities not stated herein as all-inclusive are also not included in this all-inclusive package.
5 +* resorts do not provide an all-inclusive plan.
Transfer
In general, transfer to/from resorts in the Maldives can be divided into 3 types.
Speedboats
Modern and powerful boats with a capacity of 16-22 people. Basically, this transfer is provided by resorts that are located near the Airport: Hard Rock Hotel, Velassaru,  Olhuveli Beach and Spa Resort, Paradise Island Resort, etc.
An advantage of such a transfer is its cost. It starts with 70-80USD per person both ways. There are no baggage restrictions For babies 0-2 years transfer is free, children 2-12 years old – 50% discount.
How is the transfer provided? At the Airport you are either met by a tour operator representative or a hotel representative. he guides you to the check-in desk and, if there are other guests on your flight or on a flight that arrives at the same time, then you are all put together on a boat to the resort. This is not a private transfer, the cost of which is much higher. However, resorts provide such a service. Each resort has a small fleet of VIP boats, which it provides for an additional transfer fee.
Seaplanes
Maldives has the largest fleet of seaplanes in the world! Currently, three companies are operating (Trans Maldivian Aero, Maldivian, Flyme). The total number of aircraft at the moment is about 60. The dominant position belongs to TMA, which has about 50 aircraft. Thus, for regular flights, resorts use the services of these companies. The aircraft capacity is 16-19 people. At the same time, on the way to your resort, he can make several "stops".
Disadvantages:
– cost. It starts from 290USD for both ways per person for a 15 min flight. The maximum cost is 600USD.
– availability. All flights are performed only in the daytime from 7:00 to 17:00. If your flight is later, there are only 2 options: stay overnight in Male / Hulhumale or use the Domestic + speed boat transfer, which not all resorts have.
– baggage restrictions. You can take luggage with you which will not exceed 20 + 5 kg per person. Over this limit – for an additional fee.
Advantages:
– Speed. The average flight time is only 15 – 45 minutes.
– Maldivian views. A bird's eye view offers stunning views of the Maldives. This is the only way to enjoy all the beauties from the air.
– A unique experience. There are not many countries in the world where you can try this type of transfer.
Of course, this type of transfer is not the cheapest, but it's worth it!
Domestic airlines + speedboat
In the Maldives, in addition to the Velana International Airport, there are 11 more local airports (some of them also have international status). Some resorts can only be reached by domestic flight only (such as Shangri-La Village Resort, Hideaway). Since for seaplanes, it's far. Some resorts, like The Sun Siyam Iru Fushi, provide transfers such as an alternative to seaplanes.
An important advantage of it is accessibility. Most airports with Male have 2-6 flights per day. Upon arrival, you will be met by the resort staff and escorted by boat to the hotel. Domestics also have luggage restrictions of 25 + 5 kg.
The transfer is provided by the hotel.
In the Maldives, there is no public transfer (ferries or scheduled speedboats) to/from resorts.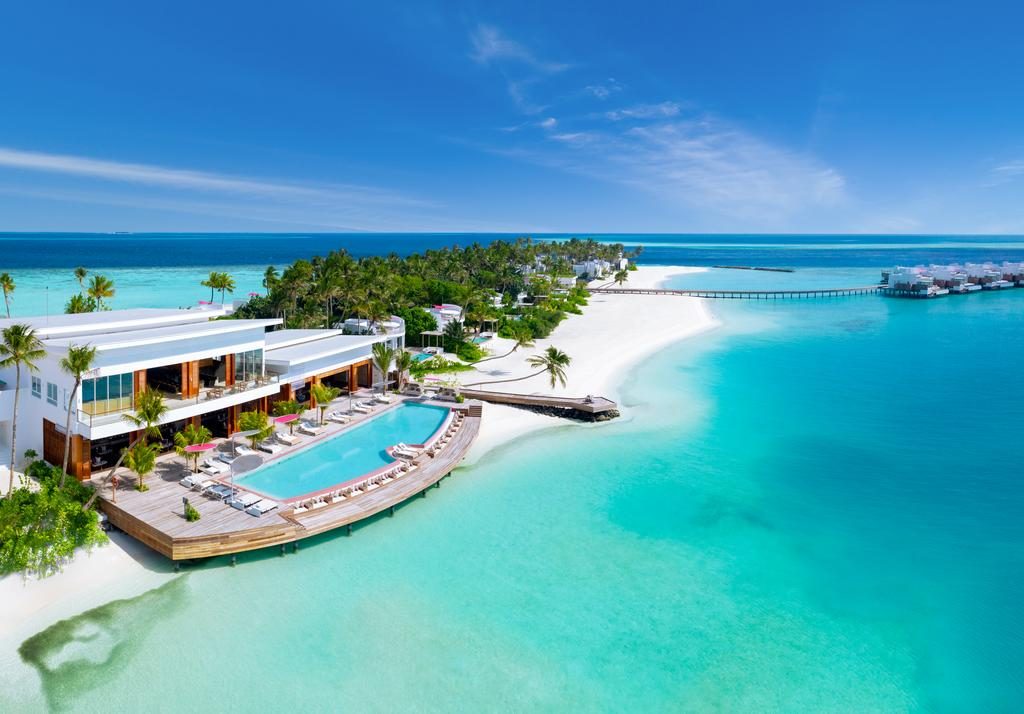 Family and adults-only resorts
Most resorts in the Maldives are family-friendly. For children 1-11 years old, Kid's Club services are provided where you can leave your child with a nanny. In addition, special events are organized. In most cases, the resort has special offers for families with children (free meals, transfers, etc.). Family Resorts Examples: Amari Havodda, OZEN by Atmosphere, Olhuveli, Kudafushi, Movenpick and others
Need help with the resort? Let us know and our team will help you!
Other resorts like Hurawalhi, Komandoo Maldives, Centara Ras Fushi, Anantara Veli, You and Me by Coon are accepting only guests over 12-18 years old. But there are very few of them. At such resorts, there may be special offers for honeymooners or just couples who come to relax without children.
Where to book: OTA or travel agents?
Online platforms include websites like Booking.com, Expedia, and others. The specificity of the Maldives is that hotels are more likely to work with travel agencies than with online platforms. This is due to the commission that hotels must pay to these websites. If you take into account the amount of the average bill and percentage of the platform then the amounts can come out not small.
Advantages of travel agencies:
– Cost. The cost can vary significantly, but it depends on the hotel. Sometimes the difference can be up to 1000 USD.
– Special offers. Many resorts offer special offers either for all countries or for some regions. At the same time, online platforms do not have such information. There is a flip side to this: some resorts give exclusive rights to sell tours to only one operator in a particular country. For example, only one operator can sell Olhuveli in Japan. But there are very few such exceptions.
– Expertise. Due to the wide variety of resorts, it can be very difficult to make a choice. Agents have all the necessary information on the resorts. Also, in the process of work, they personally visit hotels for which they sell tours. Therefore, they know their product from the inside.
Discounts and special offers
Let's consider the most common types of special offers that provide resorts.
a) Early booking, or Early Bird. In the case when you book for 30-45-60, etc. days before arrival, the resort provides a discount. Usually, it is 5-20% on room rates, but sometimes up to 55% (Kihaa Maldives if book at least 150 days prior to arrival). Sometimes there are additional conditions like "subject to a minimum of 4 nights," or only for villas with a certain category.
b) "Free nights". For example, stay 4 nights and pay only 3 nights. This offer can be valid throughout the year, and only on certain dates.
c) Free meal plan upgrade. For example, half board to full board. Usually, this offer is only valid for limited dates. Or there are restrictions like min 4 nights is required.
d) Free villa upgrade to the next available type. It's quire a rare offer. Allows you to get the next category of villas at the same price.
e) Special discount. Such offers are valid for 1-2 months and provide additional discounts from 20% to 40% on the room rate.
e) Special offers for families. One or two children, eat and/or stay and/or transfer for free of charge when stay with parents in one room.
g) Special offer for honeymooners. In some cases, especially in 4 * hotels, the honeymooners are provided with some extra set of privileges: dinner with a bottle of wine or champagne, a birthday cake. In 5 * and 5 + * hotels, packages are much wider: a discount on accommodation, a discount on spa treatments, additional activities, a photoshoot, etc.
After a long and thorough analysis of offers and prices for resorts, we can conclude:
It's best to go for a minimum of 4 nights, book for 30 days or more, from April to November.
With this combination of all these conditions, you can get the lowest price even for 5 + * hotels.
Contact us to get a personal tour to the Maldives!
Read also:
Top 10 budget resorts in Maldives
Top 10 budget beach villas with pool in Maldives
Top 10 luxury resorts in Maldives
Top 10 resorts for snorkeling in Maldives
Top 10 honeymoon resorts in Maldives
Top 10 budget water villas in Maldives