2022-04-29 12:43:39
How to choose a local island in Maldives? What do you have to consider? What is the difference between the islands and how not to be disappointed with your dream vacation?
In this post, I will share my experience and give a brief description of more than 20 local islands that I've visited over the past 3 years.
I'm not going to describe in detail all these islands but stop only on some significant pros and cons. I hope, given info will help you to choose the right place for your holidays.
Check: Budget tours to local islands
So let's go.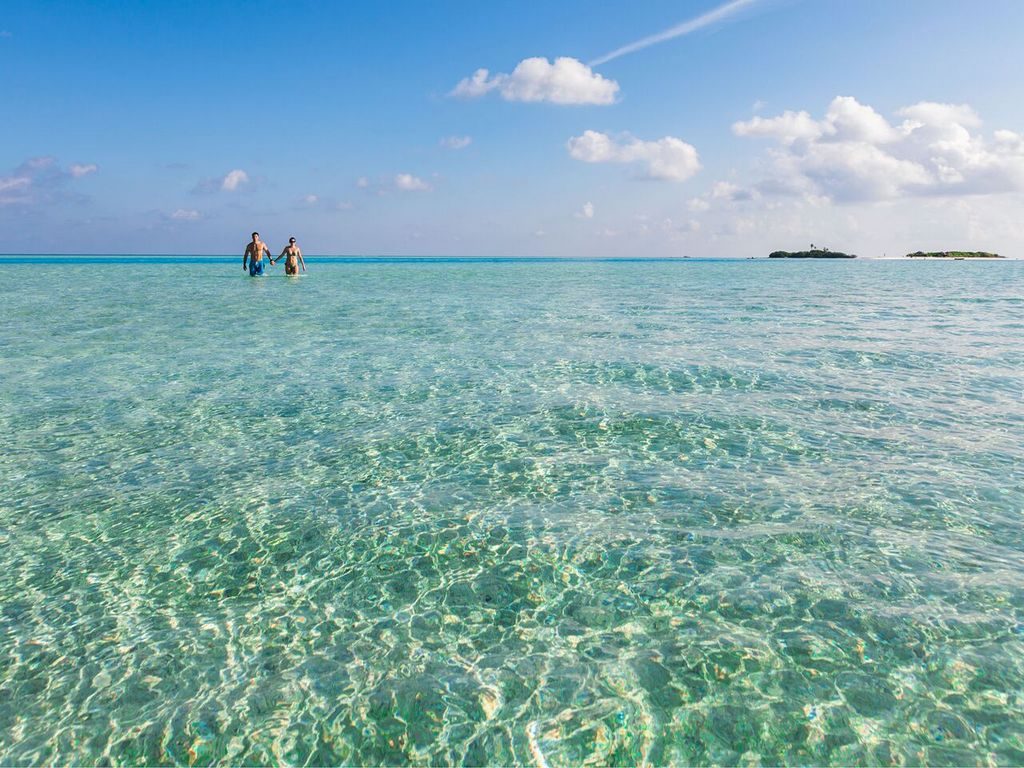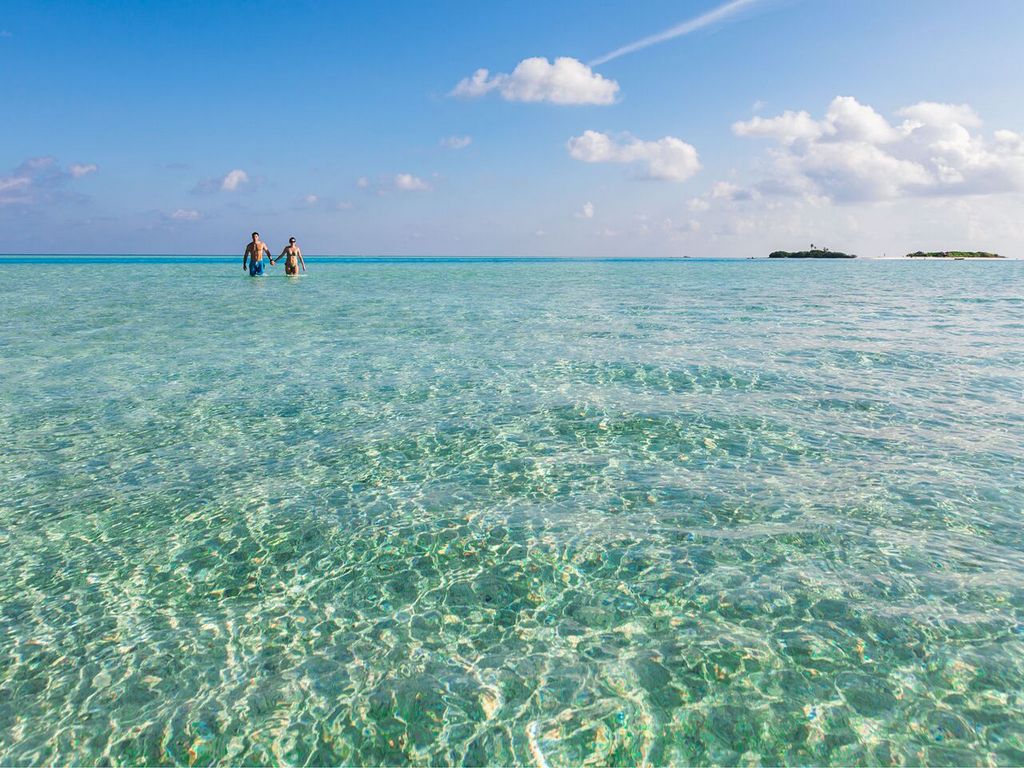 The number of visits is 11. I will start my list of the most visited island. The first visit took place back in 2015 when speed bots went every other day. A lot of things have been changed since that time.
Local islands are reopened from 15 October 2020 onwards. Maldives Reopening Guideline.
Rasdhoo can not be called "Maldives paradise" with an endless snow-white beach. Nevertheless, it fell in love with himself. Rasdhoo beach is small but is constantly being cleaned. Also, there is a natural shadow from trees and sunbeds. Disadvantages – little algae (not as much as in Dhiffushi) and noise from the generator, which so far can not get rid of. I'm not a fan of just lying on the beach, so these things do not bother me.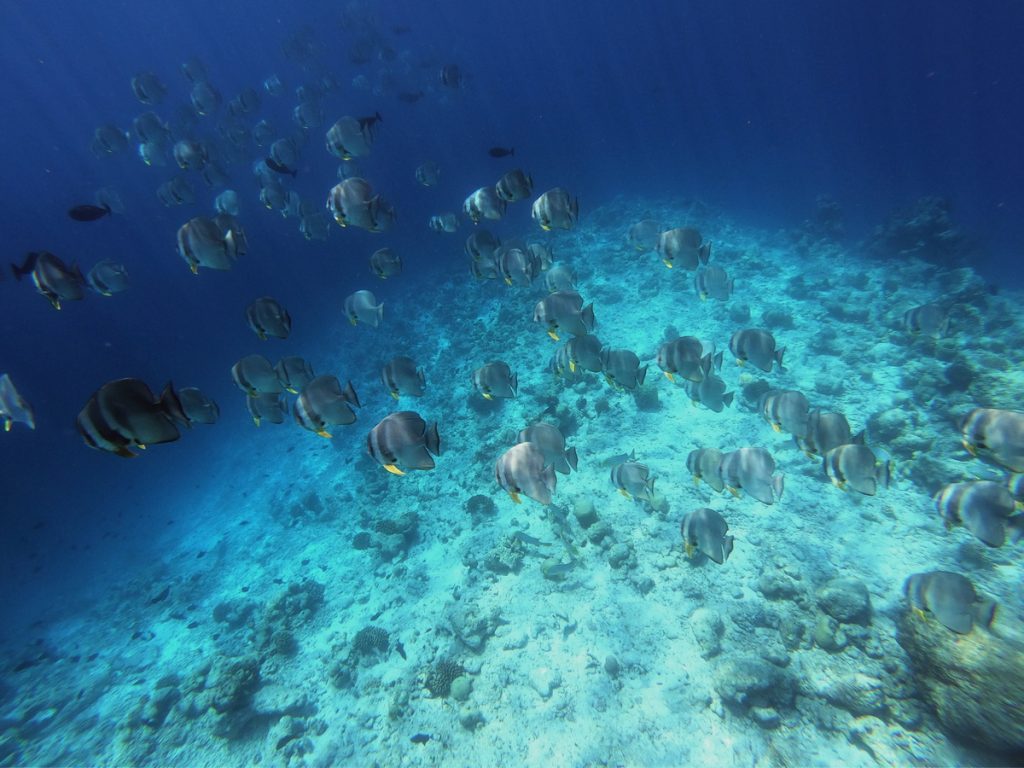 Advantages – nice house reef, where I saw a lot of sharks (there is even a point where you can see up to 5 sharks), stingrays, and huge schools of fish.
In March, due to no current time, schools of batfish are coming to the house reef. They are very friendly and literally surrounded me! But you need to know where to snorkel to see them. Below the red line marks the most interesting places for snorkeling.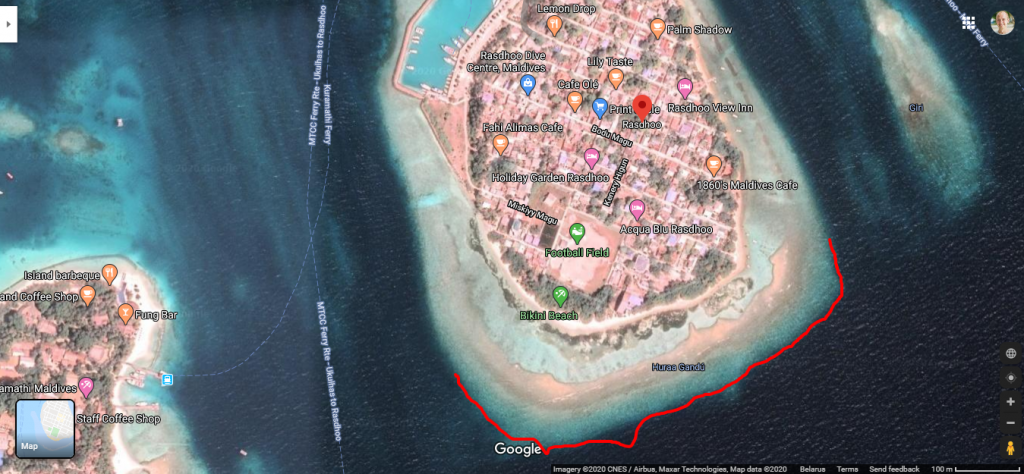 House reef is recovering, but there is still something to see.
Uninhabited islands. A chain of two uninhabited islands and three sandbanks are near Rasdhoo. It's very easy to walk between them during low tide. Or you can cross the channel between Rasdhoo and the islands by kayak (we already did this, it's quite safe). For me, this is the most fascinating and exciting place in the Maldives I've ever visited.
Kayaking. Due to the close location of islands in Rasdhoo Atoll, you have a unique opportunity to start from Rasdhoo and go around either Kuramati resort or uninhabited islands. Therefore, you can independently set up a cool boat trip, snorkeling, visiting the islands.
Rasdhoo is the only local island in Maldives from which you can do such an adventure journey.
A small difficulty is to cross the Rashoo and Kuramathi / uninhabited islands channel. It is best to use a double kayak for your own safety. Also, I do not recommend sailing in windy weather or during strong currents in the channel; try to stay in shallow water or close to the islands.
Diving. Near the island are some of the best diving sites in the Maldives.
Also, only on this island, I managed to see and try the local hookah (only women smoke it). An interesting thing, and very different from the usual we used to see.
For me, Rasdhoo is one of the few islands in the Maldives that I am always happy to return to.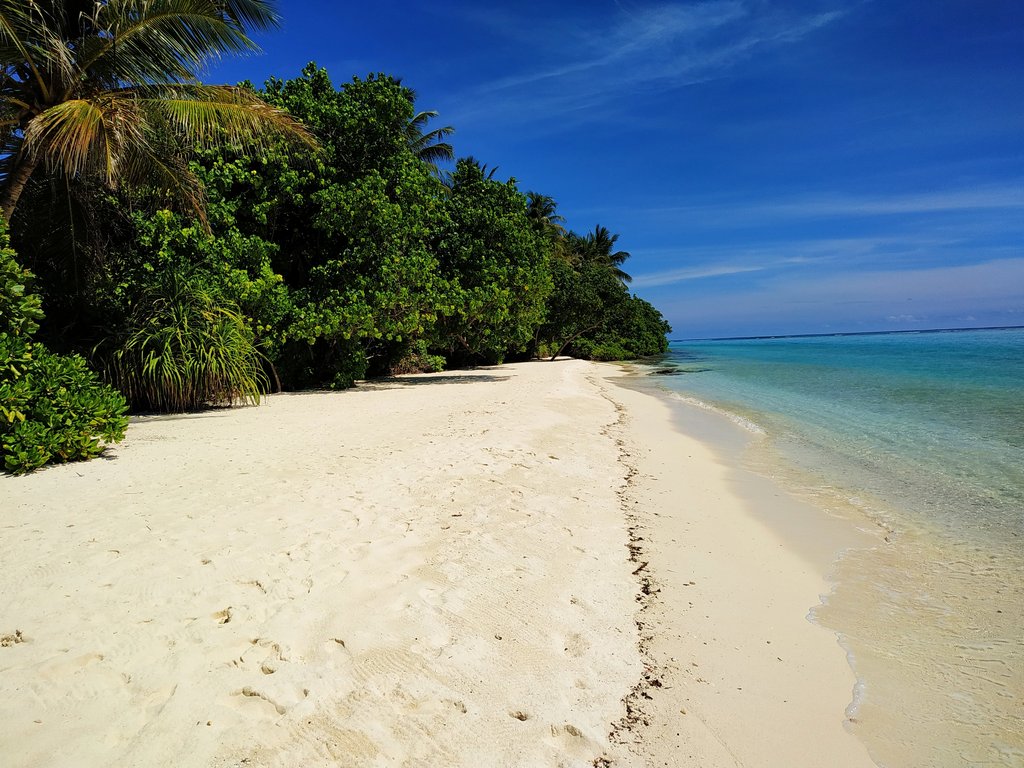 A number of visits – 3. A favorite place for Russian-speaking tourists. And this is understandable: not far from Male, two beaches, a large and green island with farms.
One disadvantage, I would say, is the remoteness of the beach from the house reef. Yes, one of the beaches has a few corals by the beach, but they are very small. The underwater life boils at the edge of the reef. There is a greater chance to see sharks, turtles, and stingrays (on the second beach I saw even manta rays). But still, you have to swim there.
Nevertheless, this local island in Maldives is great for families with children, but depending on the location of your hotel, you'll have to walk 10-20 minutes. Because of the jungle, there are many mosquitoes on Thoddoo (I can' say exactly about their seasonality)
And of course, steep beaches for lovers of a relaxing holiday.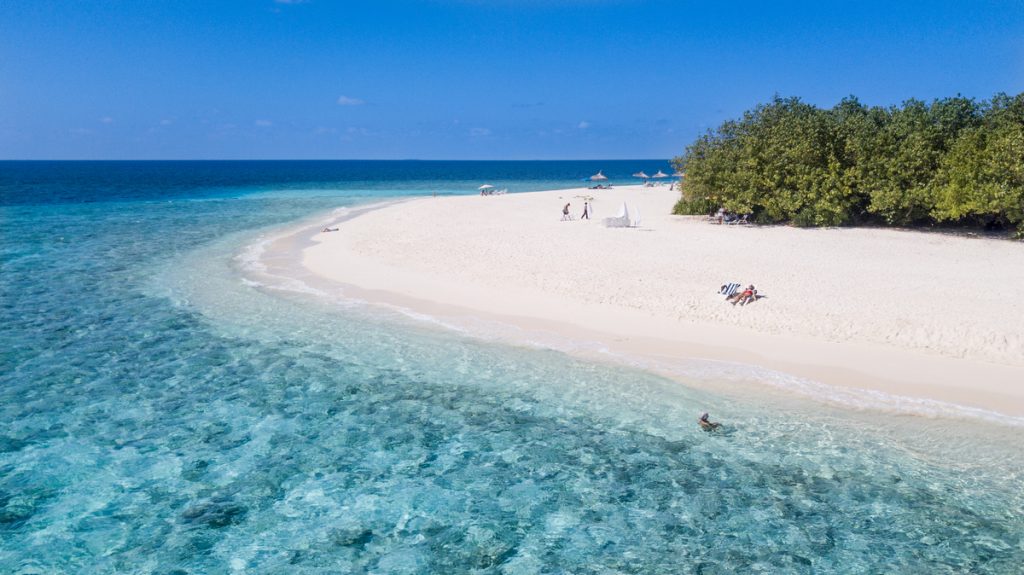 A number of visits – 6. And this island is a favorite place for Italians (about 70% of all tourists come from there). One of the longest bikini beaches among local islands is located in Ukulhas. I like this beach more than Thoddoo beach (because you can take a walk along the coast). Also, a house reef is located closer to the beach. Repeatedly I've seen turtles, and one time they were next to each other. Therefore, with a probability of 90%, at least one can be seen. Mantas also sometimes come. Sharks are not so many, comparing to Rasdhoo. But to see these animals, you need to snorkel over the entire length of the reef.
Disadvantage – the high cost of accommodation during high season, which can even compete with some 3* resorts (Biyadhoo, Fihalhohi, Malahini Kuda Bandos). In addition, high waves rise during the off-season and the water becomes moody, which is not good for snorkeling. Once the current almost brought me outside the reef, so never swim alone, especially in places with a strong current.
From the nearby attractions, I would recommend Manta Point and sandbanks.
Manta Point is a 3×3 km area where you can see up to 20 mantas. At the same time, they are friendly enough and can touch you.
In the Ukulas area, there are 4 sandbanks. Some of them are available year-round, while others – depending on the season. I was on three of them. And sometimes it happened that you were the only tourist there. Near some of them, there is a house reef with live and untouched coral and schools of fish.
A number of visits – 1. I visited this local island in Maldives a long time ago – in 2016, but as far as I know, little has changed there. Mathiveri itself is a very small island. In the center, there is one place where you can see all 4 sides of the island. Of the three beaches, only one is dedicated to tourists. At the same time, its size is like on Rasdhoo. It's almost impossible to swim during low tide – it's too shallow, and it's very difficult to get to the edge of the reef. Near Mathiveri there is an uninhabited island, which can be reached either by swimming or by kayak.
Another disadvantage – there are no good restaurants for tourists. Also, the transfer is quite expensive – $ 55 per person per one way. I don't speak about ferries as they go only 3 times a week.
But nearby resorts are open for visiting.
A number of visits – 1. Not yet a very popular local island in Maldives due to remoteness. But there is the most beautiful reef of all that I have seen in local islands. 80% live corals with a wide variety. However, there are not many fish, sharks, etc. But still, you can explore it for a very long time. The current can be strong, so it's better to stay close to the shore. The second significant advantage is the beach. Long enough with a comfortable entry into the water.
The only disadvantage is transfer cost – $ 60 per person per one way and the lack of local restaurants. But almost no tourists.
So we ended with the North Ari Atoll and move on to South Ari.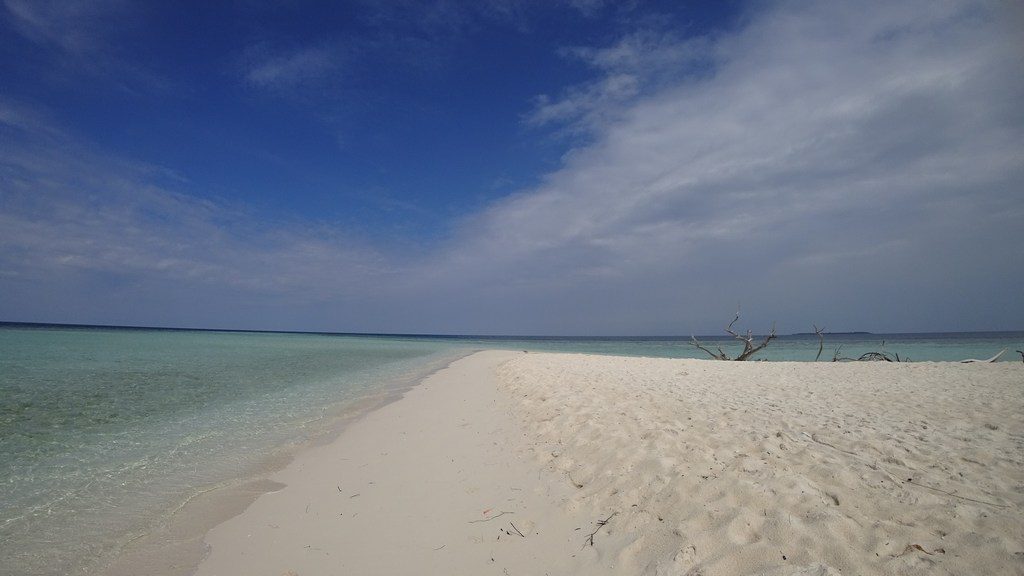 A number of visits – 3. In my opinion – one of the most underrated local islands. Moreover, it has many advantages: a very good and equipped tourist beach, a long house reef, where you can see huge schools of fish, turtles, sharks, stingrays. Cheap transfers and hotels will also be a great addition. Plus, one of the hotels organize an overnight stay on a desert island in a tent and it also organizes private dinner on a boat
The disadvantages are the lack of restaurants and shops.
Mahibadhoo
A number of visits – 1. I was there on the way from Omadhoo to Dhangethi but managed to see what is on this island. The island is very similar to the mini version of Hulumale: there is no goo beach, paved roads, industry, just a couple of hotels. Therefore, as for me, there is nothing to do there.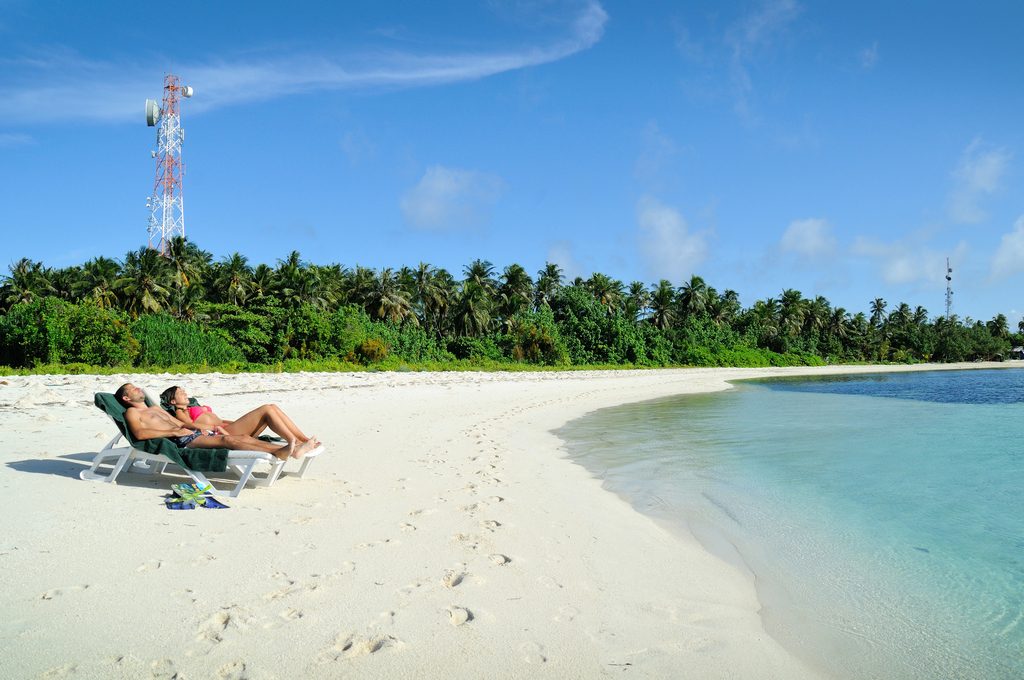 A number of visits – 1. The island is more suitable for water sports lovers and scuba divers because there are a lot of cool dive spots nearby. The beach, although equipped, is very small with algae off the coast. Due to the weather, I had to spend 2 extra days there because nobody wanted to sail even to the neighboring island of Dhigura.
Other advantages I would include the presence of a large number of shops, cafes, and proximity to the spot with whale sharks.
A number of visits – 2. Perhaps the longest local islands in Maldives that I was on. A big advantage is the presence of a long tourist beach. But this is also a disadvantage: a large amount of dead coral on the shore opposite the hotels. Therefore, you need to go towards the sandbank either along the shore or through the jungle (just a couple of years ago there was no way through the jungle). In this case, you need to go about 1-1.5 km to the zone more or less clean from corals. Also in the jungle, there is still a lot of garbage that locals are in no hurry to clean up. The sand spit itself ends near the LUX * South Atoll resort. Therefore, it can be reached without any problems. Of course, there are very beautiful places, but there is no shadow, no sunbeds.
Hotels on the island are quite expensive, like in Ukulhas. Maybe even more expensive. But then there is a spot with whale sharks nearby. They can be seen all year round, but there is no 100% guarantee, especially during the low season. I was lucky, and I saw it at arm's length. I heard that they swim sometimes to Dhigurah house reef in the eastern part of the island, but happens quite rarely.
In addition, there are no good restaurants on the island and, in general, you have a feeling that the island is not very developing in terms of infrastructure (I'm not talking about opening new hotels). Also, the cost of excursions and diving is overpriced.
Next stop is Vaavu Atoll.
A number of visits – 1. A couple of years ago, I would call this local island in Maldives a mini-resort. And that's why: the island's population is only 60-80 people, there are almost no hotels, but at the same time restaurants and shops. Located far away. But now other islands can compete with him.
There is not a budget hotel Plumeria, which "runs" on the island. There are several small guest houses, but they are for Italians.
Of course, Thinadhoo has a cool beach, but the reef is so-so-dead. Near the island, there are many places for diving and snorkeling (including night snorkeling/diving with nurse sharks). There are several uninhabited islands and sandbanks.
Previously, the transfer was only by Plumeria for $ 65 one way per person, but nowadays there are independent transport companies with lower prices.
At the moment, this is the only island that I visited in Vaavu Atoll.
South Male Atoll.
A number of visits – 1. A well-known island with cheap hotels. Nearby there is a desert island that is equipped for tourists. But at the same time, there is absolutely no entry into the water – a lot of dead coral. Also, there is no house reef. But you can do surfing. Among the advantages, I would include resorts open for visits, cheap excursions, and an affordable shuttle service.
A number of visits – 2. The most famous local island, which has developed the mass tourism direction. The conception of budget Maldives has started from Maafushi. Two factors contributed to this: President Nasheed, who actively promoted the island and the welfare of the locals themselves. Oddly enough, but thanks to the presence of prison, locals earn very decent money, even by local standards. Therefore, they had the opportunity to open their own business.
Among the advantages, I would single out a large selection of hotels, low prices for excursions, many open resorts to visit, and an affordable transfer.
Among the shortcomings: too many tourists even in the low season, a very small beach, you will not be alone on excursions.
In my opinion, due to these factors, Maafushi can no longer be called an example of the classic Maldives, with its solitude and peace.
We finish the review of the central atolls.
A number of visits – 1. This island is primarily suitable for surfers due to its large number of sites. The rest of the island has a small tourist beach, but it is fenced with blocks in the water. There are a lot of hotels and restaurants. But there is no house reef.
A couple of years ago, the island was expanded, but has not yet begun to actively build up. Also, excursions are quite expensive for some reason unknown to me. But speedboats run 4 times a day.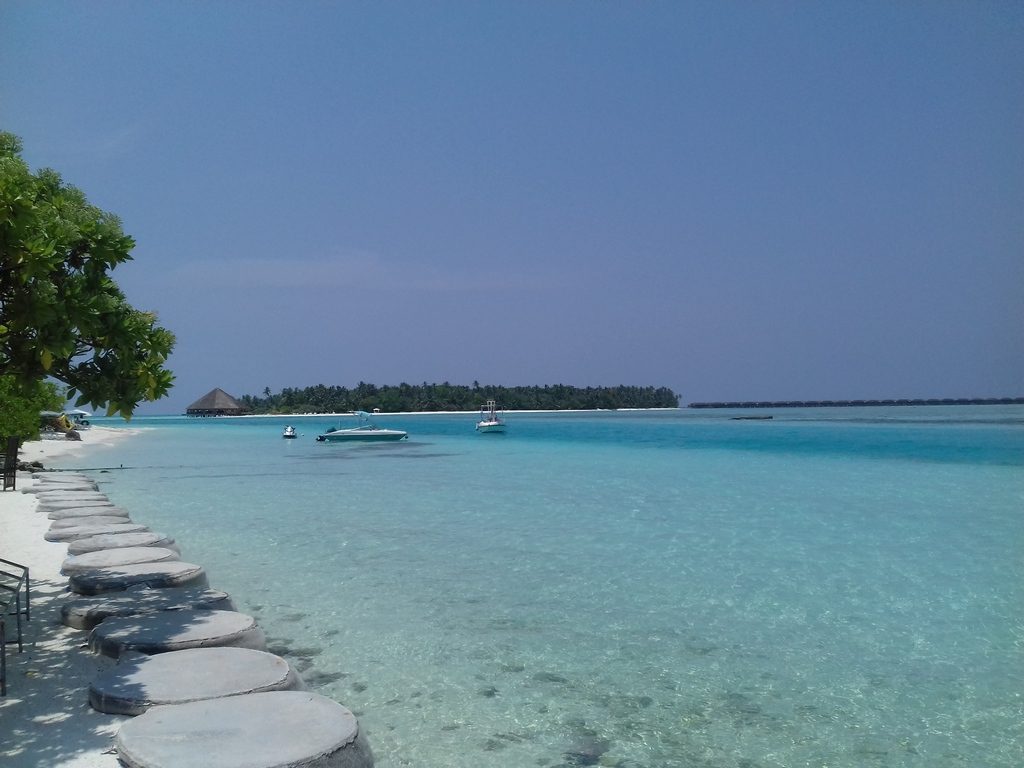 A number of visits – 1. Perhaps the only island on which I have not decided unambiguously whether I like it or not.
On the one side, there are two quite good beaches, although on one of them there are algae, there are also free places from them. Quite a nice reef, albeit half dead, but with a lot of fish.
On the other side, it is quite built up and there are few cafes for tourists. And the excursions are not very cheap. Also on the second beach, the way for speedboats to jetty runs very close by, so it's not very safe.
Therefore, it is difficult to decide.
Moving north – Baa Atoll.
The number of visits – 1. The only reason I went there is Hanifaru Bay. It's a marine reserve, where you can see up to 200 manta rays! There are only a couple of places in the world where you can see such a large concentration of these ocean devils. The perfect time is May-Nov. But this is a low season, so the weather can be very unstable. For example, I ran there by boat, and between the North Male and Baa Atolls, the ocean was very rough (some of them were sick of it). And my way back was by a plane of local airlines, because the boats were canceled, or already fully booked.
On the island itself, especially in the low season, it is not very clean (tourist beach), the house reef does not cause much delight either. But diving there is quite good, there are also many resorts, open for visiting.
A number of visits – 1. This local island in Maldives is famous for its long, snow-white, and deserted beaches. And this is his main feature. The reef is more or less okay, there are several sandbanks nearby. Therefore, for privacy, a great option.
But the infrastructure is not developed at all: only a few hotels, no restaurants/shops, transfer at a very inconvenient time, boat jetty. And there is a feeling that this process has stopped and is not moving anywhere.
At the moment, 3 hotels are officially registered in the Ministry of Tourism, but on different websites, you can find more accommodation options. According to Maldivian laws, this is illegal. Therefore, when you reserve such places, you do this at your own peril and risk. In case of problems, it will be difficult to hold accountable.
And the last island that I mention is Magudhoo.
Magudhoo
Magoodhoo is located in Faafu atoll, which three years ago was almost sold to the Saudis, but the people began to be indignant, so it didn't. I was there only once at a time when the first guest house had just started to operate. Therefore, I was almost the first tourist there.
I wouldn't say there is something interesting there. The beach is so-so, the house reef was not impressive either. Therefore, how things are going now, I even don't know.
Other popular (and not so) islands that I haven't been to for various reasons.
Himmafushi – the same as Thuludhoo.
Huraa – the same as Thulusdhoo.
Gulhi – even smaller than Mathiveri, but pretty much the same.
Maamigili – no beach, no house reef, but they have an airport.
Hangnameedhoo – similar to Omadhoo, but the second one has a sandbank.
Fulidhoo – they said it's a nice place, but haven't been there still.
Fehendhoo and Goidhoo – I was in Feridhu, may next time visit these islands.
Bodufulodhoo – the same as Mathiveri.
Rakeedhoo – there are nice places for snorkeling.
Addu City and Fuvahmulah – far from Male, but I want to visit them.
Hanimadhoo – too far from Male, not so interested to go there.
Conclusion
It is difficult to choose an island for only one criterion, so you should not focus on the distance from the island to Male and the cost. Each island is beautiful in its own way.
Try as many excursions as possible, if, of course, the budget allows.
The lowest prices are from May to September, the highest is from November to April.
If you have the opportunity to visit several local islands in Maldives – use it, you will not regret it.
Before you start the trip to the Maldives, decide for yourself what you want to get from this vacation, so that it will be remembered for a lifetime!
Contact us to get a personal tour to the Maldives!
Read also:
Top 16 things to do in Maldives
How to book Maldives on a budget