Guraidhoo
Guraidhoo is another small island located only 32 kilometers away from the capital Male in South Male Atoll. Maafushi is 8 kilometers nearby. The size of Guraidhoo is only 700х500 while the population is about 1800 people.
Now the island is occupied by 13 guest houses and the new ones are being under construction. Holiday Inn Resort Kandooma Maldives is very close to the island. The distance between them is only 100 meters. However you'll not be able to get there- private area.
Infrastructure
Guraidhoo is rather a developed island, not so as Maafushi, but still. The territory is still not fully built up, so walking around the island can give you a feeling of some freedom. Over time, this will change, as on other local islands.
There are a hospital, a police station, large stadium, a children's playground and a school on the island. The main shopping area is in the central street which leads to the main jetty. For diving lovers there are 2 dive centers with very good prices
Moreover you may dine out in one of the six restaurants and try a local cuisine. Low prices in the range of $ 5-8 per person.
The diving safari boat is under construction in a dry dock which is not far from the jetty.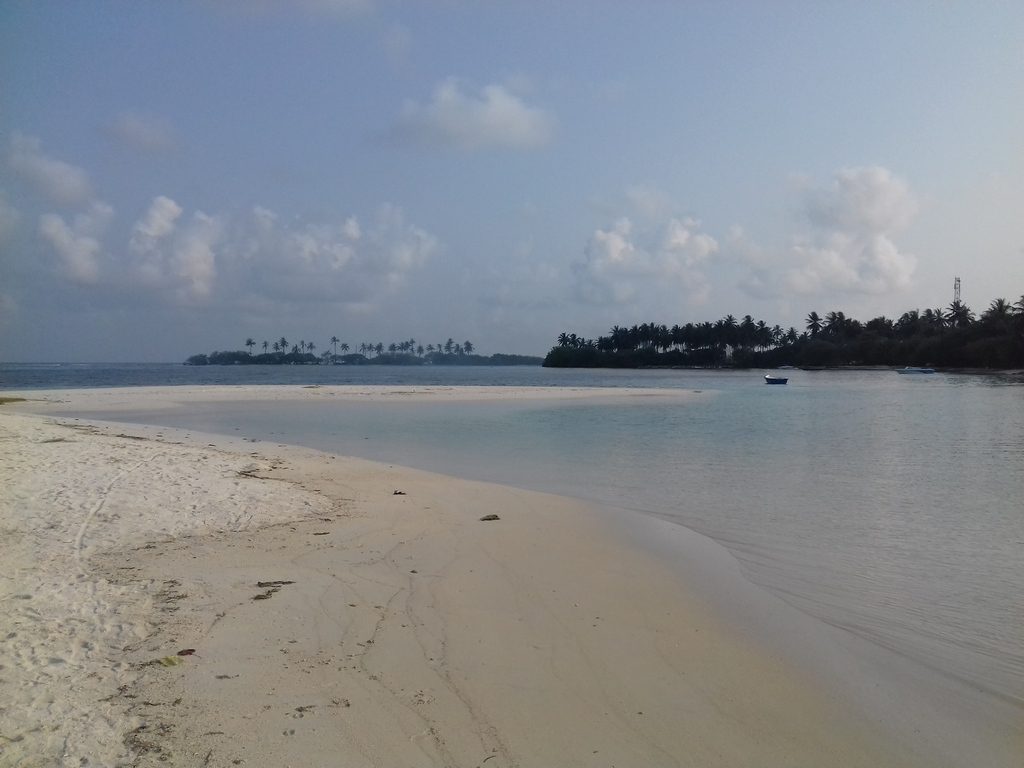 Beaches
The local beach is situated in front of Kandooma Resort but it's prohibited to bath in bikini there. The water bungalows so close to the local island. You will definitely not have privacy in this way.
The beach itself is very clean and well-maintained as well as the island. On the opposite side of the island you will find several places to watch the sunset. The one is situated close to the police office.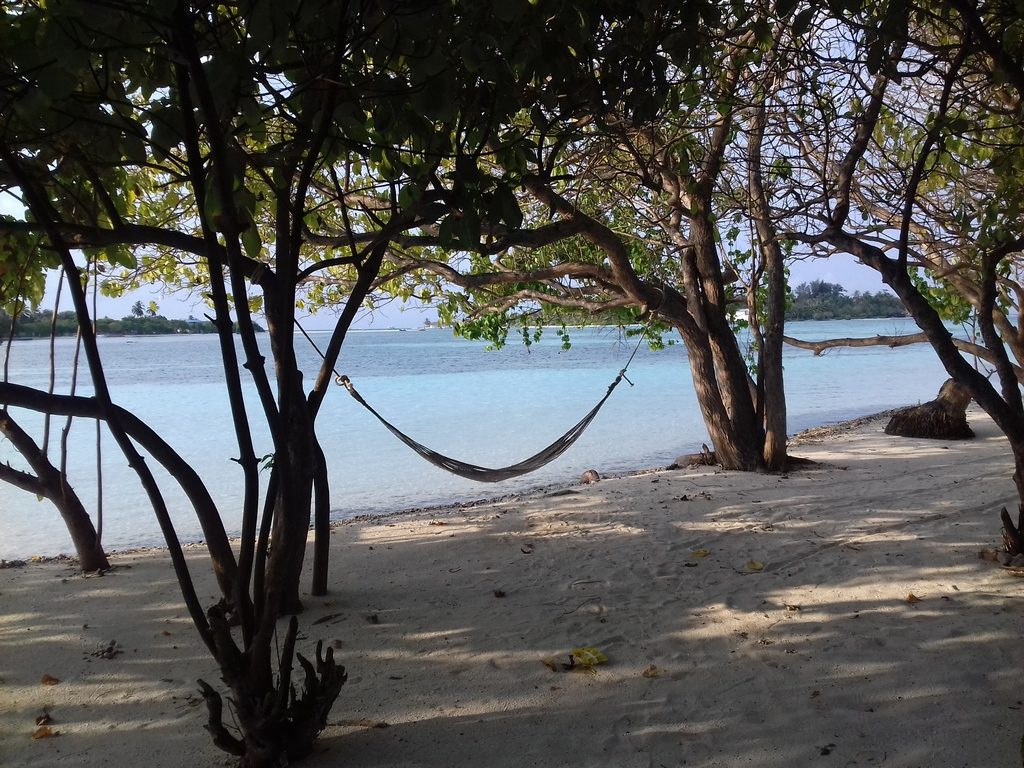 Picnic island
This island is conncted by a footbridge with Guraidhoo. The current is rather strong between the islands . On the island you can sunbath in bikini but the entrance to the water is rather uncomfortable because of the dead corrals. The house reef is far from the island so guest houses can organize cheap snorkeling trips to reach it.
From the surf part of the picnic island you can see eagle rays! But the waves are really high so you will not be able to swim there.
However lots of surfers go on a trip to catch a wave here. The season usually from May to November.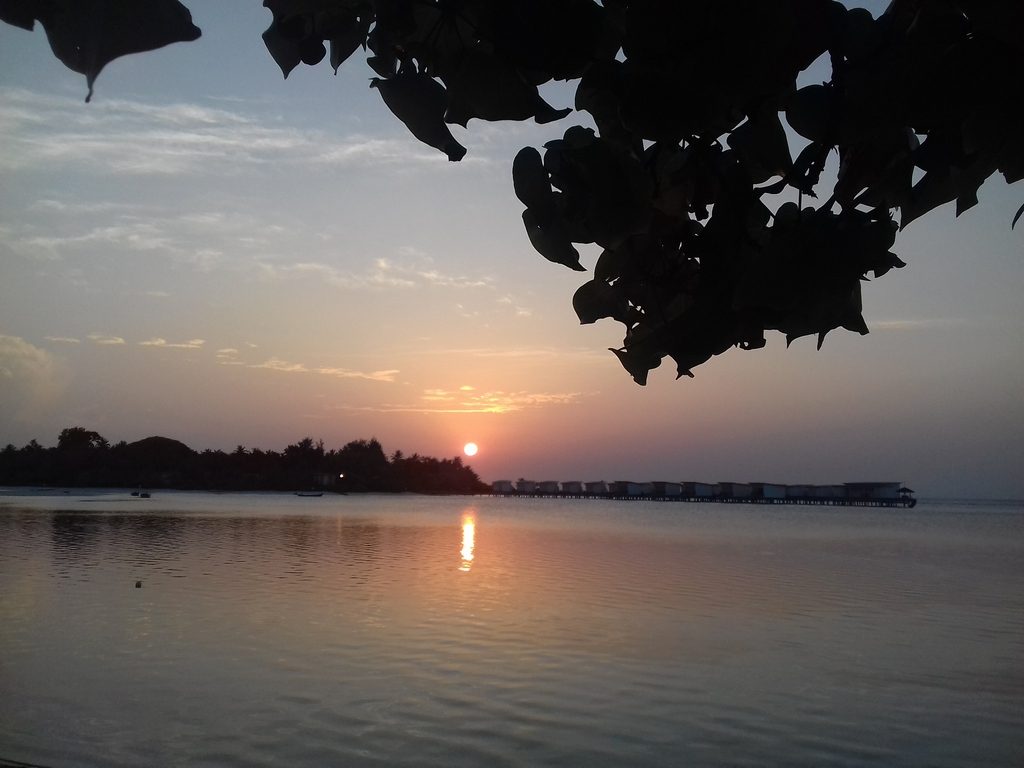 Activities
We've mentioned you can find a lot of good snorkeling spots around the island. You may combine your snorkeling trip together with a visit to a sandbank. Unfortunately, they don't arrange excursion to the uninhabited island near Biyadhoo. Some time ago they were planning to build a resort there but now it's just a private island.
The guest houses can arrange day visit of Biyadhoo, Adaaran Club Rannalhi, Fun Island, etc.
This island is a bit more picturesque than Maafushi and the atmosphere is more likable.
The public ferry transportation allows you to make a trip to Maafushi and Gulhi in the morning and come back after the lunch time.
Diving
There are 2 dive centers on Guraidhoo. You can find a lot of dive points around the island, where you can see turtles, sharks, stingrays, schools of fish. Can also see frogfish – a small and inconspicuous fish that is quite rare in the Maldives. This fish can't swim a lot, so it just stand on one place or sometime "walking".
Transfer to Guraidhoo
Transfer by a public ferry (daily):
The ferry departs from Male every day.
14:30 — direct transfer from Male to Guraidhoo
15:00 — it goes through Male – Gulhi – Mafushi – Guraidhoo
It returns from Guraidhoo at 7:00 the next morning. Note that it ferry doesn't run on Fridays.
Transfer on a speedboat
Male – Guraidhoo. Daily at 12:30, 15:30 and 22:30 from jetty #6 in Male.
Guraidhoo – Male at 7:00, 14:30, 21:30
The price is $25 per person one way.
The transfer on a charter speedboat
This trip to Guraidhoo will take 35 minutes and it'll cost you $350 (one way but you can share it). The trip on a speedboat should be booked beforehand but not less than in 3 days.
[mashshare]
/** * RECOMMENDED CONFIGURATION VARIABLES: EDIT AND UNCOMMENT THE SECTION BELOW TO INSERT DYNAMIC VALUES FROM YOUR PLATFORM OR CMS. * LEARN WHY DEFINING THESE VARIABLES IS IMPORTANT: https://disqus.com/admin/universalcode/#configuration-variables*/ /* var disqus_config = function () { this.page.url = PAGE_URL; // Replace PAGE_URL with your page's canonical URL variable this.page.identifier = PAGE_IDENTIFIER; // Replace PAGE_IDENTIFIER with your page's unique identifier variable }; */ (function() { // DON'T EDIT BELOW THIS LINE var d = document, s = d.createElement('script'); s.src = 'https://budgetmaldives.disqus.com/embed.js'; s.setAttribute('data-timestamp', +new Date()); (d.head || d.body).appendChild(s); })();