Fulhadhoo
The island of Fulhadhoo is administratively a part of Baa Atoll, but geographically separated from it. The distance to Male is around 100 km. Next to it are 2 more inhabited islands: Fehendhoo and Goidho. The remoteness of this place from the main tourist islands makes these places truly wild.
Fulhadhoo Beach
The beach is the pearl of the island. The length is nearly 1 km! For inhabited islands – this is truly unique! Depth increases slightly with distance from the beach. The edge of the house reef is far enough – about 800m.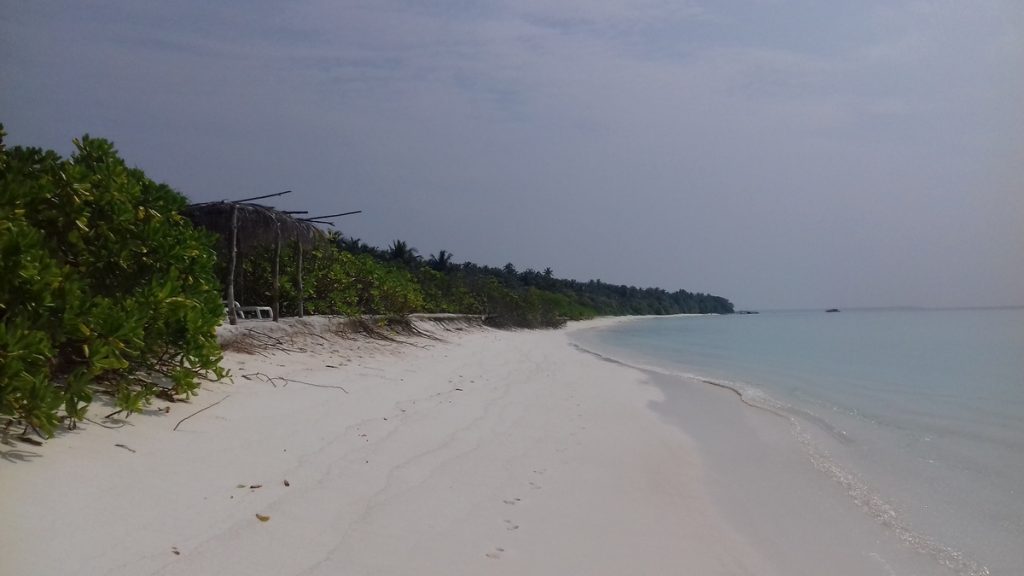 The beach is equipped with several places with sunbeds, where you can comfortably lay. Although they belong to guest houses, any tourist can use them regardless of the hotel he lives in.
In the western part of the island there is a rather beautiful house reef, which is best explore during high tide. But do not forget about the current, which in this place can be quite strong. Behind the reef, 50m stretches one of its sandbanks, of which there are 5 in these places (plus a private uninhabited island, which can only be visited by obtaining permission and paying a some fee).
In the eastern part of the island there is also a beach, but more for locals. In ancient times, when there were no engine boats yet, the locals walked by water to Goidhoo.
Infrastructure
About 100-150 inhabitants live on the island. There is no normal harbor for speedboats and big boats, so if the locals need to go somewhere, they will go to a small dingi to Goidhoo, and there will take a speedboat to Male.
There are turtles and rays in the lagoon.
Only one cafe that belong to the guest house and a few shops – that's all the entertainment that the island has at night.
At Fulhadhoo, only 4 guest houses are currently open, so even in high season there are very few tourists and there is enough space for everyone. What can not be said about Toddoo or Rasdhoo, where in a season it is really very crowded.
If we talk about garbage, then it is, but a little, mostly in the jungle and on the eastern part of the island.
Thus, this island is perfect for white beach lowers, privacy and pristine beauty of the wild Maldives.
Hurry up, after just a couple of years everything will be changed.
Transfer
Speedboat runs daily except Friday to Goidho, from it by dingi to Fulhadoo.
Male-Fulhadhoo at 10:00
Fulhadhoo-Male at 13:30
Cost – $ 45 per person one way.
Another option is through Dharavandhoo, but only on a private boat, the cost is $ 200 + the flight ticket.
Script to view the comments powered by Disqus.