Guide to Dhiffushi
Dhiffushi is a part of Kaafu Atoll. It is located 36,6 km northeast of Male, the capital of Maldives. Another inhabited island of Thulusdhoo is situated just 8 km south of Dhiffushi. The island itself is small (just like the majority of inhabited islands); its size is 950 m x 200 m. Approximately 1200 people live in this little paradise. More and more locals are getting engaged in travel industry, but fishing still remains one of their major activities.
Beach and tourists in Dhiffushi
There are two bikini beaches on the island – one on the northern part of the island, a small one, and the other on the opposite side of the island.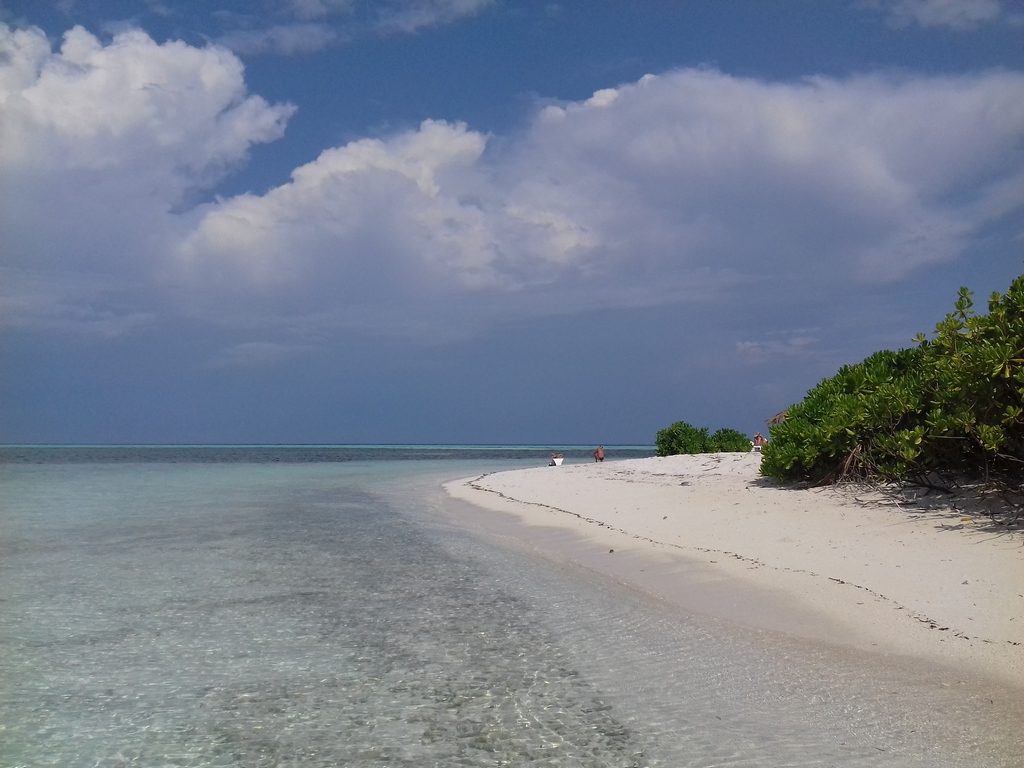 The first beach has rather a good entry to the water and the sand is nice. But the channel leading to the deck is at about 10 m so you should be careful with the running boats. Each guest house owns its lounge chairs and umbrellas. The lengh of this beach is around 50-70 m only.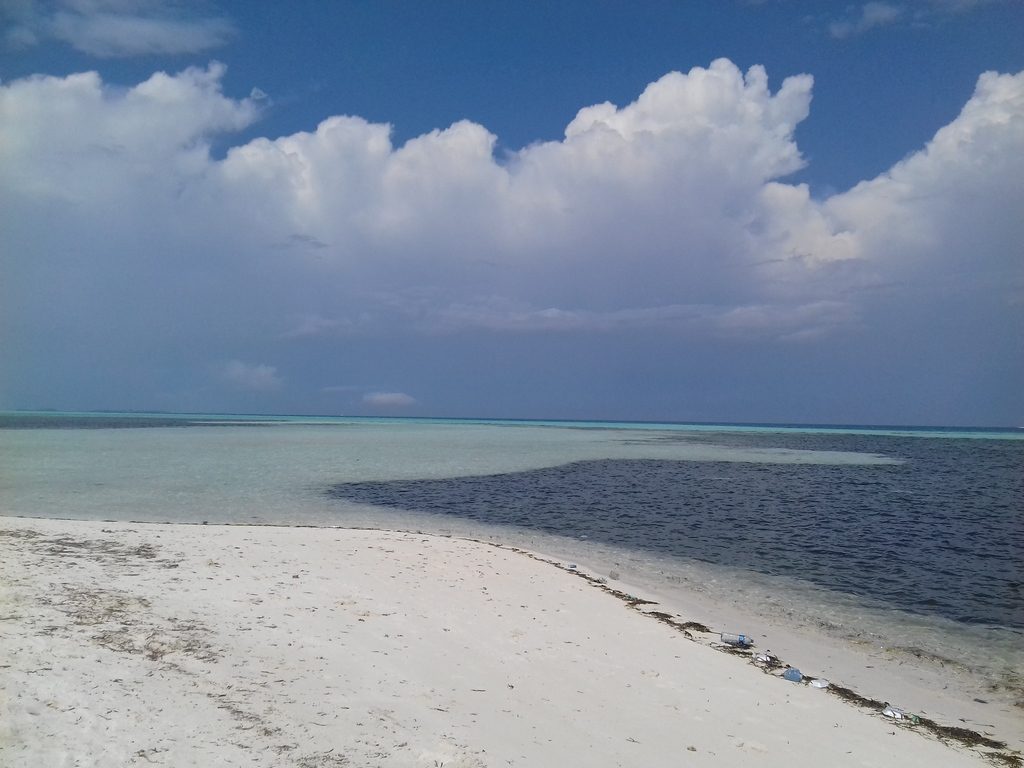 However they don't surround it with a fence and the locals can also come to the beach. You may sunbath in bikini on this beach (but there are still signs prohibiting that). The locals who use the beach are very tolerant with this rule.
The second beach is bigger, but not very clean – quite a lot of garbage. Most of it is garbage that brings ocean to the island. During the low season, this problem is particularly relevant because of the western monsoon, which brings all the garbage to this part of the island.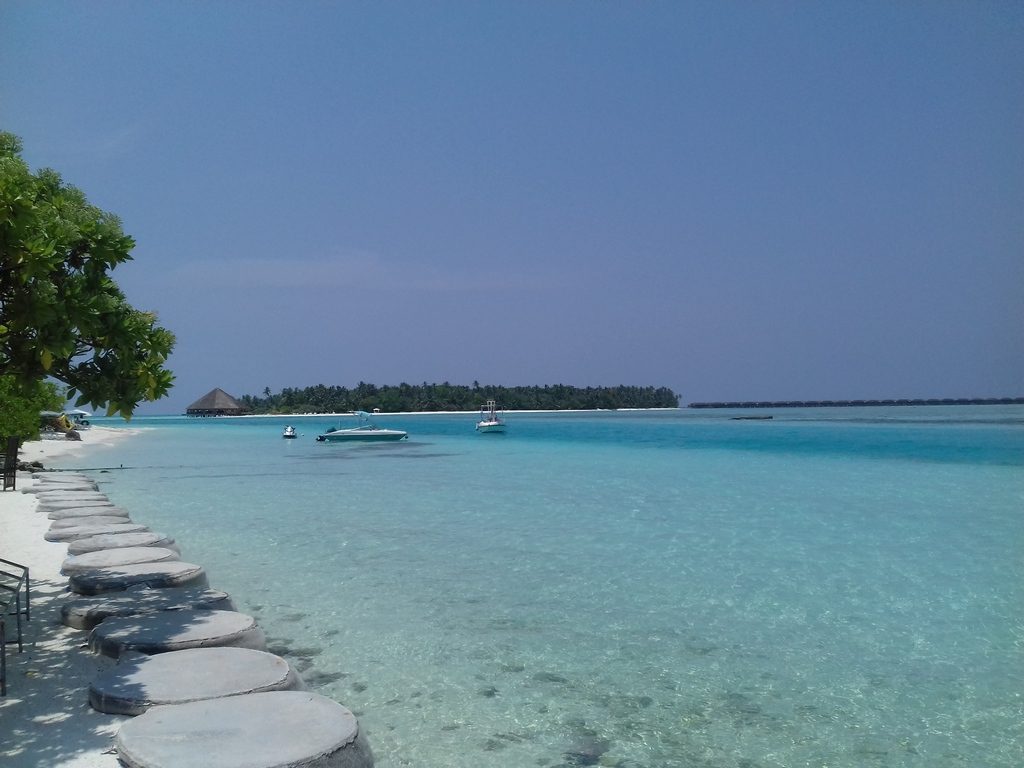 Near the beach a lot of algae. Therefore, you need to go a little to the left to swim in clear water. There is shallow water, so the beach is suitable for families with children.
On the beach, many sun beds and built artificial shadow.
Despite this, the southern tip of the beach has a great reef for snorkeling, at the edges of which there are several living reefs.
Also there is something like a sandbank, which is a bit hidden under the water at high tide.
Small white crabs are running everywhere on the beach, they don't bite, but it's very difficult to catch them!
After sunset the light turns on, which attracts stingrays, small sharks and fish. One of the few entertainment on the island in the evening.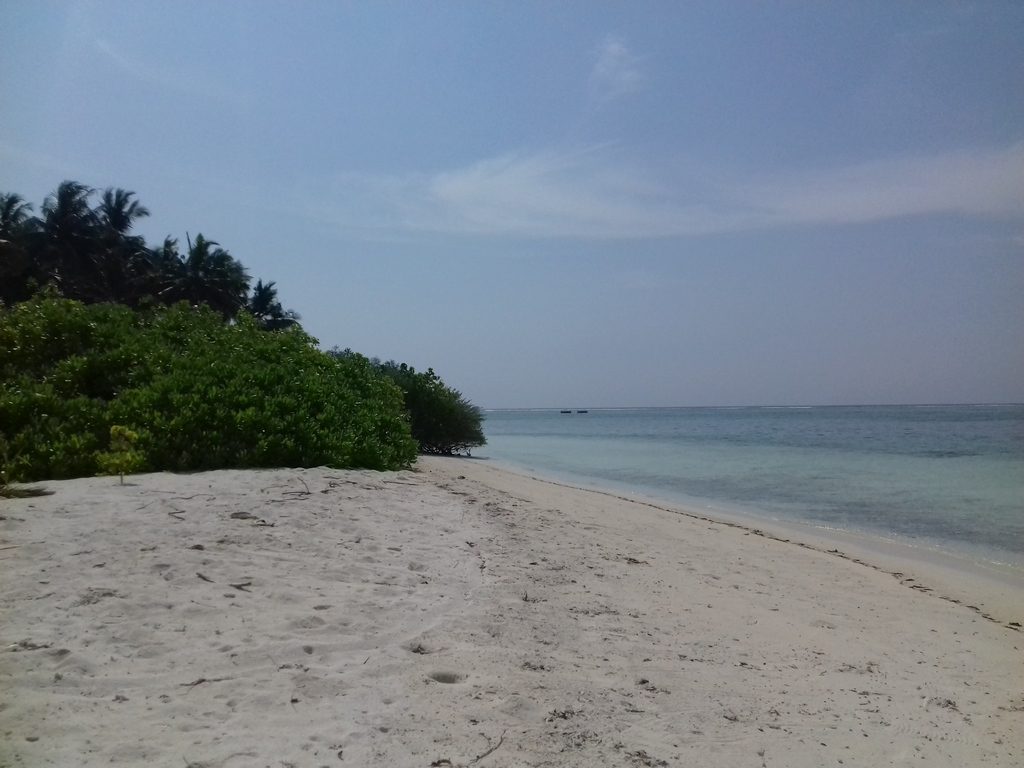 Almost no garbage on the streets. There is an unspoken rule, according to which every resident is obliged to clean up the area around his house every day.
The locals
In general, despite some annoying, unusual to us, it is very pleasant and friendly people. They love to talk about their island, what, where and how, were happened, they are interested in you and want to show themselves and their country from the best side. Most of them speak English very well.
Diadvantages – sometimes it is very difficult to get rid of such an interlocutor. Perhaps this feature is inherent in the entire population of the region (Maldives, India, Sri Lanka).
Advantages – the service they have even in cheap hotels just at the highest level. We are ready to do everything for the sake of the client, always with a smile, always helpful, everyone will tell, show, there is not even talk about any rudeness.
Infrastructure
There are few shops on the island (several groceries and gift shops), but no ATM, and even no chemist's. There is "a guy" on the island, who has some pharmaceutical drugs. In case of emergency you'll have to go to Male. That's why make sure that you have taken everything you need with you in advance. Unlike hotels, in local shops only MVR are accepted, and only in cash. Similar restrictions are common not to all the islands.
But on the advantage, a bottle of water (1,5 liters) cost there 7 rufiyaas, and in the hotel the same bottle cost $2. It's important to come when a shop is open. They usually from 11 to 15.00, but it's not necessarily the case. They may close earlier, and may work till 18.00. In this case they usually leave their telephone numbers, and you may call them if you have no time to wait.
There you can buy water and some foodstuffs (sweets, potato chips, etc). There are 4 cafes on the island. The menu is not much different, as on all inhabited islands due to limitations in the products.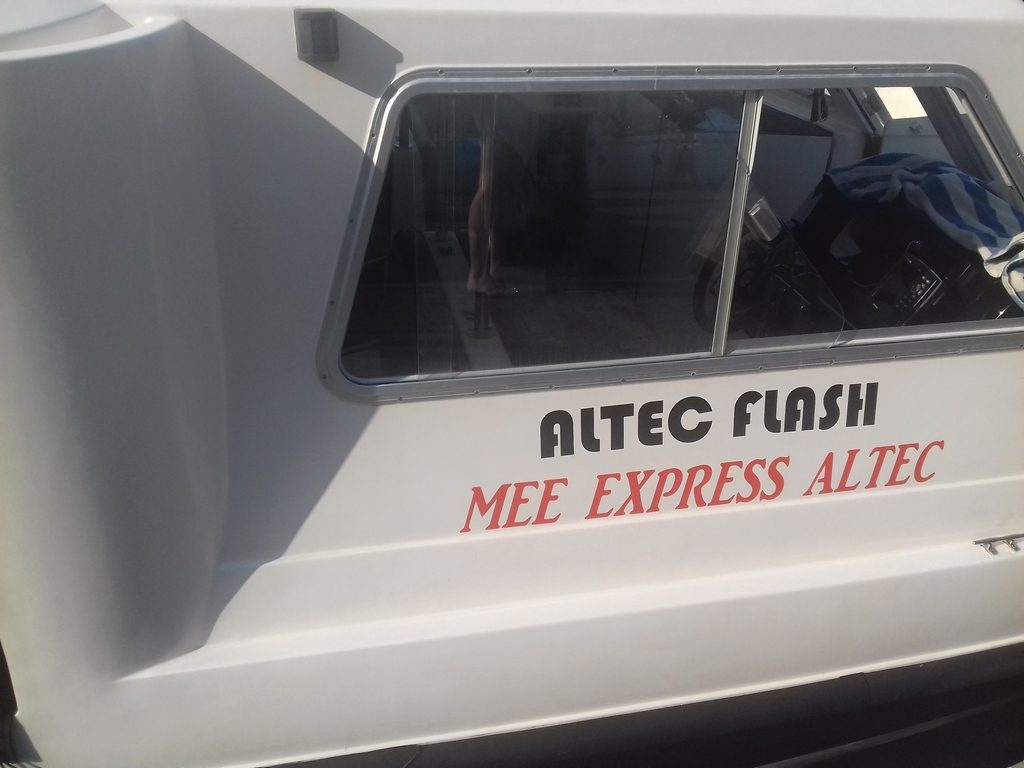 Things to do in Dhiffushi
On Dhiffushi you will find more of a beach holiday with children, because it does not provide so many opportunities for active pastime. However you may visit Meeru Island Resort & Spa Resort which is not so far. The cost of such trip is $50 per person (although not all the guest houses provide this opportunity). This island is 200 meters from the beach but you cannot reach it if you'd try to swim there because the security will not allow you to do this.
In general, there are not so many activities on the island, and this island is more suitable for those who like beach holidays with children. However, next to Diffushi is the resort of Meeru Island Resort & Spa. Its size is even larger than Diffushi himself. The price of the excursion is $ 50 (not all guest houses offer excursions there) per person.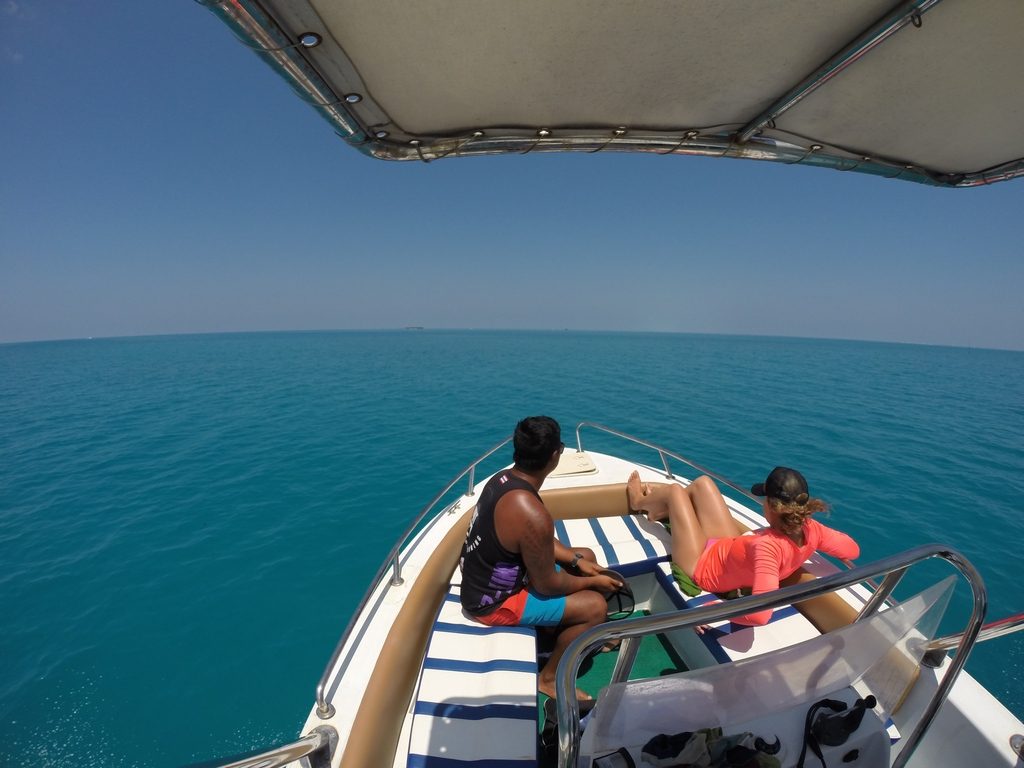 The island has two dive centers, the prices are quite high compared to other islands. The island itself is not for diving, so for this it is better to choose another place.
But there are 2 water sport center: water ski, surfing, windsurfing, kayaks, etc. Good location for this, because there is no coral, the deep part is very close.
Transfer to Dhiffushi
Ferry
Daily except Fridays at 14:30 from Vilingili terminal. Duration about 2 hrs 45 mins.
Dhiffushi – Male
Daily except Fridays at 6:30.
Scheduled speedboat
Daily at 11:30 and 16:30, except Friday at 16:30 from Male
At 7:00, 13:30 from Dhiffushi.
Price is 25$ per way per person
[mashshare]
/** * RECOMMENDED CONFIGURATION VARIABLES: EDIT AND UNCOMMENT THE SECTION BELOW TO INSERT DYNAMIC VALUES FROM YOUR PLATFORM OR CMS. * LEARN WHY DEFINING THESE VARIABLES IS IMPORTANT: https://disqus.com/admin/universalcode/#configuration-variables*/ /* var disqus_config = function () { this.page.url = PAGE_URL; // Replace PAGE_URL with your page's canonical URL variable this.page.identifier = PAGE_IDENTIFIER; // Replace PAGE_IDENTIFIER with your page's unique identifier variable }; */ (function() { // DON'T EDIT BELOW THIS LINE var d = document, s = d.createElement('script'); s.src = 'https://budgetmaldives.disqus.com/embed.js'; s.setAttribute('data-timestamp', +new Date()); (d.head || d.body).appendChild(s); })();