2022-09-07 10:21:02
Dhiffushi is a part of Kaafu Atoll. It is located 36,6 km northeast of Male, the capital of Maldives. Another inhabited island of Thulusdhoo is situated just 8 km south of Dhiffushi. The island itself is small (just like the majority of inhabited islands); its size is 950 m x 200 m. Approximately 1200 people live in this little paradise. More and more locals are getting engaged in travel industry, but fishing still remains one of their major activities.
Table of content:
Things to do in Dhiffushi
Beach and house reef
There are two bikini beaches on the island – one on the northern part of the island, a small one, and the other on the opposite side of the island.
Check: Budget tours to Maldives
The first beach has rather a good entry to the water and the sand is nice. But the channel leading to the deck is at about 10 m so you should be careful with the running boats. Each guest house owns its lounge chairs and umbrellas. The length of this beach is around 50-70 m only.
However, they don't surround it with a fence and the locals can also come to the beach. You may sunbathe in a bikini on this beach (but there are still signs prohibiting that). The locals who use the beach are very tolerant of this rule.
The second beach is bigger, but not very clean – quite a lot of garbage. Most of it is garbage that brings the ocean to the island. During the low season, this problem is particularly relevant because of the western monsoon, which brings all the garbage to this part of the island.
Near the beach a lot of algae. Therefore, you need to go a little to the left to swim in clear water. There is shallow water, so the beach is suitable for families with children.
On the beach, many sunbeds and built artificial shadow. Despite this, the southern tip of the beach has a great reef for snorkeling, at the edges of which there are several living reefs.
Also, there is something like a sandbank, which is a bit hidden under the water at high tide.
Small white crabs are running everywhere on the beach, they don't bite, but it's very difficult to catch them!
After sunset, the light turns on, which attracts stingrays, small sharks, and fish. One of the few entertainments on the island in the evening.
Sandbank Trip
No visit to the Maldives is complete without a memorable sandbank trip. Dhiffushi has one of the largest lagoons in Maldives, it has a huge space for sandbanks (tide dependent), you can go sandbank trip to enjoy the crystal clear lagoon great for swimming and snorkeling. Head over to a secluded strip of pure white sand, surrounded by the Indian Ocean, and enjoy the beauty and intimacy with your partner or family. A picnic breakfast or lunch can be provided upon request. We will also provide life vests, umbrellas, chairs, and beach towels.
Head to an isolated sandbank where you can snorkel, have a swim, or simply relax on the pure white sand.
Night Fishing
Fishing is one of the best things to experience in Maldives. You don't have to be a professional to fish in the Maldives. Reef Fishing on a traditional boat called 'Dhoni' is totally a unique and fulfilling experience. Using hand lines and bait, catch a red snapper for your lunch or dinner under the magical starlit sky. You can also enjoy your catch cooked or barbecued for you the way you like.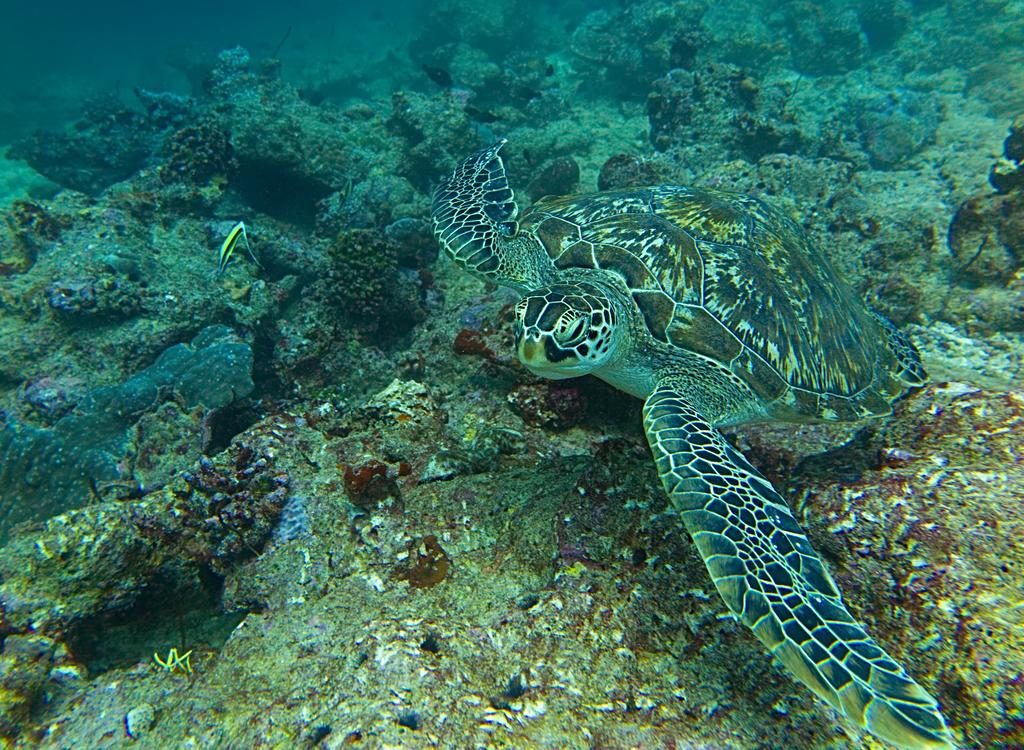 Snorkeling safari
Snorkeling is a wonderful activity that can be enjoyed by almost anyone.  Most people who have snorkeled have done so only on group charters while on vacation, but snorkeling is an activity that can be done almost anytime, anywhere.
Dhiffushi Island have many beautiful snorkeling points, one of the famous spots is called 'Turtle Point' – where you will see turtles among different fishes and sea creatures. Baby Shark is a somewhat rare scene that is easy to be seen in the snorkeling point around this island.
Night snorkeling. Night snorkeling is a great opportunity to discover the nightlife of the ocean! The evening is when the reefs come alive and when you will see the colors of the reefs in their full splendor with corals opening up like flower gardens.
Sunset Dolphin Cruise
Experience a relaxing cruise in search of wild dolphins while enjoying once-in-a-lifetime Maldivian sunset, they are never the same yet always amazing.
Enjoy a spectacular show of Dolphins playing around. Dolphins are one of the most social creatures, which enjoy the time they spend together with their playful behavior. Some of the dolphins are called Spinners, Jumpers, Rotators and even back flippers.
Island Hopping
Each island has unique features and culture. Island hopping is the best way to explore the Maldives culture. You have a chance to travel to from one island to the other and check out their beautiful beaches, and tranquil waters of the sea.
Nearby local islands: Thuluashoo, Huraa
Nearby island resorts: Meeru, Adaaran Hudhuranfushi, Club Med Kaani
Scuba diving
Diving is also one of the most famous activities among travelers visiting Maldives. The Maldives is also ideal for Diving due to its high visibility, positive weather, featured creature and qualified training. Coral reefs are an excellent avenue to view the underwater natural habitat of many animals. Sharks, Turtles, Reef Fish and small organisms live together in one ecosystem. There are 12 dive sites nearby, like Banana Reef, Lankan Beyru, Prisca corner, etc.
There are 3 PADI dive centers in Dhiffushi. So you have a choice.
Resort Day Visit
A day visit to a nearby resort is the perfect opportunity to experience the resort life. Depending on the package, guests will be able to enjoy meals, alcoholic & non-alcoholic beverages, beach & the pool. Indulge yourself in a drink at Resort Bar or use Swimming Pool to try something different.
Available resorts: Meeru Island Resort, Adaaran Hudhuranfushi, Cinnamon Dhonveli
As of Feb 2022, resort day visits are not allowed.
Other activities on Dhiffushi
Beach Dinner. Spend the night of your lifetime at an exclusive table specially set up for you, with your toes in the sand, listening to the waves lapping the shore, while starring into the twinkling lights of Dhiffushi beach.
Surfing. Surfing in Dhiffushi is not so popular compared to Thulusdhoo or Himmafushi. It's because of the remote location of surf spots. So, in any case, you have to hire a boat to go nearby.
Canoe. Indulge yourself with some adventure of exploring the lagoon and beauty beneath – all from just above the sea sitting in a canoe. You can't ride to Meeru as it's a private island resort, so you can't anchor there.
Dhiffushi Infrastructure
You will find on the island a school, a mosque, a health center, a stadium, a couple of shops and cafés, several hotels, and plenty of Maldivian hammocks ("joali" in Dhivehi). There is no ATM in Dhiffushi.
In the case of an emergency, you'll have to go to Male. That's why make sure that you have taken everything you need with you in advance.
In most places, you can pay in US dollars, though you'll receive change in either dollars or Maldivian Rufiyaas and won't always have the choice to choose between the two.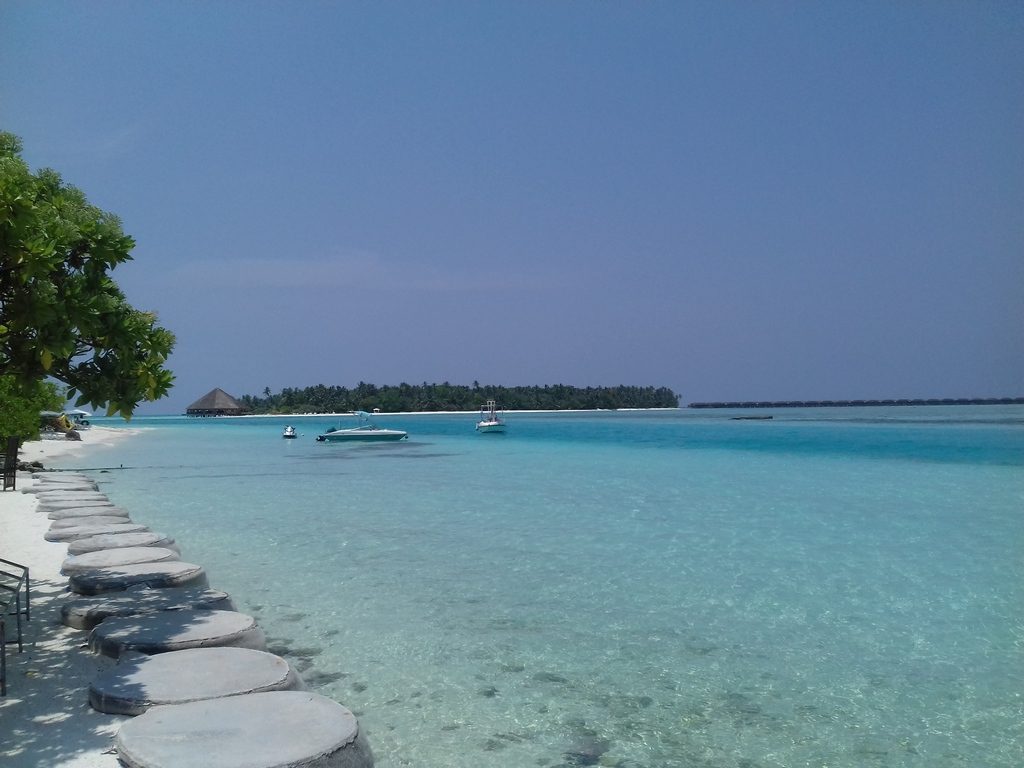 The island has three dive centers, the prices are quite high compared to other islands. The island itself is not for diving, so for this it is better to choose another place.
But there are 2 water sports centers: water ski, surfing, windsurfing, kayaks, etc. Good location for this, because there is no coral, the deep part is very close.
In general, despite some annoying, and unusual to us, it is very pleasant and friendly people. They love to talk about their island, what, where and how, were happened, they are interested in you and want to show themselves and their country from the best side. Most of them speak English very well.
Disadvantages – sometimes it is very difficult to get rid of such an interlocutor. Perhaps this feature is inherent in the entire population of the region (Maldives, India, Sri Lanka).
Advantages – the service they have even in cheap hotels just at the highest level. We are ready to do everything for the sake of the client, always with a smile, always helpful, everyone will tell, show, there is not even talk about any rudeness.
Almost no garbage on the streets. There is an unspoken rule, according to which every resident is obliged to clean up the area around his house every day.
Where to eat on Dhiffushi
Hotels' restaurants provide a great variety of local and continental cousins.
There are 6 cafes on the island. The menu is not much different, as on all inhabited islands due to limitations in the products.
Cozy Café. This is the place you should try if you want an authentic experience for a correct price. Don't get worried about how it looks, the food tastes great and the service is one of the best on the island.
The Gallery. The staff extremely friendly. Although the best was the place itself, an incredible and unexpected private room. Really great BBQ dinners.
Dream Corner. Very local place with cheap food and drinks. Meanwhile, quality is so-so.
Ranauraa Café & Resto. Great food at reasonable prices. But a quite slow service (as in many local places).
The Kettle. A nice restaurant close to the beach, a good choice of meals, buffet breakfast & dinner was also tasty. Very friendly staff.
Cafe' 420. Excellent place to have lunch, dinner or just a snack with a wonderful view. The food is great and the fresh juices are the best on the island. In the evening, go there and have a romantic dinner on the beach.
Where to stay on Dhiffushi
There are a lot of places to stay, but I advise Araamu Holidays & Spa, and that's why.
– Sea view rooms;
– Super friendly staff with experience working in resorts. So high-quality service is guaranteed;
– Amazing in-house restaurant with a great variety of local and continental cuisine;
– Unlimited coffee and tea;
– SPA facilities;
– In-house Water Sport Center;
– Play Hall (Pool, air hockey, table football and many other indoor games)
– Own 8 pax capacity speedboat for cruising and activities on nearby islands;
– Affordable room prices
– Free Airport meet and greet service;
Dhiffushi Travel Package
Accommodation, breakfast and dinner, transfer by scheduled speedboat Airport-Dhiffushi and Dhiffushi-Airport. Total (for 2 adults):
Deluxe Room with island view
| Nights | Apr – Sep | Oct – Mar |
| --- | --- | --- |
| 4 nights | 520 USD | 560 USD |
| 5 nights | 615 USD | 665 USD |
| 6 nights | 710 USD | 770 USD |
| 7 nights | 805 USD | 880 USD |
Deluxe Room with sea view
| Nights | Apr – Sep | Oct – Mar |
| --- | --- | --- |
| 4 nights | 580 USD | 620 USD |
| 5 nights | 690 USD | 740 USD |
| 6 nights | 800 USD | 860 USD |
| 7 nights | 910 USD | 980 USD |
SEND REQUEST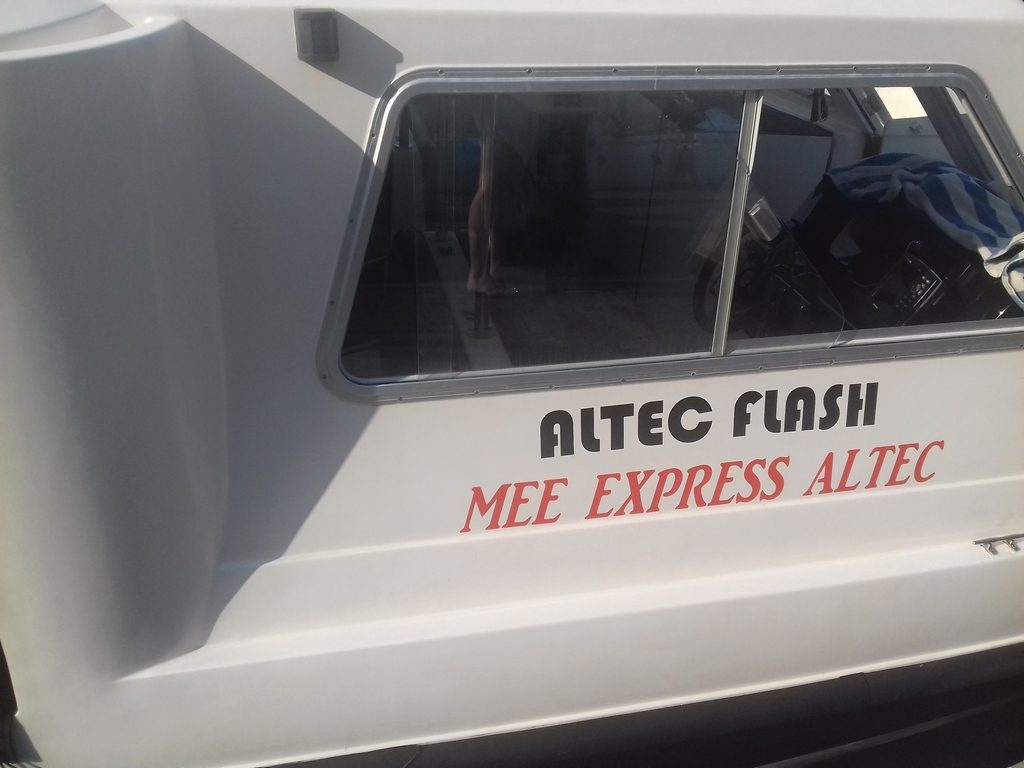 Transfer to Dhiffushi
Ferry
Male-Dhiffushi
Daily except Fridays at 14:30 from Vilingili terminal. Duration about 2 hrs 45 mins.
Dhiffushi – Male
Daily except for Fridays at 6:30.
Scheduled speedboat
Daily at 11:30 and 16:30, except Friday at 16:30 from Male
At 7:00, 13:30 from Dhiffushi.
Price is 25$ per way per person
Contact us to get a personal tour to the Maldives!
Read also:
Top 16 things to do in Maldives
How to choose a local island in Maldives?
Dharavandhoo tourist guide 2022