Travel Guide to Dharavandhoo 2022
2021-12-10 12:33:44
Local islands are reopened on 15 October 2020 onwards. Maldives Reopening Guideline.
Dharavandhoo Island is located in Baa Atoll 110 km north of Male. With a population of about 800 people, the island has its own airport.
Check: Budget packages to local islands
This island is surrounded by clear waters known as Dharavandhoo Thila and Hanifaru Bay; which are famous amongst divers around the world, for it is a sanctuary for a variety of marine life, including manta rays and whale sharks.
Things to do in Dharavandhoo
Beach and house reef
The island itself is divided into two parts: a domestic airport and a village. The village occupies almost half of the island. It's not large, but well-managed. There are litter bins on the streets. It's a rare thing for local islands.
Bikini beach is quite long and occupies almost the whole northern part of the island. The beach has sunbeds, hammocks, swings, and umbrellas. During the off-season (May to November), the ocean brings a lot of garbage, which does not always have time to clean up. So be prepared for this.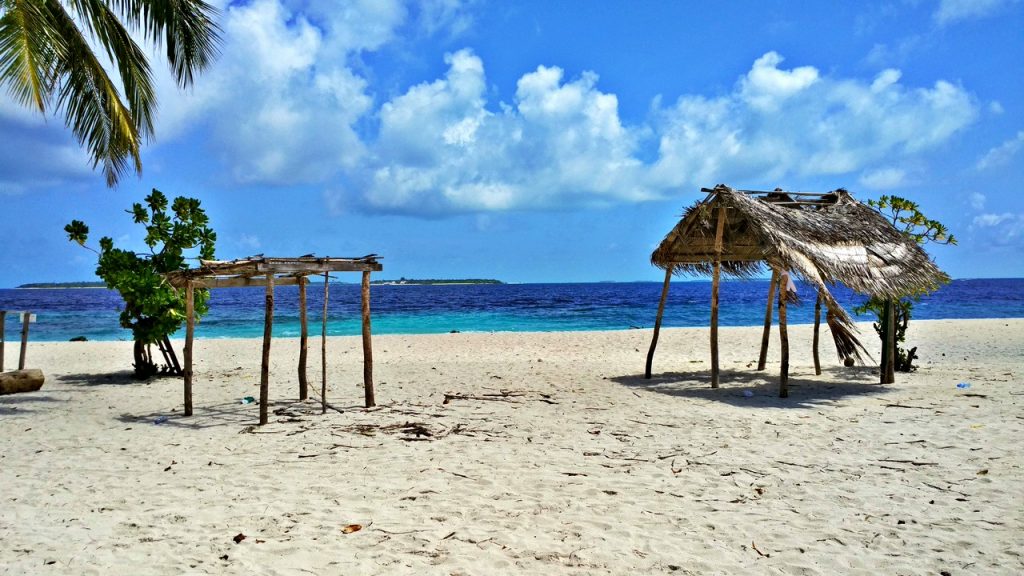 The private beach area is marked by a small sign, but it is not enclosed.
Water entry is not very convenient. There are a lot of dead corals, but you can find a sandy place where you can lie and have a rest.
House coral reef stretches over the whole beach line, but it is not as interesting as the one on Rasdhoo or Omadhoo, it is more like the one on Dhiffushi. You need to swim 40-50 meters to reach its edge. The water is crystal-clear. The visibility is 30-40 m!
Expect to see schools of fish, rays, turtles and reef sharks.
So it makes sense to go on snorkeling trips. For example, you can visit Turtle Garden (near Soneva Fushi resort). There you can see 5-7 turtles at a time.
Hanifaru Bay
A key area of ​​UNESCO's biosphere reserve, Hanifaru Bay (Vandhumaafaru Adi) is a huge elongated coral reef and a marine conservation area in the Maldives surrounded by white sands, 5 minutes by boat to the east of Dharavandhoo.
Nowadays Hanifaru Bay is considered to be the world's largest manta ray feeding station. For many years Hanifaru has been known to local fishermen who used to hunt the whale sharks that also frequent this site. More recently the site is frequented by scuba divers; the first dive operators ventured up into Baa Atoll in the mid 1990s.
Realizing that the bay had turned into something of a circus and the situation would affect the sustainability of the area, a proactive stance was taken and the bay was declared a Marine Protected site in 2009 by the Maldives government, in recognition of its importance in the ecosystem. In 2011 it was also declared a core-protected area within the newly designated UNESCO World Biosphere Reserve that encompasses the entirety of Baa Atoll.
Tourists visit this place just to see this area of outstanding natural beauty. But why? From May till November in Hanifaru Bay you can see 100-200 manta rays! I managed to see 70 manta rays. Unforgettable feelings!
No diving is allowed there, only snorkeling. The daily limit is 5 boats and no more than 80 people at any given time
It's vital to remember that you must not touch them. They are very friendly and if they wish, they will touch you themselves.
The best time to visit Hanifaru Bay is from June to November. During these months the southwest monsoon causes massive built up of planktons drawing hundreds of manta rays and whale sharks into the bay. The best time to visit this preserved area is full moon days. It is during this time when tides are high and there is more feed for manta rays.
The excursion lasts 40-50 min (you are not permitted to stay longer by authorities). But it is worth it. You'll have an unforgettable experience!
Sandbank visiting
Visit a virgin island, a stretch of sand in the sky for the epitome of romantic picnics. Sandbank excursions in Maldives will be the idyllic escapade for those seeking adventures in Maldives to indulge in the wonderful climate of sun, sea, and sand. Drinks are inclusive, lunch is for an extra price.
Picnic islands. Near Kendhoo, there is a chain of 4 uninhabited islands that possible to visit as well. They have an amazing untouched house reef with a lot of fishes. They are not popular among other island resorts, so there is a high chance you will be the only one out there.
An uninhabited island Mendhoo is operated & managed by the Biosphere Reserve Maldives Environment Protection by UNESCO. It's possible to arrange day packages to this beautiful island where you will get to enjoy the white sandy beaches surrounded by crystal clear water.
Night fishing
Maldivians have been fishing for millennia and they have become extremely good at it! With a simple hook and line, enjoy this ancient pastime and maybe even catch yourself some dinner! Guests often return to the hotel with a juicy snapper or mackerel in tow.
This is definitely a night to remember full of scenes and memories. Bait your hook, drop your line direct from a 'Dhoni' to the reef edge & hope for a fish as you watch the spectacular colors of sunset & ocean waves lap the surrounding islands. The fish caught by you will be cooked for a dinner at the same night.
Snorkeling safari
There are countless incredible snorkeling sites near Dharavandhoo. Here, you'll be able to observe an abundance of aquatic life, ranging from tiny shrimps to titanic manta rays.
Coral Garden. The Coral Garden Reef with narrow reef flats with lots of channels and wide lagoons are the best for snorkeling. As the water gets deeper, the differences in the coral and other types of marine life are clearly visible.
Turtle Reef. Soneva Fushi resort is located near Dharavandhoo. This place is inhabited by turtles. It is possible to see 5-7 turtles there. I'd definitely visit it!
Dolphin Cruise
Dolphins are a species that is a pleasure to behold; their seeming lust for life, energy, and playfulness is delightful. In the Maldives, we are lucky to surrounded by these smartest creatures. The most common species is the spinner dolphin, which can gather to group of up to  500.
Head into the feeding grounds of Maldivian dolphins. Heart-warming interactions as they tail your vessel and leap above the waves. Stunningly graceful, strikingly human.
Scuba diving
The Maldives is one of the most sought-after dive destinations and living in Baa atoll will amaze you. There are plenty of dive sites nearby where you can see mantas, whale sharks (rare), hammerheads (very rare, it's better to go to Rasdhoo) or simply drift through the amazing coral formations viewing the marine life as you pass the nooks and crannies of the reef.
Read more about Dharavandhoo Scuba Diving.
Resort day visit
There are many resorts in Baa Atoll, which are open to visitors. Among them are:
— Kihaad Maldives;
— Amila Fushi resort;
— Finolhu Baa Atoll;
Prices differ, but the average one is $80-200 per person. You can ask the staff in your guesthouse to help you.
Island Hopping
Dharavandhoo is an incredible example of Maldivian island living. The island is surrounded by other beautiful local communities. Wander the streets of these inhabited islands and note the subtle differences between them. Meet the famed fishermen of Dhonfan or meander the quiet streets of Maalhos. Visit the atoll's capital of Eydhafushi and observe the most populated island in Baa Atoll.
Other activities
Water sports. A range of watersports from Jet SKis to Banana Boats will provide plenty of thrills and excitement for the more action-oriented!
Big game fishing. If you a bit more into fishing than merely tossing a line overboard and you feel like you want to go for a bigger prize, then big game fishing is for you.
Dharavandhoo Infrastructure
The economy is mainly based on tourism-related activities, fishery and agriculture, though most of the educated run their own businesses or are employed with work in Male (the capital city of Maldives).
Dharavandhoo is a local hab for visitors surrounded by local islands, so it's considerably developed. There are 4 cafes on the island, some gift shops (a lot of resorts are located nearby).
The island has its own health center, two football grounds, ATM, bank office, mobile operators offices, pharmacy, two dive centers.
Two companies Maldivian and FlyMe fly to Daravandhoo. The total number of flights per day is 8-9, price from 85 USD per person, one way. Conveniently, you can fly away at almost any time, but a little bit expensive.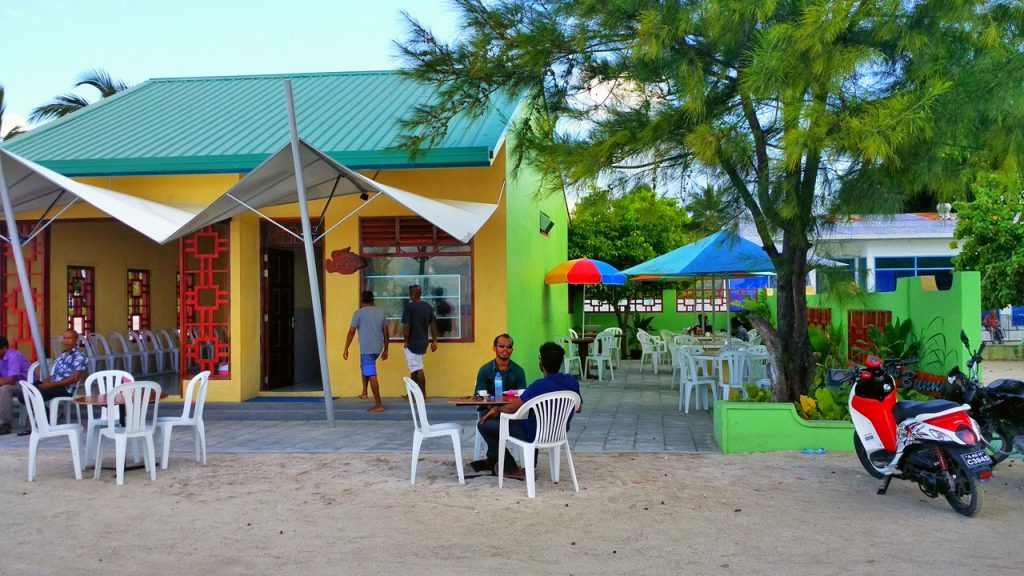 Where to eat
There are several cafes on the island, as well as restaurants and bars in the hotels. Food on offer is a mix of traditional and modern cuisine, where the menu is designed with an emphasis on taste, variety and quality of ingredients.
No alcohol is allowed in Dharavandhoo. To drink some beer or wine you have to take resort day trip.
Honey Bunny. The food is delicious, with great local style curry and affordable prices.
The Mini Bunny. Local place with a great variety of local and continental food. The mango juice is great and prices are reasonable.
Loamaafaanu Restaurant. The in-house restaurant of Aveyla Manta Village hotel. A large selection of breakfast, lunch, and dinner options.
Layers Cafe & Bakers. A nice cozy place to chill out with friends. Homemade bread is the best.
Where to stay
You can choose one of the local hotels or guest houses, but I advise Biosphere Inn, and that's why.
– Simple guest house;
– Super friendly staff;
– #1 guest house in Dharavandhoo based on Tripadvisor reviews;
– An amazing in-house chef that can cook a great variety of local and continental cuisine;
– Unlimited coffee and tea;
– Own 8 pax capacity speedboat for cruising and activities on nearby islands;
– Affordable room prices
– Free Airport meet and greet service;
Book Biosphere Inn with the lowest rates.
Transfer to Dharavandhoo
Combined speedboat
Male-Eydhafushi Saturday, Monday, Thursday at 11:00 and 13:00. The cost is $50 one way per person.
Eydhafushi-Dharavandhoo. Free of charge if you book through us
Dharavandhoo-Eydhafushi. Free of charge if you book through us
Eydhafushi-Male. Saturday, Monday, Thursday at 7:30 and 8:00.
Domestic Airlines
5 times a day – by Maldivian airlines, 3-4 times a day – by FlyMe. The cost is USD85 one way per person. The traveling time is 30 minutes. Fast and convenient.
Contact me for a personal tour to the Maldives!
Read also:
Top 16 things to do in Maldives
How to choose a local island in Maldives?