Dharavandhoo
Dharavandhoo Island is located in Baa Atoll 110 km north of Male. With a population of about 800 people, the island has its own airport.
Dharavandhoo Beach
The island itself is divided into two parts: a domestic airport and a village. The village occupies almost the half of the island. It's not large, but well-managed. There are litter bins on the streets. It's a rare thing for local islands.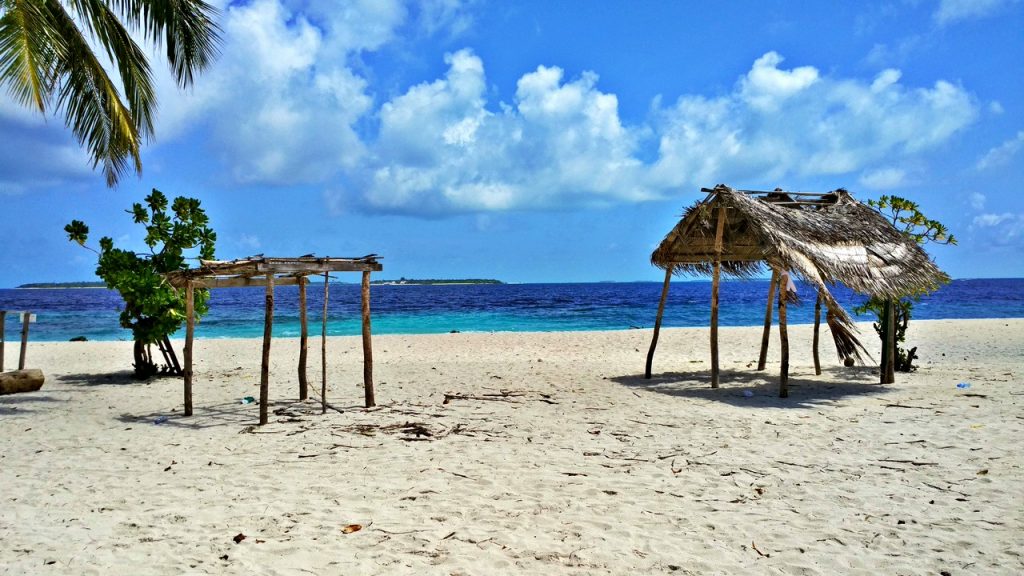 Bikini beach is quite long and occupies almost the whole northern part of the island. The beach has sun beds, hammocks, swings and umbrellas. During the off-season, the ocean brings a lot of garbage, which does not always have time to clean up. So be prepared for this.
The private beach area is marked by small sign, but it is not enclosed.
Water entry is not very convenient. There are a lot of dead corals, but you can find a sandy place where you can lie and have a rest.
House coral reef stretches over the whole beach line, but it is not as interesting as the one on Rasdhoo or Omadhoo, it is more like the one on Ukulhas. You need to swim 40-50 meters to reach its edge. The water is crystal-clear. The visibility is 30-40 m!
So it makes sense to go on snorkelling trips. For example, you can visit Tourtle Garden (near Soneva Fushi resort). There you can see 5-7 turtles at a time.
Infrastructure
Dharavandhoo is the capital of Baa Atoll, so it's considerably developed. There are 4 cafes on the island, some gift shops (a lot of resorts are located nearby).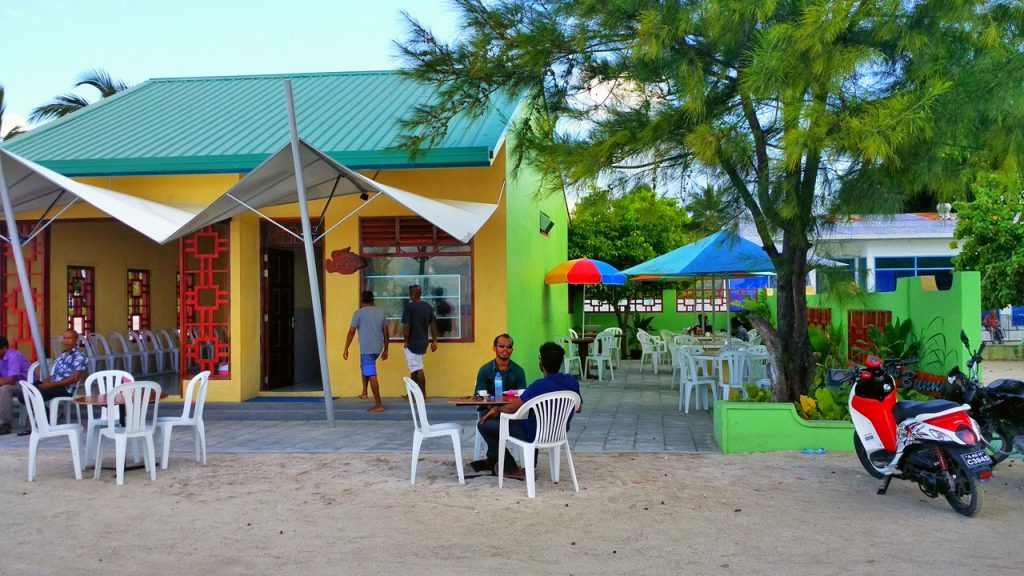 Apart from that there are groceries and hardware stores, where you can buy a lot of little things.
There is also a hospital.
Two companies Maldivian and FlyMe fly to Daravandhoo. The total number of flights per day is 8-9, price from 85 USD per person, one way. Conveniently, you can fly away at almost any time, but a little bit expensive.
Things-to-do in Dharavandhoo
Hanifaru Bay
Tourists visit this place just to see this area of outstanding natural beauty. But why? From May till November in Hanifaru Bay you can see 100-200 manta rays! I managed to see 70 manta rays. Unforgettable feelings!
It's vital to remember that you must not touch them. They are very friendly and if they wish, they will touch you themselves.
The best time to visit this preserved area is full moon days. It is during this time when tides are high and there is more feed for manta rays.
The excursion lasts 40-50 min (you are not permitted to stay longer by authorities). But it is worth it. You'll have an unforgettable experience!
Sometimes you can spot whale sharks, but it is an exception rather than a rule.
Turtle Garden
Soneva Fushi resort is located near Dharavandhoo. This place is inhabited by turtles. It is possible to see 5-7 turtles there. I'd definitely visit it!
Resort day visit
There are many resorts in Baa Atoll, which are open to visit. Among them are:
Prices differ, but the average one is $80-200 per person. You can ask staff in your guest house to help you.
Diving
The water in Baa Atoll are crystal-clear. The visibility is 30-40 meters, and it is even in low season!
There are a number of diving points both for professional divers and amateurs. There are 2 diving centres on the island: Dharavandhoo Divers and Aveila Guest House Dive Center. The first one is run by Italians who have been engaged in diving in Maldives for more than 12 years. For the last 4 years they have worked on Dharavandhoo.
Other activities
They include fishing, visiting a picnic island (near Hanifaru Bay) with BBQ, a romantic dinner on the beach and other.
Transfer to Dharavandhoo
Combined speedboat
Male-Eydhafushi Saturday, Monday, Thursday at 11:00 and 13:00. The cost is $50 one way per person.
Eydhafushi-Dharavandhoo. Private speedboat, the cost is $50 per boat.
Dharavandhoo-Eydhafushi.Private speedboat, the cost is $50 per boat.
Eydhafushi-Male. Saturday, Monday, Thursday at 7:30 and 8:00.
Domestic Airlines
5 times a day – by Maldivian airlines, 3-4 times a day – by FlyMe. The cost is $99 one way per person (the price is provided by Dharavandhoo Stay guest house) (Maldivian). FlyMe is more expensive. The traveling time is 30 minutes. Fast and convenient.
About Author
Welcome! My name is Alex and since 2015 I have been "sick" with Maldives. In 2016-2017 I lived in Maldives and worked at a local travel agency. I managed to personally visit 15 local islands and 10 resorts.
Since 2017, I have been organizing holidays for couples, families and groups. More than 300+ clients from 60 countries have used my service.
Contact me for a free consultation and help with a personal tour to Maldives!